Canaries over 60 resist the third 'puncture'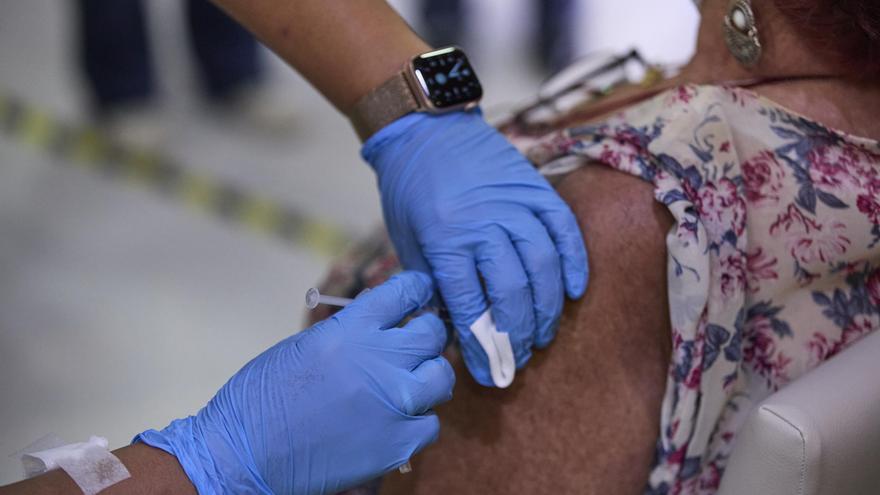 The third dose does not quite hit the island's oldest population. The Canary Islands have lagged behind Spain in inoculating the booster dose to protect those over 60 from the sixth wave. This third vaccine - which is recommended due to the slight loss of efficacy of the compound after the passage of months - has not yet reached 129,275 people over 60 years of age, despite the fact that the appointment schedules have been open for more than a month.
With a percentage of vaccinated 83.18% in people over 70 years old and 65.5% in people between 60 and 69 years old, The Archipelago is the community that is taking the longest to confer protection to these people who, on the other hand, are those who have a greater risk of developing a very serious covid. According to data provided by the Ministry of Health, the national average of vaccinated with third doses over 70 years is 88.3% while for the age group between 60 and 69 years, it is 76.98%.
That the disease is more serious in these people is confirmed by the hospitalization figures themselves, since, today, 64.8% of those hospitalized in the Canary Islands are over 60 years old. In this sense, admissions are more numerous, in those over 80 years of age, whose hospitalized patients (125) represent almost 30% of the total. Many of them have been vaccinated, but due to their age or their underlying pathologies, they are still more likely than the general population to become seriously ill even though these have decreased compared to before receiving their vaccine. Hence it is It is vital that these people have a third booster dose.
To date, 64.8% of those hospitalized in the Canary Islands are over 60 years old
"Although vaccines against covid-19 are still effective in preventing severe disease, some recent data suggests that its effectiveness in preventing infection or severe disease is reduced over time, especially in people 65 years of age or older. "This is indicated by the Center for Disease Control and Prevention (CDC), which adds that before the appearance of the omicron variant "again emphasizes the importance of booster doses" as well as other preventive initiatives to protect the population against covid.
The latest studies carried out with those vaccinated by Pfizer and Moderna have shown that the effectiveness against the development of symptoms is progressively decreasing until reaching a 70% in Pfizer and 80% in Moderna 7 months after inoculation. This reduction of up to ten percentage points is also reflected in hospitalizations, since its effectiveness is reduced to 80% 120 days after being inoculated with the second dose.
Data from clinical trials have shown that a booster dose is sufficient to increase the immune response to adequate levels to provide full protection against severe and symptomatic forms of COVID-19. In the case of the Pfizer-BioNTech and J & J / Janssen vaccines, clinical trials also showed that a booster dose helped prevent severe disease.
Today in the Canary Islands the booster doses They are suitable for people over 40 years old; for those vaccinated with AstraZeneca, with Janssen (regardless of age); and for health personnel of Primary and Hospital Care; socio-sanitary workers in public and private centers of the centers for the elderly and for the disabled; inmates in disability care centers, patients with high-risk conditions and those receiving treatment with immunosuppressive drugs. However, international health organizations already recommend that this third dose be inoculated to all those over 18 years of age.
In this sense, people over 70 years of age have been able to make an appointment to receive the booster serum since October 28, the same day the flu campaign began. The idea of ​​the Government of the Canary Islands was to inoculate both vaccines at the same time in order to reach more people and generate less discomfort. On December 1, the agendas were opened for those over 60 who, since then, can also receive their third dose. But nevertheless, one and two months have passed, and protection has still not been achieved for all the people who finished their vaccination almost a year ago.