Canarias surpasses its record and administers 8,328 vaccines in one day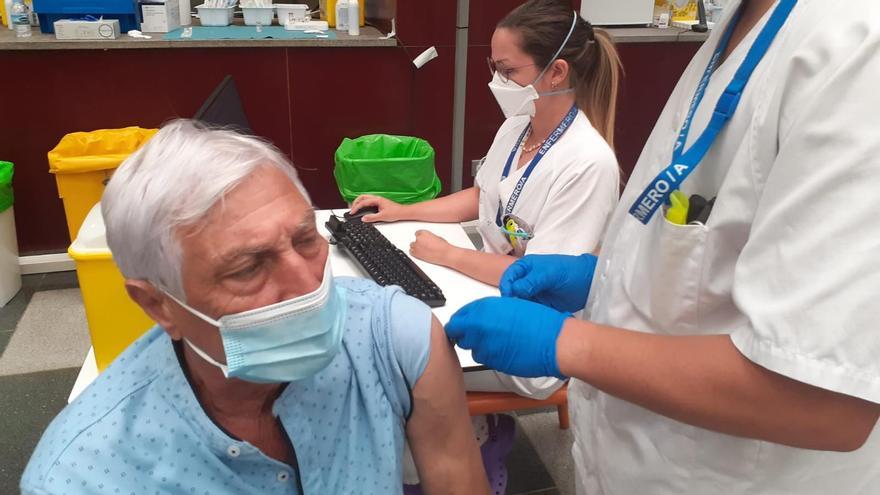 The Ministry of Health of the Government of the Canary Islands has already administered 253,260 doses of vaccines against Covid-19, of which 8,328 were inoculated yesterday, the highest figure recorded in a single day, according to reports.
Of the doses used yesterday, 4,365 were Pfizer, 1,344 of Modern and 2,619 of AstraZeneca; the three laboratories approved by the European Medicines Agency to vaccinate in Europe, indicated in a statement.
Until yesterday, the immunization of 91,350 people who have already received the two doses of the vaccine in the Canary Islands, representing 6.8 percent of the target population.
The vaccination calendar continues to advance with the population groups to which it is intended as a priority: the large household dependents who are already receiving a second dose, those over 80 years of age, and the group aged 60 to 65 years after the resumption yesterday of the vaccination with AstraZeneca that is directed to this age group, made up of 144,000 people in the Canary Islands.
In addition, it continues with groups 3 and 6, which are made up of health and social health workers not previously vaccinated, workers of penitentiary institutions or other essential for society such as teachers and personnel of special, infant, primary and secondary education or who belong to the Security Forces and Bodies, Emergencies and the Armed Forces.
After immunization with two doses of groups 1 and 2 (those corresponding to residents and workers of social health centers and first-line health professionals), vaccination continues with the rest of the groups established following the criteria of vulnerability and exposure.
By groups, once the immunization of groups 1 and 2 with the two doses has been completed, vaccination continues with group 3, which is 99.7 percent with one dose and 20.15 percent with two doses; group 4 is inoculated at 88.7% with one dose and 58% with two; group 5 at 42.15 percent with one dose and at 14.3 with two doses and group 6 at 26.3 percent with one dose.