Canarias Jazz & Más will visit the 8 Canary Islands simultaneously for the first time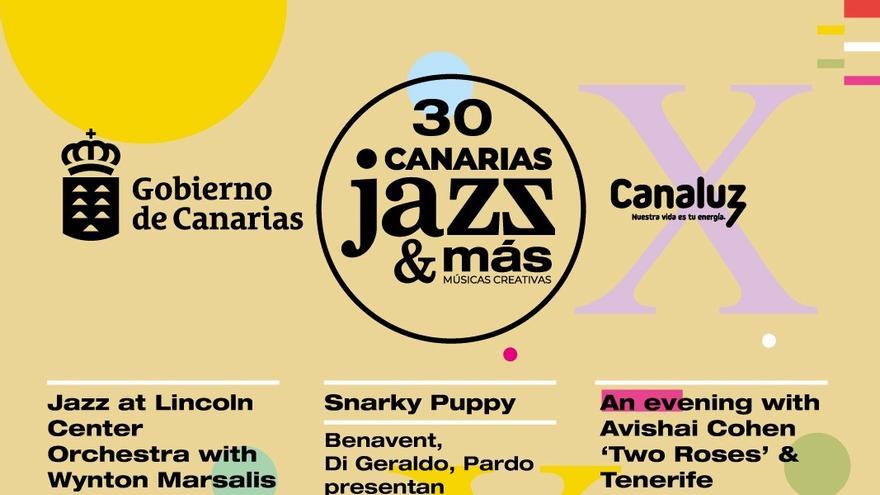 The Canarias Jazz & Más music festival has presented its 30th edition, the first in which it will be simultaneously on the 8 islands between July 1 and 25, with an international poster with names such as Avishai Cohen, Wynton Marsalis, or Snarky Puppy as headliners, as presented by the organization this Tuesday at a press conference.
The general director of Colorado Producciones, the organizing company of the festival, Miguel Ramírez, stressed that the festival has a budget of around 800,000 euros and that "it has nothing to envy" any other. "The artists who come have a great impact and followers in networks, that they come to the archipelago interests us all," he said.
From the institution they wanted to give importance to the quality of this year's poster, stating that one of the shows that can be enjoyed within the framework of the festival, 'Jazz at Lincoln Center Orchestra with Wynton Marsalis' is number one in the world in this type of music.
For his part, the Deputy Minister of Culture and Cultural Heritage of the Government of the Canary Islands, Juan Márquez, highlighted the "commitment" that the Canary Government has with culture, stating that "the Canary Islands was the first European community to reopen a theater after the pandemic" .
Cultural offer and tourist excellence
The Councilor for Tourism of the Cabildo de Gran Canaria, Carlos Álamo, also spoke, among others, who highlighted how increasing the cultural tourism offer on the island brings it closer to "excellence". "Recovering events like this is important because they are little steps towards the desired normality," said the counselor.
The festival will have a private sponsor for the first time, in addition to the sponsorship of the Government of the Canary Islands, which will be the energy company 'Canaluz', in addition to having the collaboration of Cabildos, Town Halls and associations from all over the archipelago.
As a whole, the festival will feature 59 concerts, 250 musicians, 70 collaborating companies and around 400 jobs directly or indirectly. For more information, you can visit the festival website www.canariasjazz.com