'Canarias Importa' outlines the roadmap to "accelerate" island development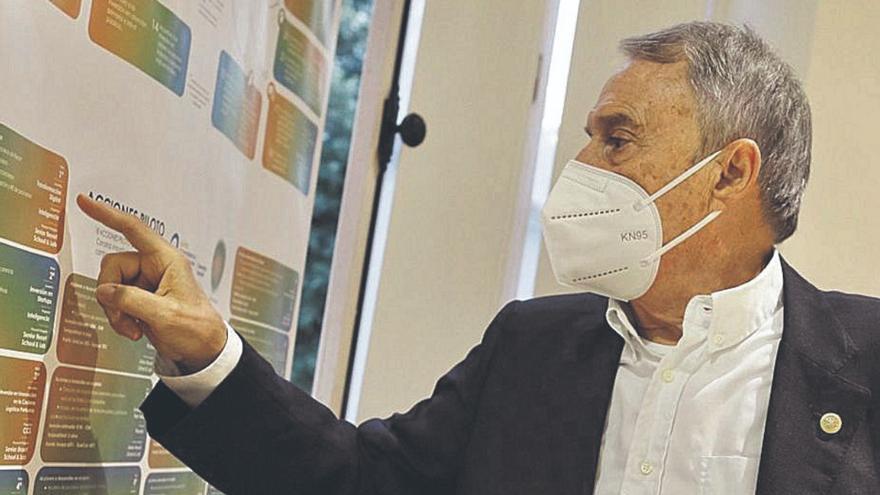 Yesterday, the plenary session of the Social Council of the University of Las Palmas de Gran Canaria learned about the proposals of the Canarias Importa initiative, whose objective is to propose actions to design a development model for the Canary Islands, in the new future horizon that has caused the health crisis of the Covid-19. In an extraordinary and blended session, the president of the Social Council, Jesús León Lima, and the honorary rector of the ULPGC and coordinator of Canarias Importa, Francisco Rubio Royo, along with several of the experts who have participated, presented the conclusions drawn to the Council by a dozen experts and more than 50 collaborators, who have worked on this initiative since last June.
The president of the Social Council revealed that Canarias Importa is a proposal that allows the Canary Islands to be connected with prosperity, through an economy with greater added value, more diversified and more sustainable. "It is an invitation to build a more cohesive, equitable and inclusive society, more resilient, with new business and social models and new ways of working among all public administrations, between these and private companies, and between one another and social initiatives. ". In his opinion, this project "is also a call to civil society to assume, more and more, a leading role in decision-making." León Lima said that these formulations are not the only possible ones, and that new axes, strategies, actions or "umbrella" projects can be incorporated, "but we are convinced that their proposals must be taken into account in any future model that is proposed" .
Inflection point
Francisco Rubio Royo, coordinator of Canarias Importa, pointed out that this work is the result of a commission from the Social Council to draw up a collective proposal in the face of the impact of Covid-19 in the Canary Islands. Rubio Royo, explained that "it is a turning point that can accelerate the change of model that is needed in the Canary Islands: more digital, more sustainable and diversified, without much dependence on tourism."
The programs and actions selected by Canarias Importa respond to five criteria: prioritize those with the greatest multiplier potential; seek balance between diversification of the productive system, promotion of emerging sectors and evolution of existing sectors, with potential and capacity for improvement; select those that a priori can have a balanced economic, social and environmental impact; seek a balance between the three categories of elements that Canarias Importa considers; and facilitate the dynamic and stable balance between three possible scenarios for the Canary Islands: short term (2020), medium term (2025) and long term (2030 and later years). Canarias Importa deals with the second and third of these scenarios, which is why there are advocates for building bridges between 2020 and 2023, in regard to everything related to so-called smart tourism.