Canarians without money to go on vacation: "The beach remains"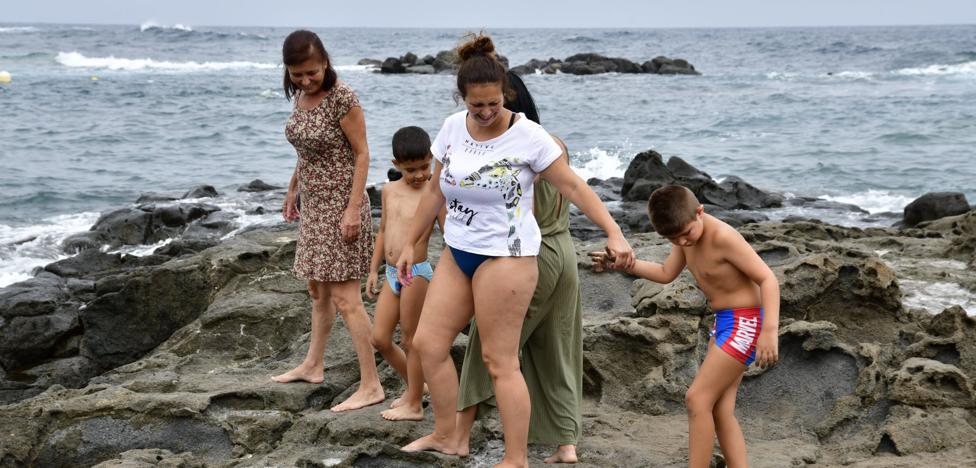 limitations in summer
43% of island families cannot afford to go outside for at least one week a year. The priorities are others, such as facing the return to school
Blue fridge with some lunch and drinks; towels and umbrella; but, above all, the desire to spend a pleasant day at the beach. This is Fayna Hernández's luggage this summer. A 38-year-old resident of San José del Álamo, in Teror, she goes to El Puertillo, in Arucas, when she can. She, her husband and their son
they are part of the 43% of Canarian families that cannot afford to spend at least one week of vacation a year away from homepercentage ten points above the state average.
This data is extracted from the latest Survey of Living Conditions published annually by the National Institute of Statistics (INE), which gives the social picture of 2021. Thanks to it, the incidence of poverty and how it is structured can be measured. It includes indicators such as
population at risk of poverty, which in the islands reaches 28.4%, or social exclusion. And within the material lack data is included the impossibility of going on vacation.
"The economy is not so bad, the prices of apartments and food have risen a lot and, doing the math, I don't think we will leave the island," Hernández replies. She is on the beach accompanied by her son, who will soon start second grade, her nephew, her sister and her mother and
He comments that he is preparing for one of the most important expenses of the year: going back to school. For this reason, he has decided not to invest in a trip: "Everything is going up, but the salary is the same." Now he himself is unemployed, but with the beginning of the school year he will go back to work in school canteens.
Many retired people also deprive themselves of the enjoyment of a comfortable retirement. For Cely Pérez, a resident of Los Giles, the summer break is a blurred memory:
He hasn't been on a trip for 19 years. The last one, to Fuerteventura, thanks to his brothers: «We had a wonderful time». But the present is very different: "Money is not enough for more. If it's hard for me with 700 euros of pension to make ends meet, I don't want to imagine a family. According to the Living Conditions Survey, 27% of households in the archipelago have some difficulty in ending the month with peace of mind.
Samuel Torres is from Arucas, although he has lived in Lanzarote for many years. He works as a handyman at a gym and laments about the
changes in the standard of living that have occurred over the years. "If before we could go on vacation for almost a month, now we can only stay in an apartment in Playa del Inglés, for example, for a weekend," she says.
The figures confirm it. In 2019, before the covid pandemic broke out and the crisis it generated, the percentage of Canarian households that could afford to allocate part of their budget to spend a few days disconnecting away from their habitual residence was almost
37.6%, five points below the 2021 figure.
Though
four out of ten canaries do not have the capacity to afford a few days offthere are alternatives that can help them disconnect from the overwhelming routine.
In the case of Fayna Hernández, the free activities offered by shopping centers are of great help. «We take them to the bouncy castles that they put up, they do crafts... They also go to swimming classes that we can afford.
The important thing is that the children have fun and have a fun summer before going back to school," he says.
move by car

Cely Pérez, on the other hand, opts for sports in the mornings and for the beach after exercising, until almost lunchtime. In addition, she assures that being able to have a car on an island like Gran Canaria "is very much appreciated".
With it, he travels to different places during the weekends. For her, her great allies for disconnection are cooking and dancing, activities that, she confesses, are her life.
On the other hand, Samuel takes the opportunity to
remember those years in which he spent the summer in El Puertillo. Together with her sister, they spend time with her mother to make her life more bearable and take her to places on the island where she lived moments of her childhood. "Everything we do is for her," she confesses.
Faina
don't lose hope that his situation improves: «You always have that illusion of going on a trip and discovering other things, but if you can't, you can't. At least here you have the beach nearby».
Samuel also shares that sentiment, and
He confesses to being "bad and stressed" because he cannot completely disconnect. "The monotony of everyday life and thinking only about work kills anyone," he says.
The reality of both is the same as that of the rest of the Canarian families that are part of the percentage of households that will have to spend their holidays at home. all of it
in a territory that lives from tourism that they cannot access.
Not being able to eat meat two days a week or that the car is a luxury

Material deprivation is studied within the Living Conditions Survey, an aspect from which the percentage of households that cannot afford a vacation is extracted. Other variables are studied, such as not being able to afford meat or fish twice a week, 15% of Canarian families. In addition, 17% cannot afford to keep the house at a suitable temperature. It also highlights that almost 54% of households in the archipelago are not able to meet unforeseen expenses and cannot have a personal computer (9%) or a car, 8%. The INE survey uses the Arope risk of poverty or social exclusion rate to find the percentage of people and families affected. It studies three aspects, one the material and social lack. It is met when there are deficiencies in at least seven of the variables studied.