Canarian art pays tribute to Félix Reyes at the Fundación La Caja de Canarias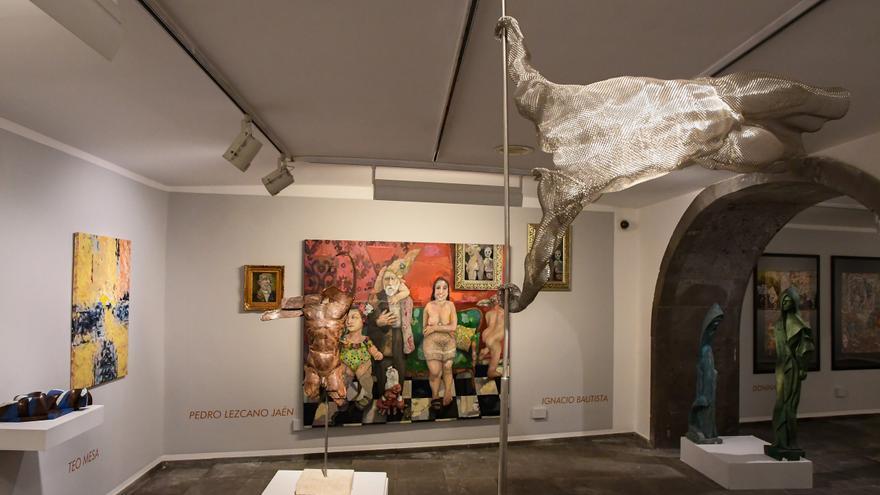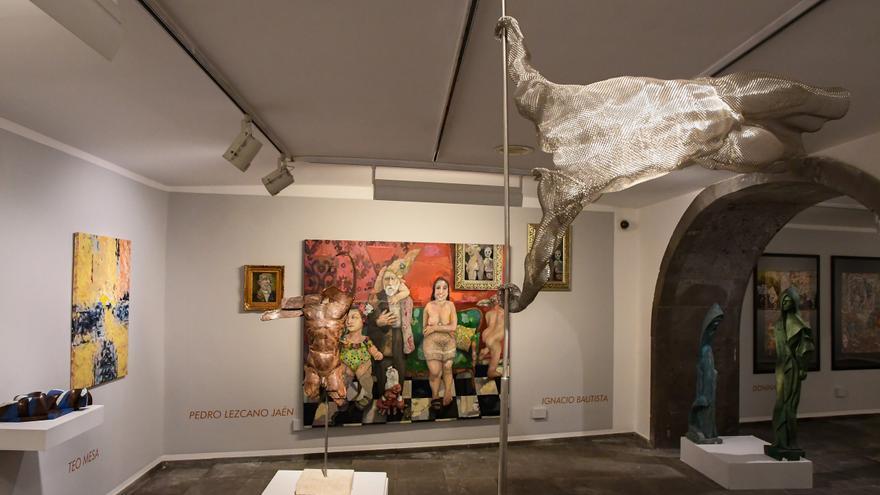 "It is a tremendous surprise that this group of friends has come together for this undeserved tribute and that I consider the greatest thing that has happened to me in my life." So grateful and moved, the Valleseco sculptor, Félix Reyes, presented this Thursday at the CICCA Cultural Center, the exhibition '25 artists and authors around Félix Reyes. Tribute Exhibition ', curated by Miguel Rodríguez and which was inaugurated by the Fundación La Caja de Canarias.
Manuel Sánchez, president of the Foundation pointed out that the exhibition is held in collaboration with the Valleseco City Council and the Ministry of Culture of the Government of the Canary Islands, and represents an important point in the calendar of exhibitions that has been working on for a year. "It is a very important exhibition. Because it is a well-deserved tribute to Félix Reyes and an extensive artistic career that began at the Abraham Cárdenes School and because we brought together 25 Canarian artists from different eras, schools and trends that it is sometimes difficult to appreciate together, but that, in this case, they are joined by the homage to the teacher Félix Reyes, "said Sánchez.
The list of participants in the tribute is extensive and of great quality. Canarian artists from various disciplines such as Brenda Baeza, Ignacio Bauitista, Juan Bordes, Rosa Castellot, Paco Cruz, Isabel De Lallave, Leopoldo Emperador, Manuel González, José Hernández Afonso, Orlando Hernández, Francisco Lezcano, Pedro Lezcano Jaén, Teo Mesa, Ulises Paradas , Máximo Riol, Donina Romero, Mauricio Romero, Santiago Vargas, Javier Cabrera and Miguel Rodríguez himself, present two artistic proposals each in a reinterpretation of Reyes' work to offer the public approximately fifty works, which can be visited until on July 23 at the La Caja de Canarias Foundation space, which also includes an area dedicated to the work of the honored sculptor.
"Félix is ​​for us a genius and also a teacher," said Miguel Rodríguez, who explained that they have been working in this respect for several years, with the intention of positioning and recognizing the artist who has just turned 80 in the place he deserves. "Above all, it establishes a parallel plastic dialogue between the work of the honored artist and the participants to recognize the sculptor and the friend from admiration and never flattery," added Rodríguez.
The common thread of the exhibition, "which I consider a milestone in terms of the quality of the proposal" is, in the words of the curator, beauty, commitment and doing things improves every day. "Felix teaches us two things: perseverance and improvement. Being with the concern to continue training and improve".
The author himself pointed out that the exhibition presents "a set of works in which I happily recognize mine, which is still my own existence, my memories as a child and as a young man that have remained etched in my memory. I work with memory because it is the only thing we have. For me, the present does not exist because it has already passed and we do not know the future. Therefore we only know what we have lived and through it is what I work with, with memories of childhood, youth and with emotions and sensations that I feel and to which I try to give volume and shape ".
In addition, Félix Reyes pointed out that through his work his life trajectory can be observed, but also that of the Canary Islands at different times in its history. In this sense, Miguel Rodríguez highlighted the coherence of an artistic work in which "all the sculptures have their own meaning but together they intertwine like a puzzle to talk about a time in the history of the Canary Islands".