'Can a musician be on the right?'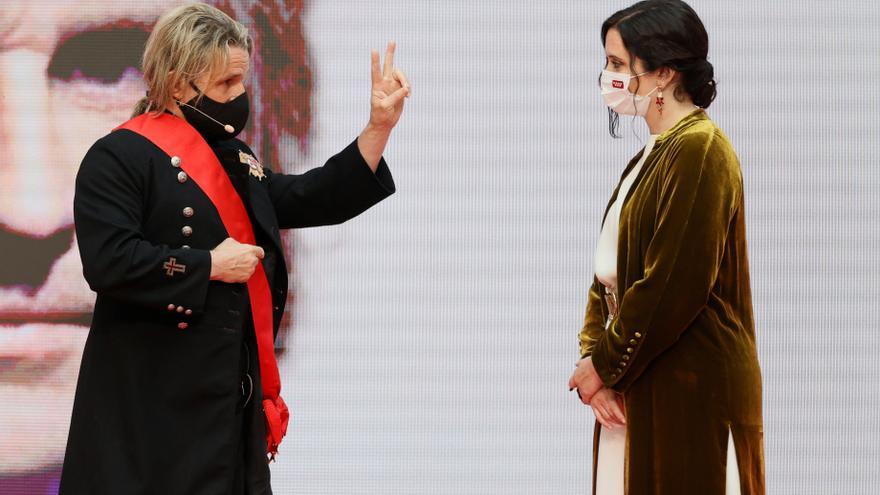 Does anyone imagine Joaquin Sabina or Miguel Rios supporting the PSOE or Podemos in an electoral campaign? You do not have to imagine it because it has happened and nothing has happened here. They are those types of gestures that are incardinated within the foreseeable, in the same way that it is not strange to hear Bruce Springsteen or Bono recommend the vote to Obama or recently to Joe biden. Now, what happens when an artist, a musician in general and a rocker or a pop singer in particular, express their unconditional dedication to a right-wing public figure? That catharsis or Armageddon occurs in the biblical sense of the Apocalypse; that some critics (less and less) turn on the gas light; and that those of the line 7 of the digital arcade roar indignantly. What if the bull is lame, or blind in one eye, or brandishes its hands, or drags its hindquarters. To the corrals for meek and that the hat comes out. Bad luck if it was from Miura.
This has happened to Nacho Cano with his recent support for Díaz Ayuso. No matter how many incunabula he has managed to sneak into among the hundred best songs in the history of Spanish pop: the youngest of the Cano brothers has ended up becoming meme meat, mockery of tweeters, food for sharks, meat for the herd. In short, returned to bullpen.
What to mean right-wing was until recently the domain of folkloric or, in his case, of Raphael or from Julio Iglesias. The first had almost no other choice. By the time the Generalissimo died, he could fill a photo album with Carmen Polo. Qualities aside, in his defense it must be said that he was the first Spanish melodic singer to perform in Moscow at that time when the assistants to a capitalist show were gentlemen dressed as military men with the peaked cap pulled down to the gold teeth. However, Julio Iglesias, from Madrid from Miami, embraced the right of his own accord already in a democracy, and even benefited from his well-known friendship with public officials of the Popular Party before some of them ended up in jail. The move to the right has been, it seems, more typical of consecrated crooners than kings and queens of punk, a love of men and women that the "es-pe-cia-li-za-da" critic has never taken too serious in their role as interpreters, let's call them Bertín Osborne or Marta Sánchez, or that, simply, one day they were passing by and the then only television in Spain programmed them four Saturdays in a row in prime time, see Jose Manuel Soto, a one hit wonder of manual.
Quite the contrary, outside of Spain we have a bunch of facherío of the seven notes of which many are probably unaware of their ideological affinities. The eldest, Elvis, was a Republican party and an avowed fan of Nixon. The King was not the only one. Rock has given outstanding defenders of traditional values, of family, of God and lower taxes, of names Phil Collins, Ted Nugent, Prince. Until Johnny Ramone, a book curator, spent two decades without speaking to Joey Ramone, leader of the Ramones and outspoken leftist, and that was not an obstacle for them to make the formation of Forest Hill one of those bands with two or three discs of those that you have to take to a desert island.
Half of the Movida payroll was right-wing or openly uprooted from politics and no one seemed to care. Alaska, Antonio Vega, his cousin Nacho, were fine children of that Madrid that imploded in Argüelles and Chamberí, in the heat of the classrooms of the French Lyceum or an embassy in Mexico, while the suburbs aligned itself with the PCE or the PSOE and each other they lived together in harmony and finished drinks at the Cuatro Rosas de los Caligari. There were rehearsal rooms in Madrid's Calle de Tablada where Edi Clavo and Rosendo played table football. That itself was coexistence and freedom and not that of Díaz Ayuso.
Nacho Cano, who is already back, will not be affected by his affair with the Empress of Lavapiés. His career is amortized, but this country of Caínes continues to understand music and the right as water and oil, phosphorus and gasoline. The rocker had long been Bruno lomas had finished his career before dying in a traffic accident in 1990. He mainstream of the time he had sentenced him many years before for his affinity with the extreme right. Lourdes Hernández, face and voice of Russian Red, ended in 2011 with a promising musical career when in an interview she declared herself on the right. So, suddenly, quietly. The indies did not forgive her. Far from amending the flat, the following year an unfortunate tweet about anorexia just buried her.
Can, therefore, musicians declare themselves on the right? It seems so, even if it seems sinful. And to cite another topic, well, they are on the right and in sin they carry penance.
@jorgefauro