Calviño assures after meeting with the European Commission that he will continue working to outline the reforms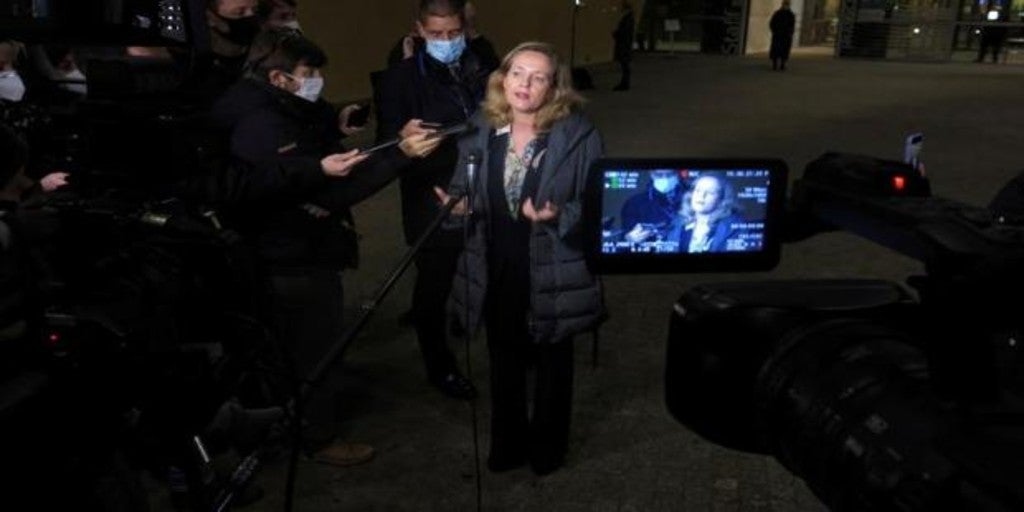 Madrid
Updated:
save

The Vice President for Economic Affairs, Nadia calviño, has held meetings this Thursday with several representatives of the European Commission, to whom it has guaranteed that the Government will continue working "in the coming weeks" to outline the details of the reforms included in the Spanish recovery plan.
«What we will do in the coming weeks is continue working with the European Commission precisely to specify the missing elements related, for example, with that calendar of objectives and milestones that we have to unfold in the coming years and other issues on which we will continue to work, "he said in statements to the media from Brussels.
Calviño has moved to the community capital to meet with the economic and competition vice presidents of the Community Executive, Valdis Dombrovskis and Margrethe Vestager, and with the Commissioners for the Economy and Budgets, Paolo Gentiloni and Johannes Hahn, among others.
The encounters, which have taken place "In a tremendously positive and constructive environment", were intended to "prepare the final phase of the recovery plan" that the Government is preparing, which includes the reforms and investments that it will finance with the 140,000 million European aid.
The economic vice president of the Spanish Government has acknowledged that "Much work remains to be done", although he also stressed that the strategy goes "in the right direction" after a "constant collaboration" with the Community authorities to "guide the final phase" of its preparation.
Asked if Brussels has been proposed to extend the period for calculating retirement pensions, Calviño replied that the document sent to the Commission "Includes the principles of the Government's action and the guidelines of the Toledo Pact".
"What we have sent is a set of elements that will be worked on in the social dialogue," he explained. The Government, he added, has sent Brussels "Elements" that will continue to negotiate with unions and employers both with regard to the reform of the labor market and in the case of the pension system, without giving further details in this regard.
European Funds Decree
On the other hand, asked if she has felt comfortable with the fact that the royal decree on the management of European funds has gone ahead thanks to the Vox abstentionCalviño has said that he does not understand why he has not received the "unanimous support" of all political forces.
«I have a hard time understanding that has not had the unanimous support of all political groups given that it is such an important issue for the well-being of the Spanish people ", he pointed out.
In any case, the economic vice president has defended that the validation of this royal decree by Congress «It was an important milestone to start to effectively deploy the recovery plan »in Spain.