Calixto Bieito: "You can always see yourself in Shakespeare's characters"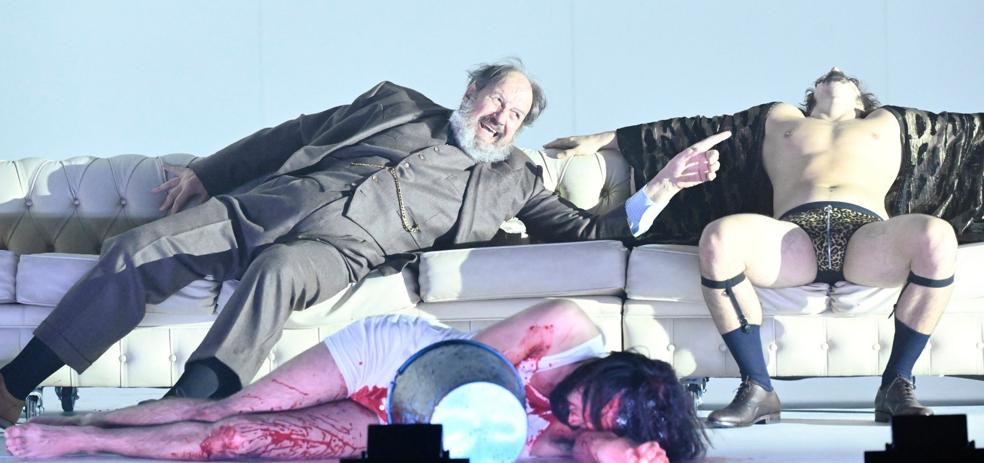 The director from Burgos writes and directs 'Erresuma, Kingdom, Reino', a production that closes the Cuyás season on June 17 and 18
Calixto Bieito (Miranda de Ebro, 1963) is the Spanish stage director with the greatest international presence for years and a specialist in William Shakespeare, to the point that he has embarked on writing and directing a production inspired by historical dramas 'Richard II', 'Henry IV', 'Henry V', 'Henry VI' and 'Richard III', which he has titled
'Erresuma, Kingdom, Kingdom'. It is performed on June 17 and 18, always from 7:30 p.m., in a Cuyás Theater in the capital of Gran Canaria that closes its season with this proposal before the summer break.
«I have done many Shakespeare and in different languages.
I have done it in England, in Germany, in France and in Scandinavia. Arriving in Bilbao, I thought that it was an ideal material to explore with a good company of actors. I first thought of doing some very long days, because his works are long. But now that there are so many medieval stories on Netflix and that, although I have not seen it, I understand that the series
'Game of Thrones' is inspired by Shakespeare, I thought I'd do
something different, compressed and focused on the characters and inside», explains Calixto Bieito, by phone from Prague.
That reduction exercise was quite complex. «On a textual level it was difficult, because at the beginning I had the idea of ​​making it longer and filtering so much was complicated. I know the works very well.
I have done many Shakespeare and several integers. Each era has its Shakespeare, with its own aesthetic. I've done everything from a very trashy 'Macbeth' to an elegant English 'Hamlet'. Also
I know that period of history quite well., but once I managed to reduce everything, I decided to leave it to the viewer's imagination. At that point it was easier », he recalls.
the human race

The director from Burgos emphasizes that the universe of the Bard of Avon "touches
many people keysbecause he knows the human race very well».
"Shakespeare is identifiable in every era. He will be in the nearest future, also in the most distant, just as he was in the past. You can always see yourself in Shakespeare's characters. You can also be moved by his poetry. But that depends on each one.
I don't like to tell the public what to think», he points out.
From a plot point of view, Calixto Bieito has opted for the
"oblique angles" for 'Erresuma, Kingdom, Kingdom'.
«What I have tried is to do like Shakespeare. He talks about stories from his past, but he explains things about his present and the ones he can't say, he hides.
He leaves them hidden. I thought the same thing and that's why I set it in an almost museum installation, rather than in a set design. It is about some characters before a table and in 1966, to have a little distance and preserve the
anachronism that exists in Shakespeare", Explain.
Calixto Bieito acknowledges that his proposal has "different language boxes." "Some will see
simple thingsothers may
they get upset and some will discover different levels in the story we tell, "he adds.
Violence and reflections

Calixto Bieito assures that his 'Erresuma, Kingdom, Reino' captures "a violent universe and at the same time full of uncertainties,
infighting and reflections on what we are».
Hence, in this personal immersion in the Shakespearean pieces set in The War of the Roses, he bet on fixing his gaze «on the characters and their
inside world».
They come to life with «
a cast of excellent actors», defends Calixto Bieito. Is about
Jose Maria PouJoseba Apaolaza, Lucía Astigarraga, Ylenia Baglietto, Ainhoa ​​Etxebarria, Ane Pikaza, Iñaki Maruri, Koldo Olabarri, Lander Otaola and Eneko Sagardoy.
"We've done a great job with old material and these great actors focusing on each character. It is as if we were starting from a Richard II who, as king, has discovered the ephemerality of existence and the banality of many things and the work moves towards different things, where there is a great loss of values ​​and violence without a future.
Richard III, for example, does not consider himself bad, he has no regrets because he thinks he is a good person and thinks that what he does he has to do because society works that way", says the artistic director of the Arriaga Theater in Bilbao and resident director of the Basilea Theater.
in Czechia

Bieito is in the Czech Republic because this Sunday he premieres at the
Prague National Theater a new production of
'flammen'only opera by the composer
erwin schulhoff (1894-1942).
"He died very young in a concentration camp.
The Nazis said his music was degenerate. This opera premiered in 1932 in Czech and since then it has not been performed again in this language as we will do now. It is based on the myth of Don Juan and his music is fantastic », he advances.