Caixabank urges to agree as soon as possible the ERE in the heat of war with the unions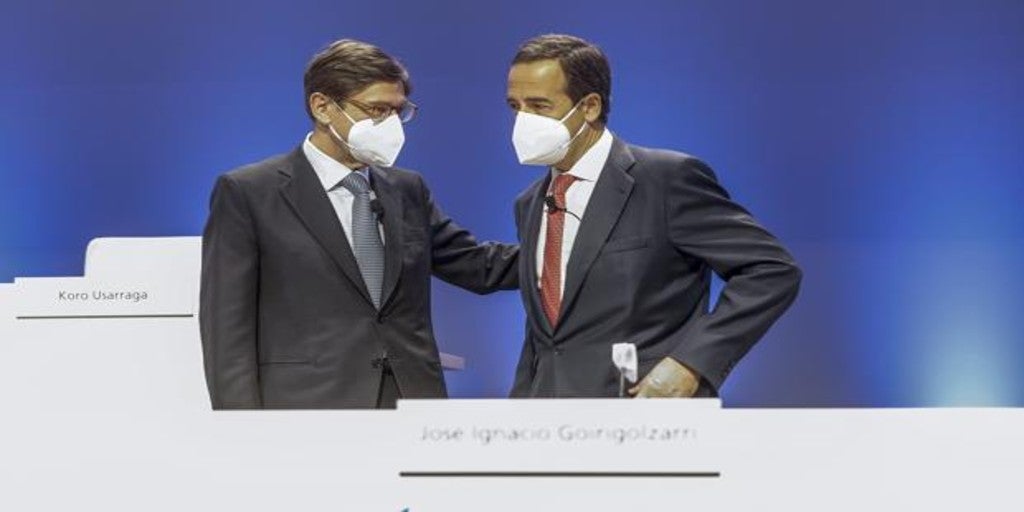 Madrid
Updated:
Keep

The most convulsive general meeting of shareholders in Caixabank, in full negotiation of a
Historical ERE over nearly 7,800 workers.
The unions promised war during the appointment and they have not disappointed; they have planted a battle both inside and outside the venue where the event is held in Valencia.
The meeting began at 11:00 a.m. and some time before, there were already workers at the gates of the meeting place. The mobilizations have been divided both inside and outside, with T-shirts, banners and proclamations against the bank, especially against President José Ignacio Goirigolzarri and CEO Gonzalo Gortázar. A peaceful outdoor protest, with humor included: two people have donned masks of both managers while throwing false bills into the air.
Inside, the interventions of the unions have been the most tense moments. Representatives of CC.OO., UGT, SEBC, CGT, Accam … all of them have participated in the meeting from the lectern. They have not hesitated to speak, in the middle of the ERE, of "massacre", "shame", "savage", and so on. "Not everything goes, and neither are the arguments that are being made that it is necessary to fire 8,300 people to save 44,000. The problem is the forms. We do not accept forced dismissals, we do not accept forced dismissals. Come down from your tower, leave the perch and soak up reality, "said Ruth Bolaños, from CC.OO. In addition, all union representatives have criticized the president's salary increase – he triples his salary – compared to when he ran Bankia.
Before the interventions -with some shareholder also out of tune, something common in these appointments- it was Goirigolzarri's turn. "A merger like the one we are carrying out requires a resizing of our workforce in the short term to preserve the maximum number of jobs in a sustainable way in the future," he explained.
Release thousands of people in order to guarantee the bank's viability, an argument rejected by the workers' representatives.
"I am aware that these are delicate moments and that this situation generates uncertainty for the people of our team, so we must limit the time," added the president. In any case, Goirigolzarri has commented that their objective is to "reach agreements" and that he is convinced that they will be able to reach them.
The manager also said that the merger is their "strategic response to the enormous challenges we face as a sector," while emphasizing that their job as managers is "to ensure the sustainability of the project in the future." For all this, they must "Rethinking the traditional model" to do banking given the current situation of the union, with hardly any profitability.
"Looking to the future, this situation will force us to make very important strategic decisions, but, above all, it will force us to be an extremely flexible organization, capable of responding with enormous speed to a changing environment", stated the President of Caixabank.