CaixaBank and CB Gran Canaria collect 10,000 kilos of food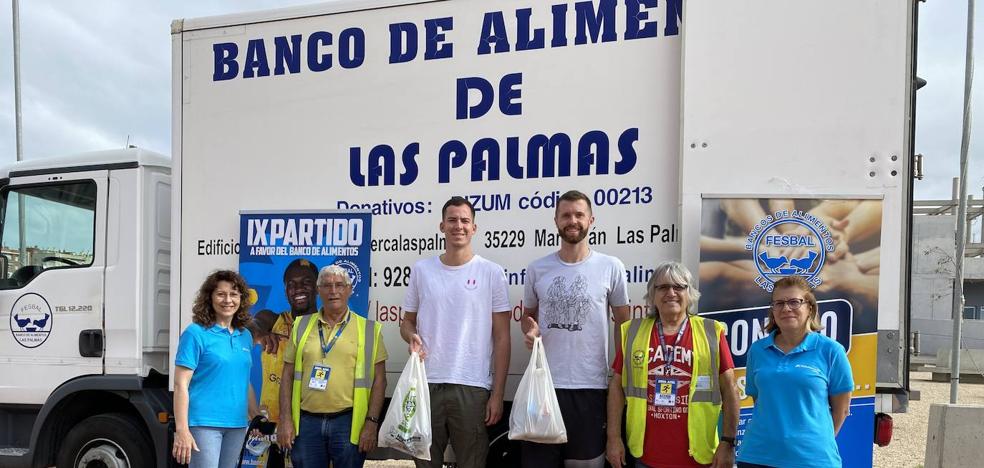 solidarity
One more edition, the Claretian fans have shown their most supportive side with the collection of nearly 5,000 kilos of basic food
CaixaBank and the
Gran Canaria Basketball Club have raised about
10,000 kilos of food for the Food Bank of Las Palmas through the IX Party in favor of the Food Bank, a solidarity initiative in which the Claretian entity and the financial entity have joined forces involving all the fans of the club to support the most vulnerable people in the province.
One more edition, the fans have shown their great spirit of solidarity and have been involved in this initiative leading to last Saturday's game against Real Madrid
staple foods to respond to the demands of the most needy people served by the Food Bank in this extraordinary situation of social emergency.
From an hour before the match, the
exterior square of the Gran Canaria Arena brought together numerous fans and members of the team at the food delivery point, which had the collaboration of volunteers from CaixaBank in the Canary Islands and the Food Bank of Las Palmas.
In this solidarity action, CaixaBank also
has donated one euro for each kilo contributed by the Claretian fansmatching the amount of food that has been collected in this initiative through a contribution of
5,000 euros for the Food Bank of Las Palmas, which will be used to supply its warehouses with 5,000 kilos of food to continue covering the basic needs of its beneficiaries.
CaixaBank, reference sponsor of Spanish basketball

CaixaBank is a sponsoring member of the
Spanish Basketball Federation (FEB) and official sponsor of the Spanish national team, both male and female, in all its categories, ranging from absolute to sub-16, and main sponsor of the Spanish Federation of Sports for People with Physical Disabilities, with the aim of
boost wheelchair basketball.
The financial entity has become involved with national basketball
since 2013 and its involvement and activation of multiple initiatives around this sport have helped to make visible and expand the impact of the greatest successes achieved internationally.
In its implementation of the local sponsorship strategy, CaixaBank has collaborated with the main basketball events that have been held in the last decade in Spain, both professional and amateur, transferring the values ​​of sport to all corners of the country.
Proof of this is the bet as official sponsor of the
2014 World Cup held in Spainthe activation of multiple initiatives coinciding with the FIBA ​​windows played throughout the territory, the collaboration with the Women's Basketball World Cup held in Tenerife in 2018, the
Women's Eurobasketball that takes place this year in Valencia or the historic commitment to the
Plaza circuit 3x3 CaixaBankthe largest 3x3 street basketball circuit that has been played since 2012, one of the benchmark grassroots sport competitions that has brought together
more than 42,000 players of all ages and which has received more than 200,000 visitors after visiting 39 Spanish cities throughout its history.