Cádiz win and send Eibar to the relegation places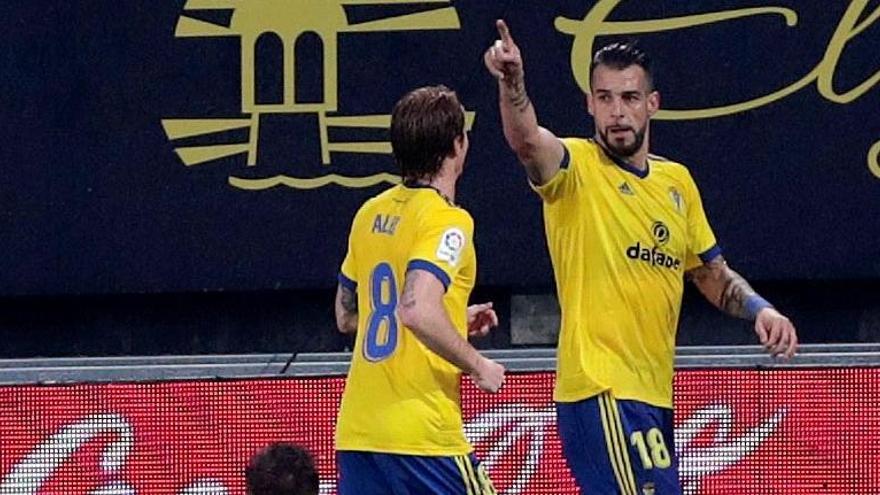 The Cadiz won by 1-0 Eibar with a goal from Alvaro Negredo in a vital meeting for both teams in the fight to avoid relegation, positions in which the Gipuzkoan team enters with its defeat and the previous victories of the Valladolid and Elche.
In the party there was two goals disallowed and a penalty scored by Eibar, But, after this result, Cádiz adds 28 points and moves away in six of the relegation places, to which Eibar falls with 22.
In the first half, the Eibar team came out stronger, looking for their points from the first minutes and putting the Cádiz defense in trouble in the actions of Sergi Enrich and Kike García.
Precisely Sergi EnrichJust before the quarter of an hour, he beat Argentine Jeremías Ledesma shortly before the quarter of an hour, but the referee canceled the goal because his header was deflected by the attacker himself with his hand. Immediately afterwards, Salvador Sánchez 'Salvi' scored with a cross shot but the electronic score did not go up for offside.
Little by little, Cádiz grew and the pressure of Eibar diminished. Álvaro Cervera's team managed better and in a good action with the Uruguayan center Luis Alfonso Espino Álvaro Negredo, head first, achieved what would ultimately be the final goal.
Eibar had no choice but to look for a gear change. The men of José Luis Mendilíbar warned soon after the break with a shot from Bryan Gil that went off. But his best chance was a penalty by Juan Cala. The maximum penalty became a goalkeeper duel. 'Conan' Ledesma was successful in guessing the shot by Serbian Marko Dmitrovic (m.55), who already knew what it was to score in this league.
And as Negredo could not sentence three minutes later, Eibar intensified its push in the opposite field in pursuit of the tie. The factor of set pieces won integers. The Gipuzkoan team had their options, although he also had his, of course, the Honduran Anthony 'Choco' Lozano, but Cádiz finally knew how to protect a key victory.
Data sheet:
1 – Cádiz: Ledesma; Iza Carcelén (Jairo, m.78), Cala, Marcos Mauro, Espino; Jonsson (Fali, m.73), José Mari (Garrido, m.72), Álex Fernández, Salvi (Perea, m.62); Nephew and Negredo (Lozano, m.73).
0 – Eibar: Dmitrovic; Well, Oliveira, Arbilla, Cote; Pedro León (Rodrigues, m.67), Diop (Recio, m.78), Exposito (Aleix García, m.67); Bryan Gil, Enrich and Kike García (Muto, m.78).
Goal: 1-0, M.34: Negredo.
Referee: Carlos del Cerro Grande (Madrid Committee). He admonished the locals José Mari and Jairo and the visitors Sergi Enrich and Cote.
Incidents: Match day 26 of The league Santander played at the Ramón de Carranza stadium without an audience. Intermittent rain throughout the match.