Cádiz takes air at the cost of a Celta in fall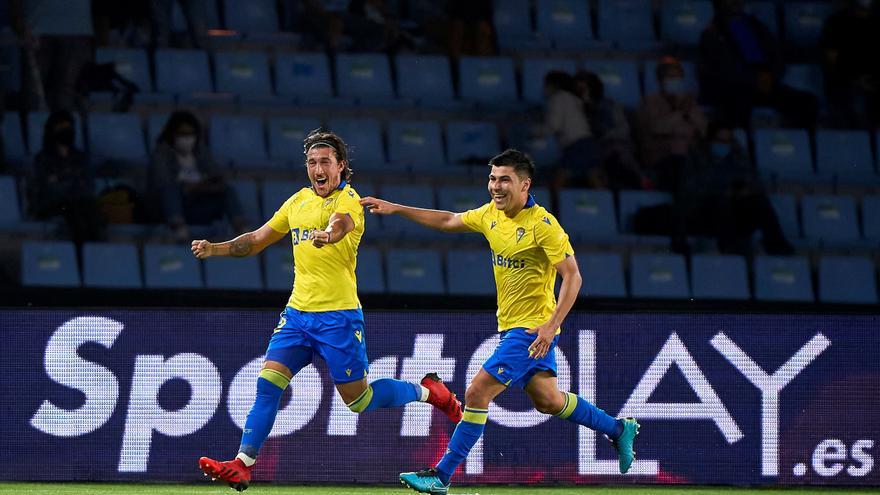 Cádiz suffered, but added their first victory of the The league in Balaídos, after defeating a Celta de Vigo this Friday (1-2) who does not raise his head, victim of two errors in the first half that paved the Cadiz victory, who went ahead with goals from Lozano and Espino.
Álvaro Cervera blurred Celta in the first half with his approach. With Fali as a pivot behind a line of four midfielders, Cádiz drowned their rival in the creation zone. The celestial ones abused the game in short, of the lateral passes. And its wingers -the Argentines Cervi and Augusto- barely came into play.
To that was added that Denis Suárez was not fine, which forced the central Murillo and Fontán to play too many times at length. Everything the Cádiz coach had dreamed of, who only suffered in the first half when Hugo Mallo beat the Uruguayan side Espino's back and Cervi finished high (min.4).
The Cadiz team was very comfortable, waiting for his chance. And they arrived in the final stretch. First Lozano exploited a defensive imbalance of the celestial in a lateral foul to overcome Dituro with a header; and then Jose Fontán committed a child penalty on the Honduran.
Argentine goalkeeper Matías Dituro stopped Sánchez's launch, but the Uruguayan Espino was faster than the defenders and scored after picking up the reject. Cádiz arrived three times and scored two goals. Maximum effectiveness.
Eduardo Coudet, desperate for his team's game, revolutionized his eleven at halftime. He went on to play with three behind and put on the field Nolito, Brais Méndez and the Brazilian Galhardo, three offensive footballers. And his team in less than five minutes created more danger than in the entire first half.
Celta locked Cádiz in their field with an electric game. Santi Mina, after Ledesma stood out against Aspas, cut the disadvantage with a powerful shot. It was just under half an hour. He kept pushing the blue team, with Aspas more participative and turning his game sideways.
Santi Mina touched the double twice, but the best opportunities for the hosts came in injury time with a header from Iago Aspas and another from Jeison Murillo that crashed off the crossbar.
Celtic: Dituro; Hugo Mallo, Murillo, Fontán (Galhardo, min46), Javi Galán; Wall; Solari (Fran Beltrán, min.64), Denis Suárez (Brais Méndez, min.46), Cervi (Nolito, min.46); Aspas and Santi Mina.
Cadiz: Ledesma; Iza, Haroyan, Chust, Espino; Fali (Álex Fernández, min.71); Sánchez (Negredo, min.81), Tomás Alarcón, Bastida (Jonsson, min.71), Lozano (Arzamendia, min.55); Nephew (Osmajic, min.71).
Goals: 0-1, M.37: Lozano. 0-2, M.42: Hawthorn; 1-2, M.64; Santi Mina
Referee: Díaz de Mera (Castilian-La Mancha Committee). He admonished the locals Galhardo (m.48) and Tapia (m.73), and the visitors Rubén Sobrino (m.46), Haroyan (m.52) and Tomás Alarcón (min.61)
Incidents: Match of the fifth day of LaLiga Santander played at the Abanca Balaídos stadium before 6,754 spectators. Before the match, Celta paid tribute to the Galician Paralympic athletes Susana Rodríguez Gacio, Celso Comesaña and Agustín Alejos, who received a Celta shirt with their name on it. The Olympic champion also took the honor kick.