Cádiz assaults San Mamés and stops Athletic Club dead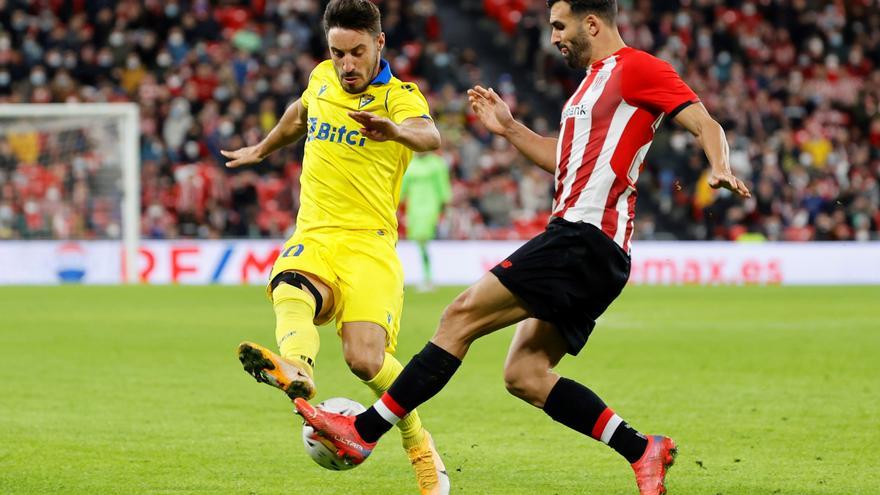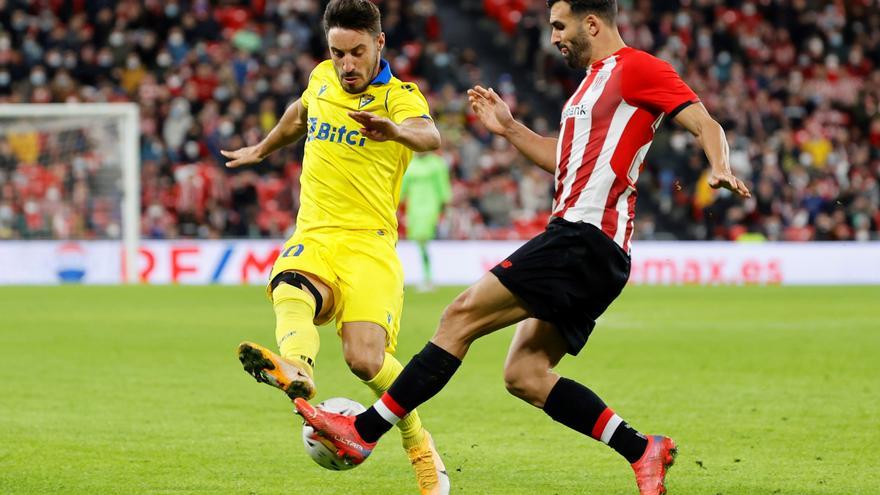 A goal from Salvi sanchez at the start of the game, in minute 6, he gave three more than deserved points to the Cadiz in his visit to San Mamés and temporarily removed the yellow team from the relegation places.
The 0-1 final punished, on the other hand, a bad game of the Athletic, who suffered his second defeat of the season, both curiously in 'La Catedral', and is left without the prize of entering European positions on this thirteenth day to pass the league break in peace.
Salvi beat Unai Simón with a cross shot that poisoned the international goal after touching Íñigo Lekue, in a play born in a ball to the area towards Anthony 'Choco' Lozano who could not control as the Honduran wanted.
With this result, Cádiz ended a losing streak of seven games without winning, while Athletic ended an opposite five games without losing.
[Consulta la clasificación de LaLiga Santander]
Cádiz started better. So much so that by minute 6 he had already advanced on the scoreboard. Although he had already warned before with two arrivals from Perea, the first at half a minute of play, and a corner. Although Perea missed the first shot and found Simon in the second.
But the yellow team insisted and Salvi Sánchez found the prize he was looking for by shooting across a ball that fell into the area after Choco Lozano tried to control it at first. Sallvi's shot hit Lekue and Simón could no longer prevent the ball from passing between his legs.
A penetration into the area by Sancet seemed to advance the 1-1, but the young Navarrese was between pretentious and indecisive and in the end they stole the ball. It was not the only time it happened.
With Athletic trying to take over the game, the second great visitor chance came after a serious error by Nuñez in the 32nd minute. Perea stole the ball and stood alone against a Simón who proved his international status.
And he did it again five minutes later. On that occasion, a shot from Lozano that he stopped in two halves.
A direct free kick to goal in a kind of semi-corner, which Muniain went high, gave way to a rest time at 0-1 was little advantage for what Cádiz deserved.
He tried to put one more gear into his game with Nico Williams on the field, but, although the arrivals on the area followed one another, they were run over and dull in the boots of the Williams, Vesga and Sancet.
The closest thing to a local chance was a header from Muniain from a corner kick that came out very focused on Nuñez.
More danger led to a center after pouring down the left of 'Pacha' Espino who did not find a finisher.
A pumped shot by Iñaki Williams that almost gave Ledesma a scare and some last attempts by the youthful Nico Serrano and Balenziaga were also unlucky and the match ended with the same Cadiz victory of last season in San Mamés (0-1).
Data sheet:
0 – Athletic: Unai Simon; Lekue, Nuñez, Yeray, Balenziaga; Berenguer (Nico Williams, m.46), Vesga (Raúl García, m.57), Dani García, Muniain (Serrano, m.76); Sancet (Morcillo, m.89) and Iñaki Williams.
1 – Cádiz: Ledesma; Iza Carcelén (Akapo, m.70), Haroyan, Juan Cala, Espino; Salvi Sánchez (Chapela, m.46), Jonsson (Negredo, m.84), Alex Fernández, Perea (Arzamendia, m.63); Nephew and Lozano (Fali, m.70).
Goals: 0-1, m.6: Salvi Sánchez.
Referee: Santiago Jaime Latre (Aragonese Committee). He showed a yellow card to the locals Yeray (m.26), Morcillo, while warming up on the band (m.68), and Nico Williams, and to the visitor Haroyan (m.85).
VAR referee: David Medié Jiménez (Catalan Committee).
Incidents: Match of the thirteenth day of the First Division, played in San Mamés before 37,581 spectators.