CAAM presents 'Sistershoop', an exhibition about women in sport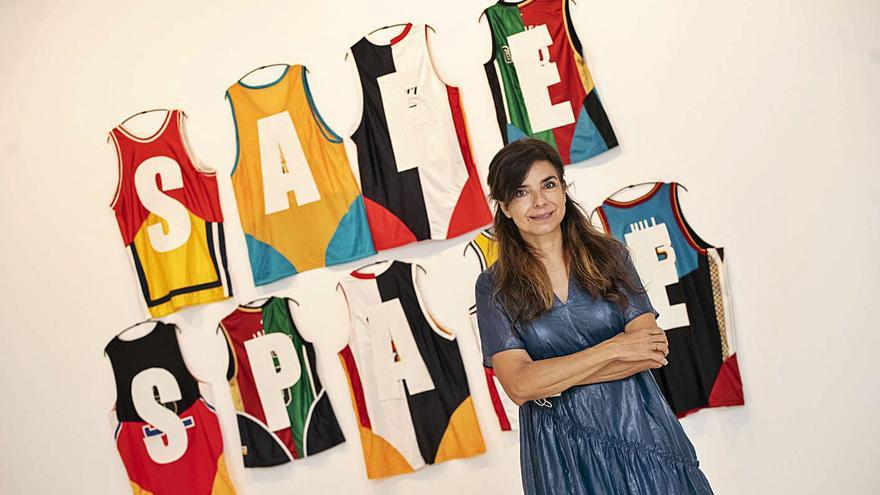 The Atlantic Center of Modern Art (CAAM) Sistershoop.Garments and Rights opens to the public from today, the first exhibition in the Canary Islands of the Spanish artist based in Amsterdam, Alicia Framis, one of the Spanish creators with the greatest international projection. In this exhibition project -the first that the CAAM dedicates to women's basketball- the artist proposes to make visible to all the women of our country who have managed to achieve great national and European sports triumphs with their effort and to all the fans that support these athletes .
The exhibition is articulated with the result of the research and dialogue project that the artist carried out this year with a female basketball team from Gran Canaria and is completed with a selection of emblematic works of Framis's artistic production, in which They can admire some of her well-known clothing with incorporated messages, which she uses as support to launch messages on fundamental issues for community life, such as the problem of structural inequality suffered by women in contemporary society.
Alicia Framis (Barcelona, ​​1967) is a multidisciplinary artistr whose practice fuses architecture, design, fashion and performance. His work is project-based and focuses on different aspects of human existence. In her works she usually works from social and feminist discourses, to develop novel scenarios characterized by her interest in finding solutions to current problems. He develops platforms for creative social interaction, often through interdisciplinary collaboration with his fellow artists and with specialists in various fields.
The use of clothing as a support is very present in Framis's artistic universe. The Catalan-born creator uses textiles of all kinds as a form of expression to deepen and reflect on their different meanings, on the forms of expression of the body or on how these elements have been used by human beings throughout history. .
In the Sistershoop project, Framis focuses on the field of sports in general and on basketball in particular to focus on the invisibility of women's sports practice, using unique clothing -such as t-shirts, hats or veils inspired by the mantilla. canaria-, expressly designed for these players with slogans incorporated as a means of vindication.
In line with her previous proposals, the artist carried out this project with the collaboration of a group of women, of different ages, who are part of the female team of the Canterbury school, a private educational center in Las Palmas de Gran Canaria that has with an outstanding team, the Canterbury Lions.