C. Tangana reinvents the mass show at the WiZink in Madrid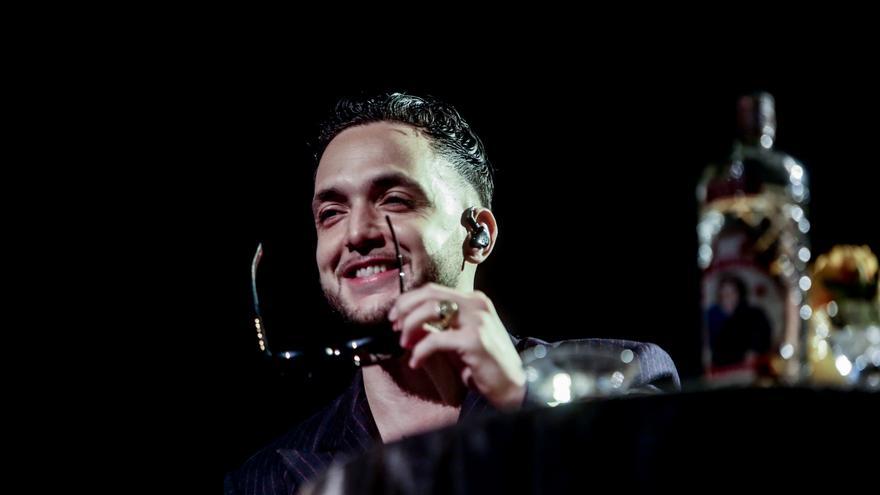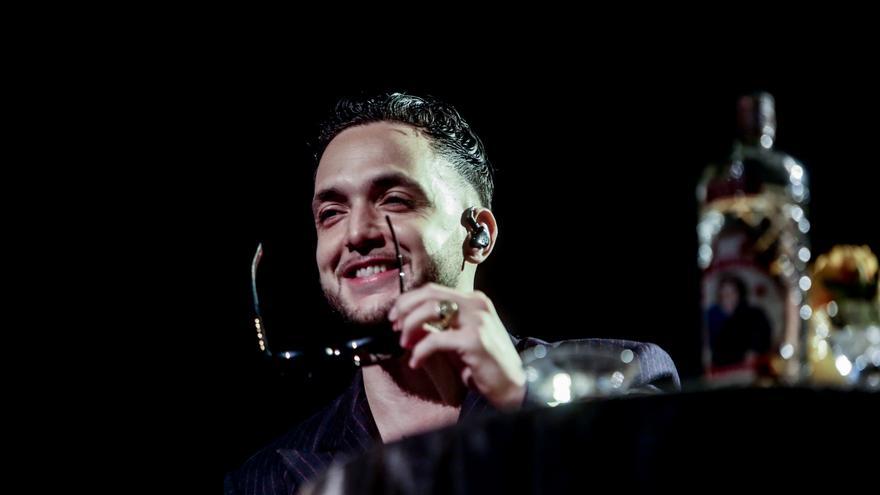 "It's the most important concert of my fucking life." C. Tangana managed to pack the WiZink Center in Madrid on Saturday with more than 15,000 people in the capital's show for his presentation tour of 'El madrileño', the album that has catapulted him to the altars of contemporary music thanks to its captivating fusion between tradition and the present, between flamenco-pop, Latin rhythms and urban music.
Aware of the importance of this 'at home' performance, the artist surrounded himself with an impressive battery of guests, completely dynamiting the star concept of the function. Pucho accompanied them, acted as host and gave them his space on stage in a profoundly generous way.
The concert was planned as an evening, with its starters, its first and second courses and dessert, in a cocktail bar-style setting with diners at their respective tables, seven in total, with their lamps and bottles of whiskey and anise, to which, among others, sat El Niño de Elche, El Bola, members of the Carmona and La Húngara families, who would actively participate throughout the show. A bar full of drinks, with a barman included and friends backed by a band, choirs, string section (on one side) and wind section (on the other) that moved throughout the space. In total, about twenty musicians.
The intimacy of the proposal contrasted with the dimensions of the enclosure. Perhaps for this reason, several cameras were in charge of recording the details, almost as if it were a cinematographic work filmed live and broadcast on three gigantic screens, so that the public could also feel invited to the meeting of friends of C. Tangana. In this sense, the staging and visual conception (again the work of Little Spain) were fundamental and expanded the imaginary that had already been deployed in the video clips and in the performances recorded as a tabletop, as well as in his performance in the ceremony of the last Goya awards.
almost gone
Some of his most recent 'hits' were displayed in the starters, such as 'Te venero', along with Rita Payés, 'La culpa', with Omar Montes, or 'Ateo', with the always captivating Nathy Peluso, to end the section with 'Demasiada mujer', more techno, but not before leaving the audience hoarse to the sound of 'What the fuck has happened to me', the chorus of 'Nominao', in this case without Jorge Drexler. Nor was Andrés Calamaro present to sing 'Hong Kong'. Pucho showed up wearing sunglasses (by Gucci), a dark suit without a shirt and a silk scarf, in keeping with his recent sobriety, moving around the tables and sitting at them, sharing good-natured hugs, sometimes even almost disappearing to make way for their people.
The second act (in this case, the first courses, continuing with the culinary comparison) opened with the mythical table set up at NPR's Tiny Desk, but in this case of gigantic proportions, to which of course they were invited Kiko Veneno and Antonio Carmona. C. Tangana in the center, as if it were a picture of 'The Last Supper' together with El Niño de Elche and La Húngara, her two squires. It was the most improvised section and the songs followed one another continuously, some in the form of a 'medley', going from 'We're not crazy' to 'Noches de bohemia', 'Although you don't know it' or 'Flying I'm going' (also 'Heart split'), along with 'Ungovernable', Me maten' or 'Tranquilísimo'.
There was no time for boredom. Pucho was calm, sure of himself and of the proposal that he was presenting, original, ambitious and forceful. The stage was a constant party. Despite the number of people piling up, everything seemed to unfold organically.
last page
There were practically no winks to his previous rapper and reggaeton facet. C. Tangana has left her behind, she has turned the page and only rescued some sporadic song like 'La limo'. Not a trace of the toxic masculinity that her first works distilled, beyond a few references to women's asses and the carnal embedment of certain songs from 'El madrileño'.
Aware of his weak points, he called the tour 'Without singing or tuning', a verse contained in 'Your poison', a song with El Niño de Elche in which his artistic facet was already questioned. He was one of the desserts in a perfectly timed display that lasted around two hours. There were no encores, the show was closed in on itself, with its closing credits. a show destined to go down in history for its ability to reinvent the traditional mass show.