Buenafuente brings the humor of 'Late Motiv' to La Palma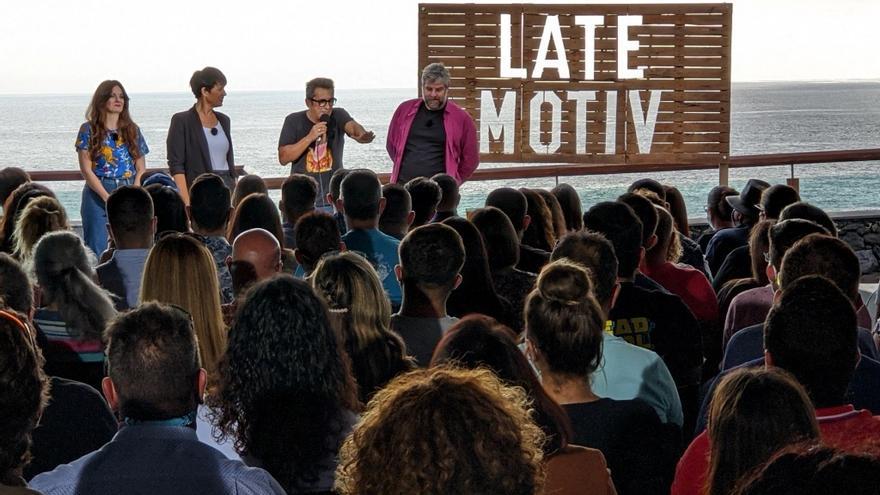 The humorist Andreu Buenafuente has recorded a special of his program 'Late Motiv' in La Palma to "bring a smile to its inhabitants" and show your support to all those affected by volcano.
Recorded on October 30, 'Late Motiv x La Palma' It will be available to everyone through the Movistar + App, without the need to be paid, as of November 11, as reported in a statement from the platform.
The program includes four monologues: Buenafuente, one by the scriptwriter and collaborator of the program Laura Márquez, another by Raúl Cimas and a quarter by the comical palm tree Petite Lorena.
Buenafuente also interviews the volcanologist Nieves Sánchez; the president of the Platform for People Affected by the Volcano, Juan Vicente Rodríguez, and the journalists Fátima Plata (Televisión Canaria) and Javier Rodríguez (Cadena SER). And the musical closing will be carried out by the singer-songwriter Palmera Valeria Castro.
"We have been to La Palma with 'Late Motiv' without sensationalism. A little proven information, listening to those in the know and looking for laughter with those people who must be supported (not only now) and applauded and who filled a terrace in front of the sea to seek something similar to normality ", he said. Good source after recording.
The program was recorded in the viewpoint of the El Jardín de la Sal restaurant, in the town of Fuencaliente, with the sea in the background.