Bubble syndrome plans again on renewables | Economy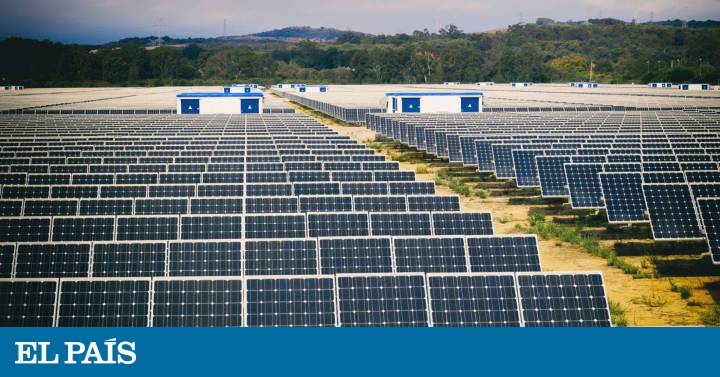 The president of BP Spain, Luis Aires, took advantage on Thursday of the presentation of the 68th report BP Statistical Review of World Energy 2019 to put on the table something that has been spreading for a long time around renewable energies in the energy sector. "There is a certain bubble," he launched. "There is a speculative investment that can lead to an escalation of prices," he added, noting the growing request for permits that has occurred in Spain and that already exceeds 150 gigawatts (GW) of generation capacity. The equivalent, he explained, to the installed power worldwide during the past year. "It is a fact that has to make us think", he emphasized in the presence of the former president José Luis Rodríguez Zapatero.
Aires was right to say, immediately, that the Government is very aware of the matter. It is true that the Government has been studying for some time measures to prevent the massive request for access permits, which currently exceeds 150 GW, which is nothing more and nothing less than three times what is expected increase the power of renewable energies until 2030.
At present, access to the network is regulated by a royal decree of the year 2000, according to which the acquisition of a permit is simple and can be requested by any citizen or company. The only thing that has to comply is the regulation and request it to Red Eléctrica de España, responsible for managing the transport of electricity, which delivers it for free. In this way and before the plans to increase the participation of renewable energy, there has been a flood of requests.
Already last year the Ministry for Ecological Transition decided to double the mandatory guarantee that must be delivered for the investment that is theoretically going to be made. However, it did not have much impact, probably because it is still cheap compared to expectations. Now, the department that runs Teresa Ribera has prepared and put in the drawer a regulation that is waiting for there is a government (not in office) to enact it. This regulation includes measures such as environmental impact statement, land, permit …
These measures, precisely, are in line with those included by the National Commission of Markets and Competition (CNMC) in the proposals for circulars of access to the network recently issued. Your president, José María Marín, has repeatedly warned that regulation should be modified because today it does not allow responding to the current challenges of integrating renewable energies; there is an excess of demand for projects and requests for access to the network; and access becomes a scarce and essential resource for agents, with an obvious risk of hoarding and speculation if regulation is not put in order.
Circulars, which, contrary to what has happened with respect to remuneration, do have the backing of the sector, it tries to objectively assess the firmness and degree of commitment of the applications, relegating those that are not backed by solid projects . It also contemplates permits for a second stretch of complementary power in order to facilitate hybridisations and combine technologies (wind-solar integration) and opens the possibility of granting permits through auctions in cases where a significant capacity quota is released (200MW) . In other words, the highest level of competition is pursued, responding to current problems, ordering excess demand and integrating renewable energy at the highest level.
In short, the bubble exists. In that all agree. The difference, despite the warnings of Aires, is that it is nothing more than an "administrative bubble", that is, it does not imply a hole or loss of money as happened with the previous one, in which projects that remained undeveloped after have made strong investments. In any case, the electricity companies are very clear that they will have to make disbursements, to a greater or lesser extent, to acquire permits that allow them to connect their renewable facilities. For them, they can mean small amounts; but for speculators (usually, people outside the sector) can represent very substantial pinches.
(tagsToTranslate) syndrome (t) bubble (t) plan (t) new (t) renewable (t) ministry (t) have (t) prepare (t) normative (t) avoid (t) speculation (t) request ( t) access (t) requirement (t) cnmc



Source link