Brussels will not require airlines to vacate seats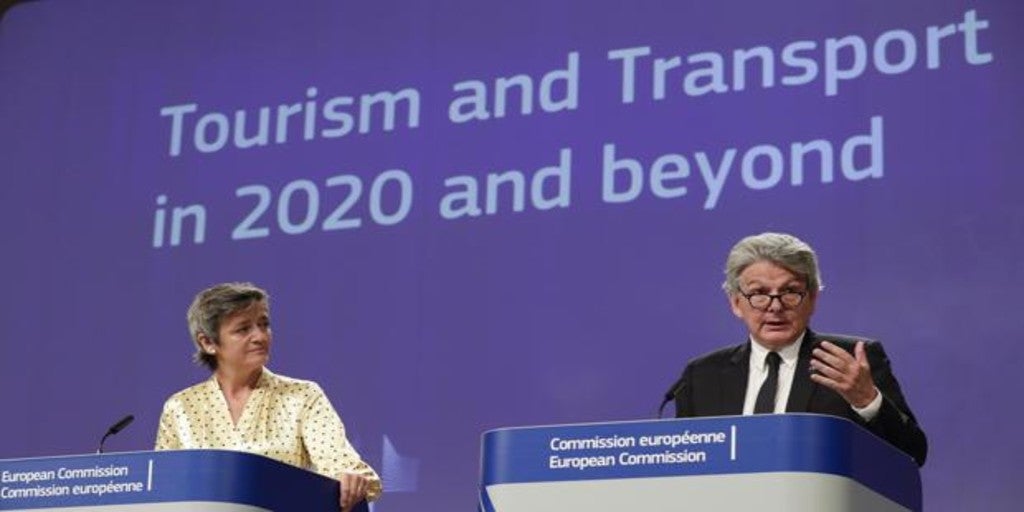 Brussels
Updated:
save

The European Commission published this Wednesday a series of recommendations with the aim of making "most attractive" lVouchers that airlines offer their clients to compensate for flight cancellations due to the pandemic, and among them it suggests the possibility that governments put in place public guarantee schemes that guarantee their disbursement in cases of insolvency.
European legislation allows airlines in the event of flight cancellation to offer affected consumers vouchers for the purchase of future trips instead of money back, but this option is voluntary it must be accepted by those affected, who in any case can always demand cash reimbursement
"Making coupons more attractive as an alternative to disbursing money would increase their acceptance by passengers and travelers. This would help alleviate liquidity problems for airlines and ultimately lead to better protection of passengers' interests." Community authorities explain in the document.
The community vice president responsible for Competition, Margrethe Vestager, has influenced the "enormous pressure" to which the tourism-dependent industry is subjected, such as hotels and airlines, which now have to reimburse thousands of cancellations.
"The european consumers they are entitled to a cash refund, period, "Danish policy has said, to ask later, however, that those coupons be more attractive for consumers to" accept ".
"It is about giving an option to improve the season for many Europeans whose lives depend on tourism and also for those who want to travel, but it will only work if each one of us does our part," said the vice president.
For example, Brussels notes that member states "should actively consider establishing guarantee schemes for coupons with the aim of ensuring that in cases of insolvency of the voucher, passengers or travelers are reimbursed."
The European Comission stresses that these public aids would be an "advantage" for the beneficiary operators to the extent that it would improve their liquidity position. Consequently, it should be approved by the European Competition Services. However, Brussels guarantees that it would accept public guarantees that cover 100% of the value of the coupons.
Regarding the characteristics of these vouchers, the European Executive proposes that they have a minimum period of validity of twelve months. In addition, its value should be reimbursed to those affected no later than 14 days after the expiration of that period if the coupon has not yet been used.
It also proposes that airlines grant passengers vouchers with a value higher than the original reservation, for example through an additional sum or with a new service that was not previously included.
Tips for flying
This recommendation is part of a broader package of guidelines that Brussels is transferring this Wednesday to member states and industry to try to coordinate a gradual reopening of internal borders that will allow tourism to relaunch this summer.
The Community Executive, which does not have competences in matters of health and border management, is committed to a progressive and coordinated exit from the closure of borders and reminds the capitals that it is essential to offer real-time information to tourists to regain their confidence and return to travel this summer and later.
In this sense, he defends the use of mobile applications that help track the spread of the coronavirus and ensure its interoperability across the EU so that traveling Europeans can be alerted to the risk of contagion during their trip. Tracking through these applications must be "voluntary and transparent", secure and use anonymous data.
In addition, it warns that if transport operators or their personnel should be responsible for ensuring that social distance regulations are complied with or preventing the travel of a user who refuses to wear a mask, it will be necessary to clearly define the legal framework for doing so. .
Meanwhile, the Commission is betting on health protocols and coordinated security measures to limit the risk of contagion in transport, where it asks that passengers and workers wear a mask in general, especially where social distance cannot be guaranteed and that the frequencies to reduce the concentration of passengers.
For airlines, Brussels He anticipates that the European Aviation Safety Agency and the competent authorities are working with the European Center for Disease Prevention to present "in the next few weeks" specific guidelines at the technical and operational level to help the sector with the new measures.
Among the examples that it expects to be detailed in the health and safety protocol for the aviation sector, the Commission lists in its communication limiting interaction on board, "exploring the most appropriate allocation of seats based on technical limitations", giving Priority to the use of digital documents and payment methods and avoid the concentration of passengers, but does not mention the suppression of seats to guarantee the physical distance between passengers.