Brushstrokes of art under the ocean of the Canary Islands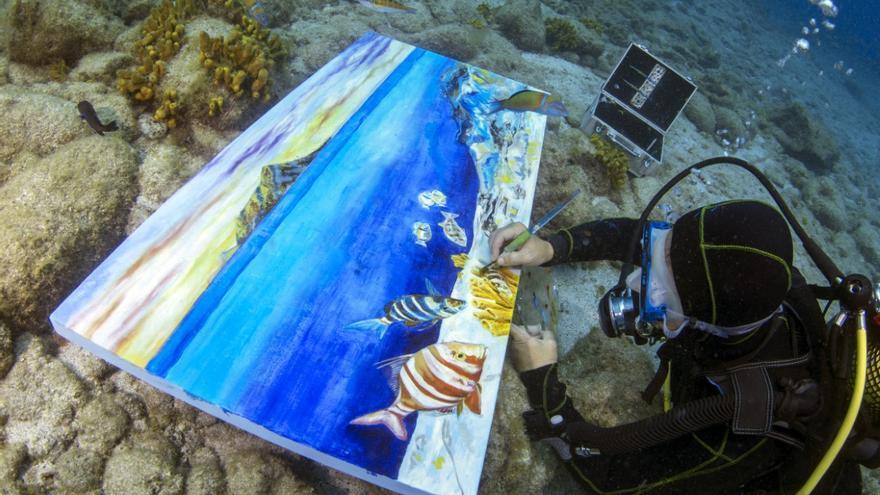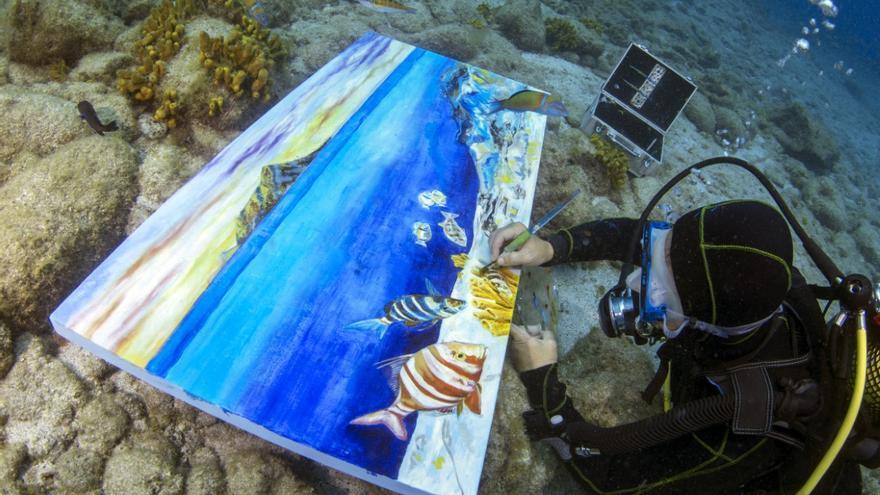 "I have met people related to the sea that I have admired as a child, such as Ives Omer, a member of Jacques Cousteau's team," and also world freediving champions Umberto Pelizzari and Enzo Maiorca. Recognized by the Italian Marine Biological Society, Ely has also illustrated for Walt Disney.
In recent years he has joined his passion for art and diving and paints his pictures under water. The exhibition Ocean brushstrokes in the space Lanzarote Art Gallery by Eduardo Fariña Art Collector, located in the Maretas Shopping Center, in Costa Teguise, shows the paintings he has made at different depths submerged in the Canary Sea, in places such as the Lobos Islet (Fuerteventura), La Graciosa, Great King Valley (La Gomera) Y Melenara, on the coast of Telde (Gran canaria).
Ely, who has lived in the Majorera town of El Cotillo for about seven years, is the first woman in history and, for now, the only one in the world to make such creations, which only five men had made since the 19th century, as she herself has investigated. "There is a man who is dedicated to this type of art, but he does it as a hobby, not like me, who sell my works," says Ely.
"In the end my drawings were always enclosed in a book," says Ely to justify why he decided to dive in to carry out his work and show the marine beauties to a wider audience. First, she began to combine illustration with sculpture, but realized that she was "still locked up" in her studio. What she wanted was to display her art in the marine environment.
In addition to his oil paintings of underwater art, in the exhibition you can see some of his illustrations of fauna and his delicate ceramics with marine motifs in the form of tableware and vases and even a living room lamp.
In the exhibition he shares space with the Belgian photographer based in the Canary Islands since 1986 Sergio Hanquet (Liège, 1962), author of seven books. His underwater images have been published in prestigious national and international media. The photographs that he exhibits in Costa Teguise are part of his collection Sea of ​​Nomads on pelagic species found in the Canary archipelago.
The creations of Ely and Sergio have been seen in Costa Teguise from July 1 to today, the 30th. The gallery will close for holidays from tomorrow and will reopen its doors on September 1, the date on which it will be possible to return. to visit Ocean brushstrokes until the 10th of that month. However, you can make a virtual visit to it through the website lanzaroteartgallery.com.