'Brujito', the indomitable caste | Culture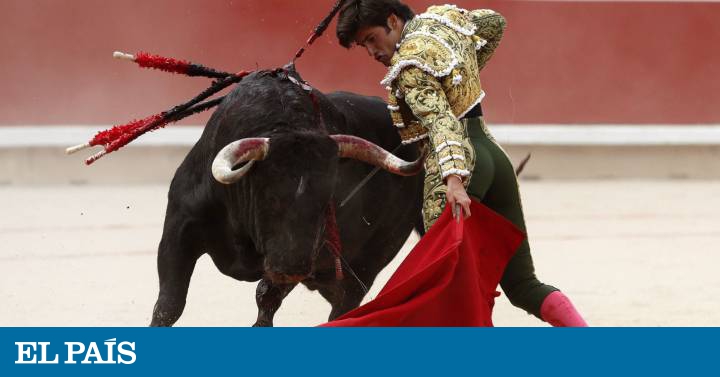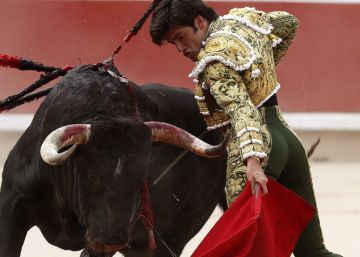 LA PALMOSILLA / GARRIDO, LUIS DAVID, MARÍN
Bulls of La Palmosilla, -The third, as sobrero-, well presented, mansurr, with great mobility and caste. They stood out first, second and fourth. A difficult and demanding run for the short list.
José Garrido: puncture -visit- and half thrust (silence); prick and pith (ovation).
Luis David: low thrust (ear); puncture and low thrust (silence).
Javier Marín: two punctures, five dislocations -visit- and pithing (silence); nine punctures -aviso- and three descabellos (silence).
Square of Pamplona. July 13. Seventh run of San Fermín. Full.
The first bull was quite a surprise as soon as it came out by toriles. Only 500 kilos of weight and an impressive presence, serious, very well armed, of beautiful stamp.
He finished with rage in the burladero and threw splinters into the air, he went with mobility and good style to the veronicas of José Garrido, who closed the session with a knee on his knees, knowing the bullfighter that he should send a warm greeting to the spectators of the sun .
The bull, Brujito in name, disappointed in varas, where he drunk, with his face high and without any delivery, and obeyed without grace in the third of banderillas.
Clarins and kettledrum sounded, Garrido took the crutch and the animal was transfigured. Mysteries of the fighting bull. That loose and elusive meek, raised his face, grew in his self-love and offered a masterful lesson of what is the caste. He began to attack with fierceness, promptness, greed, aggressiveness and irregular fixity. Garrido premiered with a kneeling pinwheel, and already with the soles of the shoes in the sand, bull and bullfighter staged a fight without quarter, hard, angry and exciting. A repetitive bull, tireless, that kept in its entrails a gale of caste, and a bullfighter surprised before an opponent so demanding, who clamored for a portentous crutch and a bullfighter with a sense of command and ready to play the real guy.
Garrido gave many passes, avoided the complications with storing will, but did not know or could not overcome the difficulties of the caste, which is a problem for those who dress in light and almost wish to overcome it.
The bullfighter went through hardships because the bull never tired of charging, and only at the end of the long task showed symptoms of exhaustion and wanted to take refuge on tables. In short, the spectacle of the caste, so difficult and so exciting.
That was what happened during the fight of that first bull, which passed between an annoying and oppressive dust, because the ring had not watered before the announcement of rains. Rightly, the authority ordered that the land be settled, and the bullfight could continue with more clarity, with less caste, but with the increasing mobility of a bullfight that has left the cattle pavilion of La Palmosilla very high.
Of course, the wasted mobility of these bulls, with more or less nobility, forces an extraordinary effort to the bullfighters and tests their ability, mastery and artistic sense.
Another category bull was the fourth, the second of Garrido, another charging machine, more kind than the first, but equally demanding. Again many passes and the feeling that there was missing something important, power, depth, link … Conclusion: a lot for the personal analysis of José Garrido.
Luis David killed his first from a low thrust and ran an ear in the tombola of the capital of Navarre. He is a varied bullfighter, colorful, dedicated, but with a very short and superficial bullfighting. He gives everything, yes, but he has little.
With two long changes of knee he received his first one, and he showed off, later, in a remove for zapopinas. He put banderillas with such good disposition as little success and, crutch in hand, did a long, insipid, boring and colorless task before a bull expert in following the deception with insistence and greed, not exempt from nobility. And another that moved from start to finish was the fifth, shorter in its route, but equally difficult for the bullfighter, who was there with will effort and little glory.
He debuted a bullfighter on earth, Javier Marín, who took the alternative in July 2017 and this was the eighth run of his career. A very short baggage for such a serious commitment.
He showed great value and did not turn his face to a very tough lot, but the reality is unequivocal and his inexperience passed a logical invoice. Returned the third because it came out with the right python broken, the hat was a Sir of 625 kilos, meek, outdated and esaborío with which Marín showed as many shortcomings as the plausible decision to be well before his countrymen. A quinary suffered before the complicated sixth – he was miraculously saved in a creepy somersault – a nightmare for a debut he never dreamed of.
(tagsToTranslate) witch (t) caste (t) indomitable (t) indomitable (t) luis david (t) cut (t) ear (t) entangled (t) demanding (t) run (t) the palmosilla



Source link