Bruce Springsteen's Return to the Wonderful Jersey Shore Sound | Babelia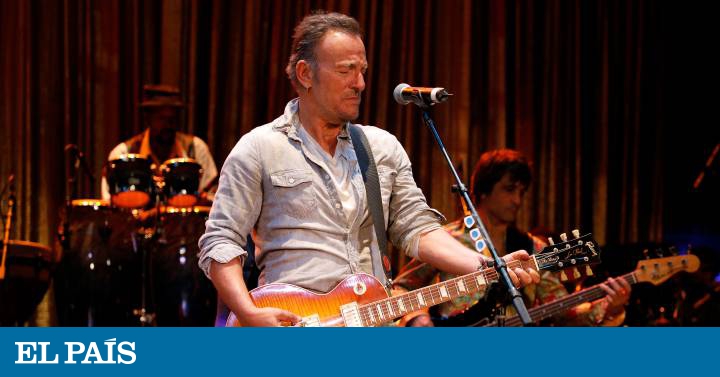 Bruce springsteen and the E Street Band return in style. Letter to You, the new album of the American musician and his band which is published this Friday, is a work comparable to all his glorious past, the one that is always used to reproach him for how far he had been in recent years. After decades with all kinds of albums, Springsteen and the group that raised him to the top finally achieve a compact and organic sound, very updated. The E Street Band it sounds forceful and sweeping for this 21st century.
In this playlist, we build on the new album's two previews, 'Letter to You' and 'Ghosts', to introduce us to the fruitful New Jersey scene. A particular sound full of references to rock'n'roll, soul, R&B and doo-wop of the fifty, sixty and seventy. Before the departure of Letter to you, Springsteen acknowledged that he relived moments of his beginnings in The Castiles, one of his first formations in the early seventies, before he met the boys of the E Street Band with whom, finally, he developed all his sound ideology, a whole effusive rock crusade, exemplified in masterpieces such as The River. Bruce's legendary double album with the E Street Band has just turned 40 years after its publication. In this list, you can hear a couple of songs: the festive 'Sherry Darling', much appreciated in her concerts, and one of the discards that was later included in the commemorative box: 'Meet Me in the City', a jewel of the Best Sound Springsteen & E Street Band.
That return to its very first footsteps in Letter to you, invites you to review what at the time when Bruce and the E Street Band began to triumph as a great bar band became known as Jersey Shore, a hotbed of artists and groups that moved through a circuit whose main epicenter was Asbury Park, a recreational and beach town, where there were early mornings strewn with alcohol and the best rock and roll on the East Coast. The Jersey Shore scene has its origins in the doo-wop from the 1950s with bands like The Drifters and continues to this day with groups and artists like The Gaslight Anthem, Joe D'Urso and even Marah, from Philadelphia.
From the vocal games and festive rhythms of the Drifters themselves, but also of Frank Valli and his Four Seasons (white, Italian-American side) and The Five Saints (African-American side like The Drifters), it went over time to a more visceral sound, at that a lot of first-school rock and soul from the golden age of the sixties were infused with a certain countercultural aesthetic. At that time, great ambassadors of that scene, who idolized the power of the jukeboxThere were colleagues and friends of Springteen and the E Street Band such as Southside Johnny and Gary US Bonds, both artists with whom they used to share stages in venues such as the Stone Pony and also to whom Springsteen gave songs. Both are still active, especially moving as gambling den musicians in New Jersey, Philadelphia and New York.
There were also very interesting names like Mink Deville, who, with the great Willy deville leading the way, they rocked the CBGB's punk scene with their open-mindedness and taste for the Jersey Shore Sound. And that of the immeasurable Darlene love, key voice of the best soul of the factory of Phil Spector and that, in recent years, has Introducing to Darlene Love, an album that pays homage to that sound of which she is also a great sniper with her sweet and passionate voice.
The Jersey Shore sound, to which Springsteen and his E Street Band guys owe so much and that scene owes so much to them, is a philosophy of fast-paced songs that talk about feverish summers, crowded bars, carnival adventures, diners open at dawn, roads flooded with dreams and jukeboxes fuming at dawn. A sound that is a wonderful breath of life.
Listen to this and other playlists directly on EL PAÍS's Spotify account.