Bruce Springsteen and the ranch house of love and hate | Blog North American route and beyond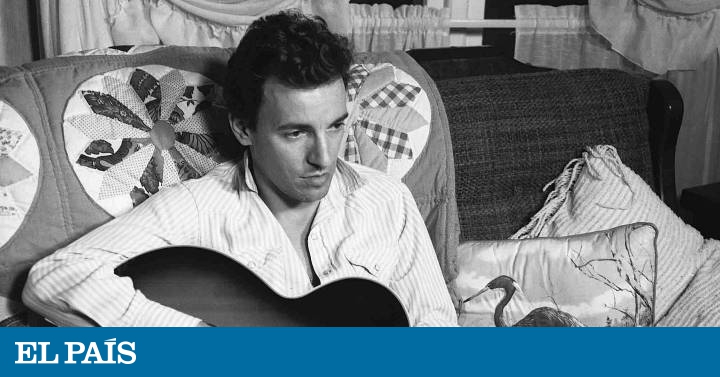 The Reverend Harry Powell had a peculiarity: to carry the words "love" and "hate" on the knuckles of his tattooed hands. At the height of the Depression, he walked through the region showing them while spreading his strange gospel. As in life itself, those two tattooed hands fought to see which was stronger in the preacher's personality. No one knew that in this man hatred defeated love like a mad dog ends up with a defenseless prey. No one knew, except two children who, like all children, saw with different eyes.
Tattooed knuckles, with hate crushing love, and two children running away from a diabolical preacher, capable of killing widows to get their money. It is a macabre story, but the macabre is also part of this imperfect world. As the old woman says of this story, collected in Hunter's night: "Be wary of false prophets, who cover themselves with lambskins but who are fierce as wolves inside. You will recognize them by their fruits ". Old women always know what they say.
The story of Hunter's night, fantastic movie Charles Laughton based on Davis Grubb's book, it was inside the head of Bruce Springsteen when in late 1981 he decided to rent a ranch house on Colt's Neck in New Jersey. The tour was over The river and was definitely emerging as the great rock star of his time. So much The New York Times He spoke of him "not only as the future of rock, but also of other broader areas of American culture." A songwriter penetrating the psychology of a nation, like before Elvis Presley, Bob Dylan or The Beatles. That composer was also a lost man, "homeless and without clues as to where to go." As Springsteen recounted in his autobiography, a long time later: "I turned to a world that had been inhabited as a child, that felt familiar and that called me."
With no company other than his guitars and a four-track Teac tape recorder, Springsteen took refuge in the Colt's Neck ranch house as if the earth outside was ravaged by a nameless catastrophe. The vestiges of that inhabited world as a child surrounded him between the walls of that house far from everything. Springsteen could smell the kerosene stove in the living room and reminded him of the days when his family was forced to live with his grandparents on Randolph Street in Freehold. The austere decoration of the room also reminded him of that of his grandparents' house, where in his room hung a photograph of his father's sister, who died at the age of five in an accident, and who, "with her ethereal presence in a portrait from the twenties gave the room a feeling of being lost in time.
Nebraska it also gives a feeling of being lost in time. It was the album that Springsteen recorded confined to that ranchera. This masterful work is always talked about because of its heartbreaking documentary character, capturing the flat and monotonous landscape on the other side of the United States from Ronald Reagan, a territory full of loners and misfits, men and women who, as they say in Used Cars, "They walk through the same dirty streets" where they were born and "they sweat in the same job from sunrise to sunset". Nevertheless, Nebraska it is seldom regarded as a fable seen through the eyes of a child.
Shortly after publishing it, Springsteen explained that he was looking for "those kinds of dark stories to tell before bed." I was also thinking of John Lee Hooker and Robert Johnson records, "all that music that sounded great with the lights off." From beginning to end, Nebraska it is a set of stories as hard and sharp as the edge of a knife. With its resonant sound, everything has "the flat, dead voice that ran through my town on sleepless nights," as its author recounted. But there is something very powerful in his inner monologue. Intensely personal, the narrator observes that distressing and confusing reality with the eyes of a child.
Diving into the folk roots of rock'n'roll, as if Springsteen was Hank Williams in a leather jacket, Nebraska It is a parable where the sticky heat and the broken silence cling to the way of looking at that gloomy world. The album begins with Nebraska, the story of the murderous madness of Charles Starkweather and Caril Fugate that inspired movies like Badlands by Terrence Malick – a reference to Bruce in the composition of the album – and, later, Wild Heart by David Lynch. From there the stories of uprooted characters, some violent, follow one another. But, like that homemade echo of the album, there is a constant search for community, for understanding the environment.
Springsteen closes Nebraska with My Father's House, the last one he recorded on the ranchera, and with Reason to Believe. My Father's House, one of his most autobiographical compositions, is a dream narrated by a boy who tries to get home "before night falls". Hear the wind whispering through the trees and "spooky voices" coming from the field. His archetypal imagery evokes children running down the river from the fascinating drawing of childhood fears that is Hunter's night. Evil glides in a bleak landscape.
The reverend had two words tattooed on his knuckles: "love" and "hate". In Reason to Believe, the last one on the disc, the same narrator observes real scenes: a funeral, a woman abandoned at home, a man abandoned at the altar and a man poking a dead dog with a stick in the gutter, as if for being there for a time Enough the dog to get up and run. Everyone tries to find "a reason to live". There is a respect for them. Because in the fable of Nebraska at the end a beam of light is opened for all those who, even desperately, want love to overcome hatred in a hostile land.