Broken hearts and many 'Thanks' say goodbye to Quino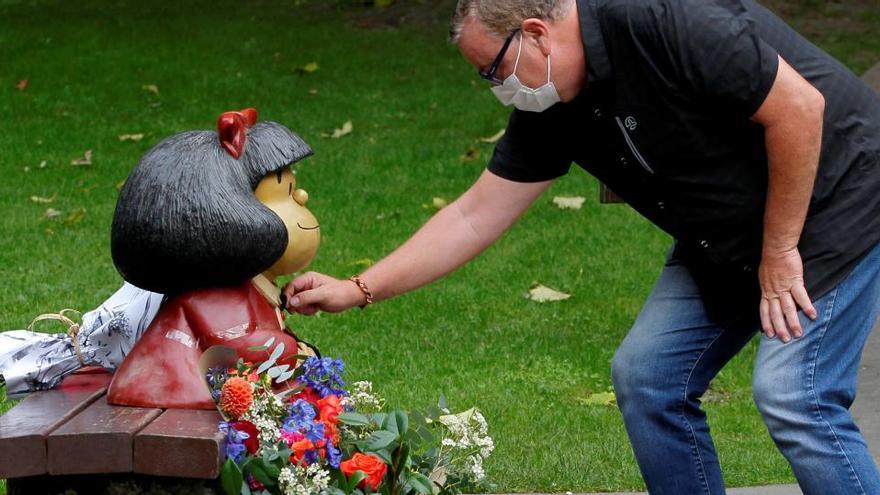 With broken hearts and the 'Thank you' as the most repeated word, Twitter has been filled today, Wednesday, with farewell messages to Quino, the genius creator of farewell to QuinoMafalda, whose vignettes, created five decades ago, are as valid today as then.
"Well, how does one stick this to one's soul?" Says Mafalda with a plaster in hand. It is the vignette you have chosen Alejandro Sanz, To who he loved "Mafalda and the vision of the world through your pen, Quino".
With sadness and three broken hearts on a drawing of one of his characters hugging Mafalda while crying, another of the great Latin American comics, Liniers, said goodbye.
The director of 'The Book of Life', the Mexican Jorge R. Gutiérrez, highlighted "the profound influence" of Quino "for countless generations of artists in the Americas". "The ideas behind her work were as ingenious and profound as her funny drawings. She may be gone, but her work is forever."
While the Spanish actor Santiago Segura described Quino as "titan of Argentine comics" and as "master of graphic humor". "Your vignettes will remain here for our enjoyment."
The RAE also wanted to say goodbye to the cartoonist. "His accurate words traveled to both sides of the Atlantic thanks to his cartoons and his peculiar sense of humor ".
The Spanish writer Fernando Aramburu, published an image of Mafalda and Manolito, walking sad. "They have been orphans." For Javier Sierra "the year 2020 becomes even darker". Y Chino Darín He was concise: "Quino left and left us everything."
"It is not necessary to say everything that is thought, what yes It is necessary to think everything that is said"He did it in each vignette, highlighted the National Autonomous University of Mexico.
Y Amnesty International Spain highlighted "his immense humanity, his empathy with people, his exquisite humor on very serious issues such as justice, freedom, power …". While Unicef ​​Latin America thanked Quino "for giving voice and life to @MafaldaDigital and defending the rights of children and adolescents of the entire Globe region with the American continent ".
Also many reactions from the political world. The Pink House – headquarters of the Argentine Executive – thanked Quino for his art, talent and commitment to Argentina; the Ministry of Culture highlighted the "indelible legacy in Argentine culture" and the head of Culture and Sports of Spain, Jose Manuel Rodriguez Uribes, he recalled that "his drawings, his characters, the great Mafalda, are part of our lives, our memory, our memories."
But if there is something that stands out on the networks today, it is the countless vignettes of Cinchona that his fans have rescued to pay homage to him.
Mafalda saying to his mother while cleaning the house: "Courage, Mom, that the day the land belongs to the one who works it, you will be the owner of a dust cloud that I won't tell you about"; leaving a sign on a terrestrial globe: "Be careful! Irresponsible working", or telling Miguelito; "It turns out that if you do not rush to change the world, then it is the world that changes you!"
Examples of irony and elegance with which Quino reflected on the world through the lips of a little girl, with a huge bow on her head and who never gave up. And as it summarizes Paulo Coelho: "Thank you for everything, great teacher."