Bring these three novel policemen into your life | Elementary Blog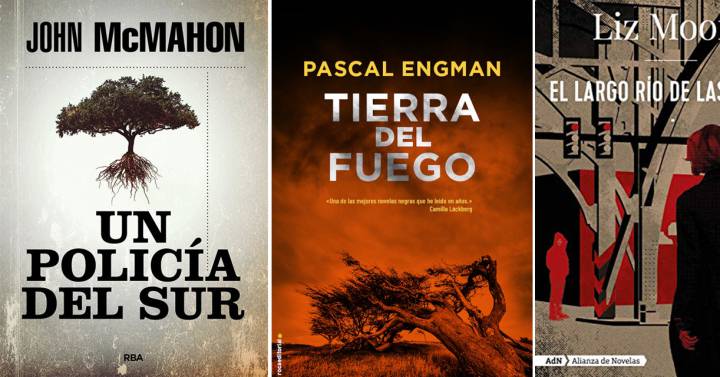 Good news for lovers of the best police: come back Michael connelly with Night fire (DNA) and with Renée Ballard at the helm and Harry Bosch in the rear. The appearance of a new installment of the universe that Connelly is building with his work and that we will never tire of recommending, leads me to look at other police officers who are worthwhile, law enforcement officers who may not even know or who have gone unnoticed. on the mountain of news.
They are two women and one man, they are very different, they avoid gender clichés as well as they can, although in some they fall, and they are absolutely recommended. Come in and read.
Mickey Fitzpatrick in the Philadelphia of Opiates
The protagonist of the excellent The long river of souls, Liz Moore (DNA, translation by Javier Calvo) suffers in the patrol car every time they give an alert of a new death by overdose in a Philadelphia overwhelmed by the opioid crisis because he never knows if it will be his sister Kacey.
"I'm weak? Certainly for some things: stubborn, perhaps, stubborn, stubborn, reluctant to accept help even when it would serve me. I am also physically a coward: I will never be the first agent to step in front of a bullet to save a friend (…). Poor: yes. Weak: too. Silly: no. I am not dumb". This is how this police officer in her thirties defines herself, who has been in service for 13 years, loves the streets she patrols and the work she does and struggles to raise a child alone and combine it with her shifts. His opinion about the area in which he works does not have the contempt of other policemen, nor the naive kindness of some social agents. He knows what there is and wants to fight to improve it. She has a complicated past, and her relationship with her junkie sister is on the wrong track, but she moves on. His gaze, enriched by chapters in which he recounts his adolescent life and which help to understand everything, has the complexity of the great characters. Oh, and as a gift, The long river of souls is an excellent procedural in which the protagonist investigates a series of strange deaths. Welcome to Mickey's world.
PT Marsh, a new southern model
Bluebird bluebird By Attica Jones (AdN) is one of the best crime novels of recent years. The white road It's in my top 3 Charlie Parker novels. Created by James Lee Burke, Dave Rovicheaux, He's one of my favorite characters. James Sallis is an absolute master and the novels of The weaver one of the best examples. They are all police, they all have the racial issue as their main context or theme, they are all set in the southern United States. With these wickers, I am a little scared every time I approach a similar novel, but A southern cop by John McMahon, (RBA, translation by Eduardo Iriarte) has surprised me.
PT Marsh is a cop from Mason Falls, Geordia, burned and drunk. Have we seen it yet? Sure, but MchMahon embroiders it. "It's perfect," said the critic of The New York Times. PT Marsh is an agent you can't trust, because he doesn't do it himself. He does not know if he has killed a pimp, drug dealer and abuser, he does not remember it well because of the alcohol in which he bathes every night since his family died in an accident.
He knows what racism is in the south of the United States, he knows what it is to walk into a store and be looked at badly because you are holding your black son, hugging your black wife. He's not the best investigator, he's not a hero, he's not even a good cop. But he knows where to look, how to look, what to look for. And he wants the guilty to pay and then he can go home to talk to his bulldog, the voice of his conscience, his partner. The case is complicated and the character does not respond in the usual way. I do not tell you more. There will be a second part and we will see if the character holds.
Vanessa Frank and the Nordic Miseries
Vanessa Frank is 42 years old and is getting divorced. She is suspended for drunk driving and is waiting to find out if she can continue in the police force, where she is deputy director of the special organized crime unit, Nova. "I don't cry," he tells the psychologist as soon as he starts, before laughing at his conventions. This is the protagonist of Fire land, by Pascal Engman (Rocaeditorial, translation by Pontus Sánchez), a thriller with a plot that crosses the ocean, kidnappings of millionaires, mafias led by the former elite soldiers of the Swedish army … a whole display of well-told action in which Vanessa Frank stands out.
She helps refugee girls without resources, but do not think that they are going to find any trace of goodness. She flirts on Tinder, but she keeps getting bored and drinks to fight it. She investigates even though she is suspended, makes a deal with some bad guys, beats abusers. She is attractive and a millionaire, and she doesn't mind being noticed. Are there topics? Well, no. And the men? Well, movie baddies, good-hearted ex-soldiers who commit crimes to escape their desolate life, evil Chileans of German origin who traffic in the organs of the children they kidnap, condescending bosses, … all pale before Vanessa, the novel's true attraction.