Brighton 64: "We've always been an awkward bunch"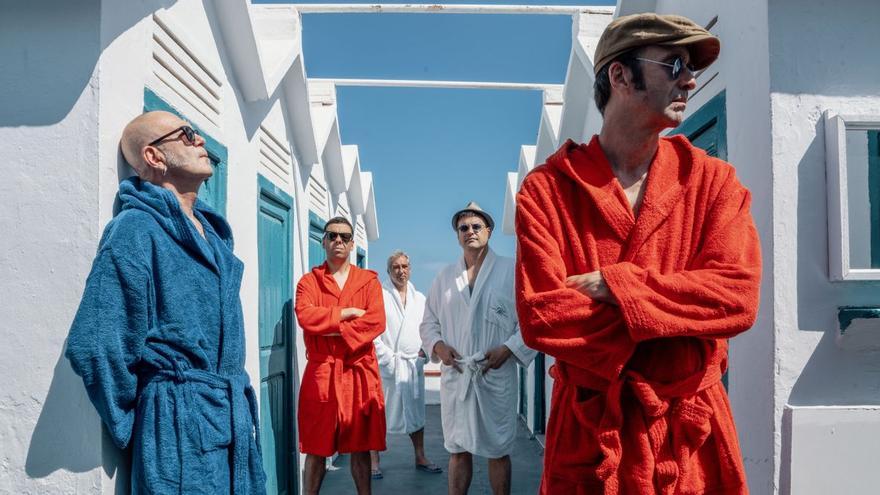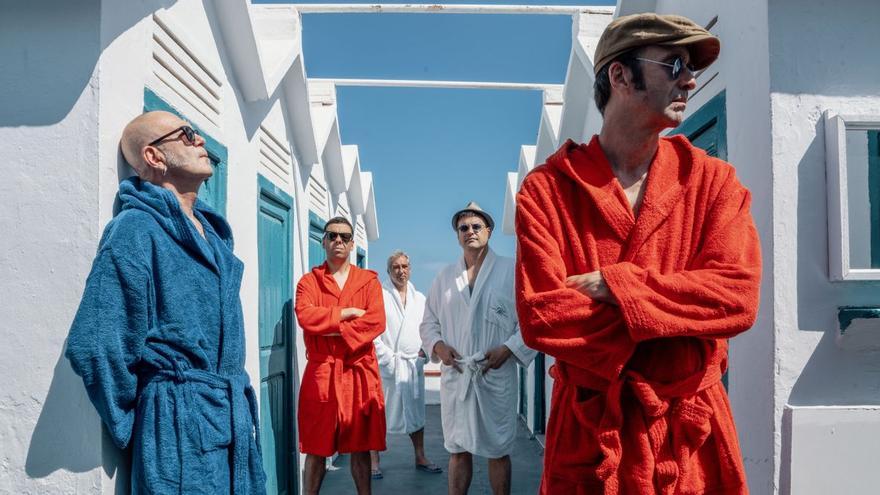 In 'The pump house', that mental place where "the problem is age", the young practitioners of the religion of the surf They watched how "the old men" planted their folding chairs on the beach and took out their cheese and ham sandwiches, oblivious to the youth cult, in what in their eyes was a vivid portrait of decadence. Now, Brighton 64, in his new video for this song of 1986, have turned the tables: time has passed and the "old" are them, although they end up flexing their muscles and joining the song with a furious 'remake' of 'Haz el amor', their revision of 'Walking the dog', by Rufus Thomas.
The new version of 'La casa de la bomba', a song that was inspired by the book from stories by Tom Wolfe ('The Pump House Gang and Other Chronicles of the Pop Era', 1968), retains that spirit of "reflect generational conflict", Albert Gil points out, although now with a more leisurely 'tempo' and savoring the words more with respect to the supersonic baptismal version. "Originally, the song had a bit of a boogaloo piano pattern, but with our urgency back then we played it faster. Here we have taken up its original spirit", explains the eldest of the Gil brothers, aware of how difficult it is to compete with your own myth. "We can't get over that 1986 version, but we can change its look a bit."
'laietan' mods
Along with this re-recording, another eight, and two new songs, make up the new Brighton 64 album, sarcastically titled 'More of the same', which goes on sale this Friday. Disk of commemoration of the 40º anniversary, that the band will present/display the 22 of April in Upload. The new shots transmit instrumental solvency with respect to those times when, at the age of 18, they entered the studio "trembling with fear". They had premiered on the Magic boards on November 21, 1981, opening for Telegram, at a time when, dressed in their parkas and adoring The Who and The Jam, they felt alone in post-Laietan Barcelona. "We went out on the street mod dresses and we didn't know anyone like us."
Brighton 64 suffered its record viacrucis: from Flor y Nata to Twins, and from there to EMI, the launch pad for 'La casa de la bomba'. "There we touched the sky, but the record company never bet heavily. We've always been an awkward bunch." estimates Albert Gil, remembering the day they got up from a meeting in Madrid because they proposed a name change. "A week later they called us and we went ahead, because Paco Trinidad saw clearly that 'La casa de la bomba' was going to be a 'hit'".
Purity and concessions
Songs like 'Barcelona blues' (now re-recorded with its original lyrics in Catalan) or 'In my city' recall the band's unequivocal anchoring in the county in those early 80s in "no man's land", recalls Albert Gil. "We knew that in Barcelona there was a lot of chicha, but it didn't transcend like in Madrid, where they made the party a professional way of life", observe. Perhaps having to combine music with other activities, such as teaching, has helped keep Brighton 64 clean. "If we were 100% dedicated to the group, we would have had to make many concessions, and we haven't made any."
Brighton 64 gave way, at the end of the 80s, to Brigatones, without trying to preserve at all costs a brand that would not return in a stable way until 2011. "Now there are groups that last a long time, but then the bands were born, they separated and left a nice corpse, so that's what we had to do," explains singer Ricky Gil, fascinated by the "meteoric career" of The Chords, "which lasted only two years" and recorded an album and eight 'singles'.
They continue to invoke that "urban youth energy" in this mature stage of Brighton 64, established with the involvement of another historic member, keyboardist Jordi Fontich, and two modern signings, Eric Herrera (drums) and David Abadía (bass). The original drummer, Tino Peralbó, hung up his drumsticks, but his son Dan (who leads a band, Dan Peralbo, winner of the last Sona9), appears in the new video for 'La casa de la bomba'. The saga continues.