Brexit and the lack of police forces cause 5,000 travelers to miss their flight every month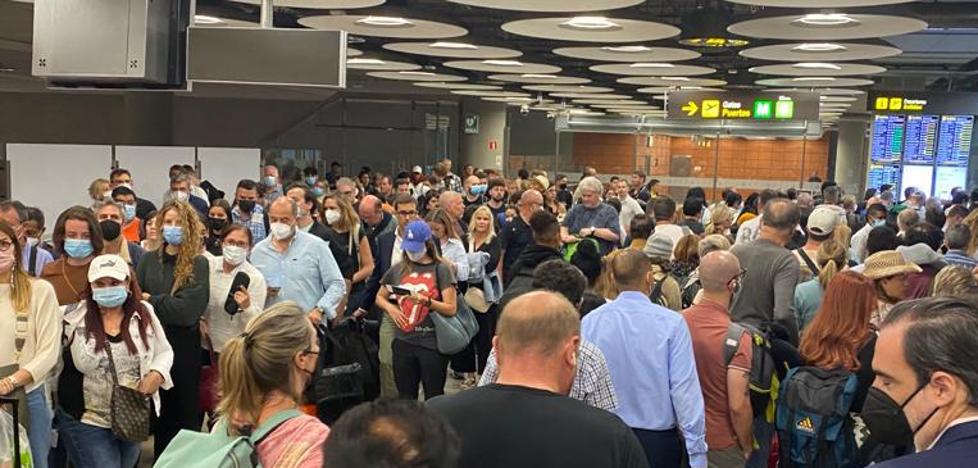 The airlines denounce the few passport control posts, which cause border crossings to collapse at airports with the most tourist traffic such as Madrid, Malaga or Alicante
All Spanish tourists who take a plane to a country outside the European Union or those who arrive in our country from them must pass a passport control that has been "collapsed" since the United Kingdom left the EU. This is recognized by sources in the air sector, who report that 3,000 tourists lost their connection flight at the Madrid-Barajas airport only during Easter due to long waits at the border crossings.
The Association of Air Lines (ALA) asks that the police force be reinforced in the airports with the highest international traffic. To get an idea of ​​the situation, the Madrid airport border post is equipped for a total of 902 Police officers, but they are only 75% covered, well below the 93% of 2019 and 2020, before the pandemic. . In a parliamentary response to Vox, which already asked the Government about this matter in January, they assured that the decrease in the number of troops was due to the "great decrease in international air traffic" due to covid. The problem is that now that this traffic has almost fully recovered, police forces are still at a minimum.
In terminal 4 (T4) of the Madrid airport, where Iberia operates its national and international flights, there are many problems. Airline sources acknowledge that nearly 15,000 customers have missed their flight since last March 1, a situation "that cannot be afforded" by a country that lives off tourism and to which 80% of tourists arrive by plane. they visit Spain every year, they criticize from Iberia.
Two out of every thousand passengers

In this way, 5,000 people lost their connection each month on average from March to now, which represents 0.2% of the total number of international passengers who flew with a stopover in Barajas in the month of April, which according to data provided by ALA amounted to to 2.93 million tourists, 10% of them from or to the United Kingdom. This means that 2 out of every 1,000 people who travel to a third country through Madrid will miss their flight due to chaos at passport controls.
Automatic passport controls closed at Barajas T4. /

CR

And they are not only international tourists who visit our country, but also all the Spaniards who make a stopover in Barajas to go to or return from a destination outside the European Union -including the United Kingdom-. A situation that will worsen this summer by multiplying flights thanks to the opening to tourism of most countries in the world.
From the employers of the air sector they assure that the greatest congestion of passenger traffic occurs in the airports with the most tourist traffic, such as those of Madrid, Malaga, Alicante, Palma de Mallorca or Tenerife Sur. For this reason, they ask that passengers with origin or destination in the United Kingdom be allowed exceptionally to go through the automatic passenger controls to "expedite traffic".
Relocation on other flights

And what about these thousands of travelers who are left without connection? The employers assure that this problem responds to a cause beyond the companies because it is due to the congestion in the passport controls, for which they do not have the obligation to compensate these passengers.
However, they assure that the airlines are relocating these people on other flights so as not to leave them stranded in Spanish airports. In Iberia they detail that this same Monday they had to delay the departure of a flight to Buenos Aires when they realized that there were more than a hundred passengers missing who had collapsed at the controls. The same sources explain that the most normal thing is that passengers are relocated on other flights.