Bret Easton Ellis, the great white hopelessness | Babelia
Bret Easton Ellis works in a small room in an apartment on a high floor of a building in West Hollywood, Los Angeles, with a spectacular view to the south of the city. In addition to papers and books, there is a table, a low chair, a 27-inch computer, a microphone, and a television. It is Tuesday afternoon and you are watching Fox News, a channel built from the uncompromising defense of the American right. In the journalist Bret Baier's program, the guest is Eric Trump, the president's son, defending his father. Ellis explains to visitors her television tastes: "We have Fox News here, in the MSNBC room and in the Food Channel bedroom, because it is neutral ground."
Ellis's house (Los Angeles, 1964) "is a sitcom" "The person I live with is a furious radical socialist leftist millennial supporter of Bernie Sanders. I do not". Her partner is singer Todd Michael Schultz, 33, who is in the living room working on his computer and downloading his contempt for Donald Trump on social networks. Primaries are held today in several key states and it looks like Joe Biden may take a definite advantage over Sanders. "He is very depressed and hates Joe Biden. He hates the Democratic Party. It has been done very hardcore from the extreme left ". The irony is that Todd, with whom he has lived for 11 years, largely represents the culture Ellis criticizes in his latest book.
White (Literature Random House) is an unconventional memoir. It is actually an essay. Rather a nostalgic tirade. Ellis uses the memories of his cultural education in the cinema of the seventies to draw a contrast with the culture of today in which, according to him, ideology is crushing art, political correctness is stifling aesthetic freedom. The political drift of this argument leads him to criticize a left he identified with, but not anymore, because he considers that he has lost his mind in his opposition to Donald Trump.
"I don't think we are in the apocalypse. I don't think we have Hitler Orange in the White House. I don't think Trump is the devil. I think this is something that some have invented, like Hollywood, for example, and that there are many susceptible and hysterical people. " We haven't even asked him yet about politics, we were just commenting on his television taste. He hates MSNBC, the leading chain of progressives. "And CNN is the worst of all. I stay with Fox before those two"
"I have lost friends and acquaintances, not because I support Trump, but because I am not a stubborn opponent," he continues. "I think we live in a just society and he was chosen. I would never judge anyone by what they voted for, nor would I seek deep morality for their vote. However, that is happening on the left. Not on the right. On the left is a faction to which I belonged, and I hope I continue to belong in some way, that has thrown me into the corridor. They pushed me to the center. I think it happens to some of us as we get older. You simply see the world differently. I certainly don't see it in the utopian way as my millennial boyfriend does. It seems to me that Bernie Sanders' promises are not realistic for this country. I dont know. I know nothing. I think you have to be open to hearing the opinions of others. "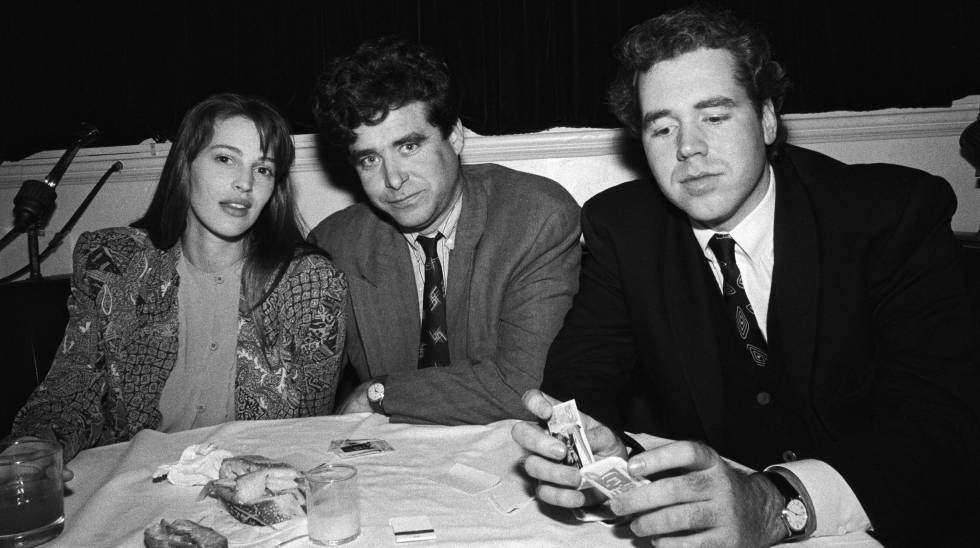 Bret Easton Ellis is a middle-aged man today. It hasn't changed that much physically apart from white hair. It is easy to recognize the writer who achieved success at age 21 with Less than zero, a novel in which the public discovered the young people who inaugurated generation X in the second half of the eighties. His career was not expected to take off so soon. "Every writer believes that his book is going to change something. Everybody. If not, they can't finish it. Believe me, I have edited many debutant books in the last 25 years. Everyone has that ambition and that desire. I thought it wasn't going to be that book. I thought it was going to be a later one. You work on it for five years. You start at 16 as a personal project. It was a way of expressing myself as I couldn't do it in my group. In 1981, in a private school in Los Angeles, no one was openly gay. No one. I've always thought that being gay makes you see the world as it really is. You are not locked in the papers that it offers you. "
Ellis later achieved worldwide success in 1991 with American Psycho, when his generation had already become dominant in American culture. The yuppy psychopath Patrick Bateman became a symbol of a culture of excess in New York and also in a way of writing that wallowed in graphic violence. In White He claims that he has never been happier than in the summer of 1991. "It was a very short happiness. That year was a litmus test. There were eight or nine months of attacks in the press against a book that had not yet been published. If you have not passed it, you do not know what it is that the whole press turns against you and builds a story that is not true at all. And then the book came out and when they saw it, everything died. Lots of negative reviews and then silence. They left me alone. " I had a partner. "We lived on the beach and listened to REM." It was short-lived. "I was very happy".
"Why is victimhood so attractive? Things don't happen to you anymore, now you're a victim of circumstances "
Of that New York, by the way, he says that he has fallen out of love forever. "I have left it, I can already say it. I moved there because I had a romantic vision. I think i saw Manhattan, by Woody Allen, too many times. I wanted to live there. But when you stay in New York for 20 years, the party is over. The New York I moved to is not the one I left, it was very different. It began to be a closed space for the wealthy and tourists. All the young people she knew left because they couldn't afford it. A city without youth and without youth culture is a museum, like San Francisco. I still have a house I rent there, the only smart investment I've ever made. "
Three decades have passed since that novel and four movies based on her books. Generation X is no longer the center of culture. In White, his first non-fiction book, collects in the form of essays some ancient writings and, above all, the long introductions he writes for his podcast, which he publishes on Patreon and for which he charges per episode. It is a cultural commentary program, often film-focused, that gives you a platform to judge the moment of the United States while talking about the Oscars and interviewing guests. Among those themes, an important one was "ideology against aesthetics". "Culture," he says, "no longer cares about art."
"If culture begins to look at art through a certain filter, it is that it no longer cares about art," Ellis reasons. "I see it, for example, in the controversy we have had in this country with the novel American Dirt. A woman writes a book and is accused of cultural appropriation. There is a faction that is disavowing it for their own idea of ​​what cultural appropriation is and what they think the novel should be or, more chilling still, who should write that kind of novel. That is a problem. That is not art. It is not that your novel is not good, that maybe that is the problem. It is ideological, not aesthetic. That's what it's about White and it worries me a lot. You see examples everywhere. There is an ideological divide and it seems that aesthetics no longer matter. "
In this context of ideologizing art, Ellis also complains that in art it seems mandatory to always adopt the point of view of the victim. Everyone is a victim of something and that has to be the center of any story. Give examples, like the movie Moonlight. "There are some victimhood Olympics," he says. "Olympics of oppression where everyone is oppressed and a victim. Things do not happen to you in life, you are a victim of life's circumstances. I wonder why victimhood is so attractive. What makes it so interesting to present yourself as a victim, even if you are not. You present yourself as a victim because it gives you a lot of media attention. If it is authentic, if it is real and has strength, it is always good. But too often it is not. And it becomes very attractive to the media. "
"I don't know how you can live in this country and not be irritated" with the Democratic PartyEllis says. "It is a moral disaster." Now we are talking about politics. Ellis warns against a leftist faction she calls "oppressor." "It is oppression. It is not about freedom, it is authoritarian. It is about occupying spaces of power, which is what life is about. Is Trump really hated more than Abraham Lincoln was at the time of the civil war? Is what is happening different? My mother is 76 years old and says that everyone is yelling at each other, but that 1968 was scary. People were killed. There were real riots and murders on the streets. I do not know, I have not lived a division like this in my life. I don't think any of us have lived it ".

Get 'Target'
Author: Bret Easton Ellis.
Translation: Cruz Rodríguez Juiz.
Editorial: Literature Random House, 2020.
Format: 256 pages. 20.90 euros.
Publication: March, 19.