Bottas starts at the front, with Hamilton penultimate and Sainz going off the track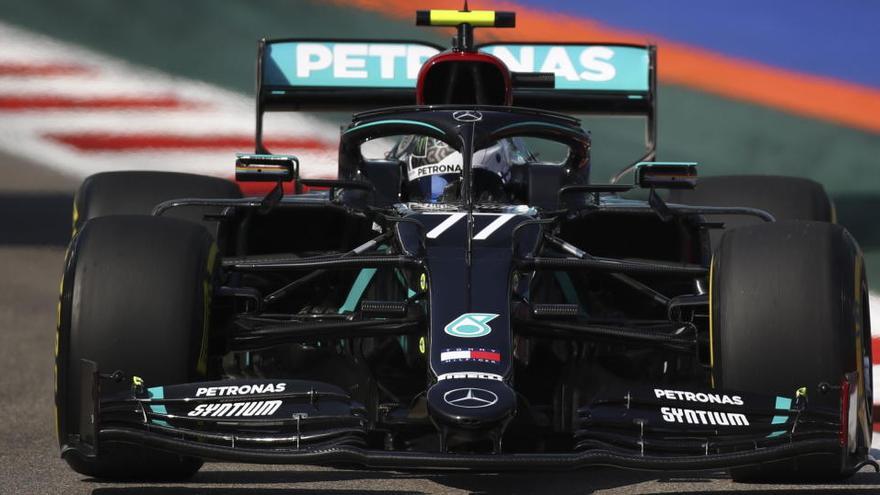 The Finnish pilot Valtteri Bottas (Mercedes) has marked the best time in the first training session free from Russian Grand Prix, where Carlos Sainz (McLaren) has placed twelfth and Lewis hamilton (Mercedes) penultimate, a merely anecdotal result because the World Cup leader did not press.
Mercedes, the absolute dominator on the Sochi circuit since the race was introduced in 2014, did not wait to prove its superiority through Bottas, who was the only one capable of going down 1:35 and stopped the clock at 1: 34.923.
The Nordic surpassed his pursuer, the Australian by half a second Daniel Ricciardo (Renault), which managed to get just ahead of Max verstappen (Red Bull). The two Racing Point cars closed the 'Top 5', rounding a hopeful start for Sergio Pérez and Lance Stroll.
On the contrary, the first contact was worse for Sainz, the pilot who rolled the least (eight laps) due to a run off the track. At turn 7, the Madrid driver lost control of the rear axle of his car and skidded until crashing into the wall. He did not suffer any physical problems, but the rear wing of his car was damaged and he did not ride in the second half of the session.
The thirteenth position of Lando norris, which was able to drive without mishaps and was in fact the most active (28 laps), confirmed McLaren's discreet start while one of its great rivals, Renault, placed its two drivers ahead with Esteban Ocon's sixth position. Also, Ferrari showed no signs of improvement and Sebastian Vettel and Charles Leclerc were ninth and eleventh, respectively.