Botín reaffirms to López Obrador his investment and business commitment with Mexico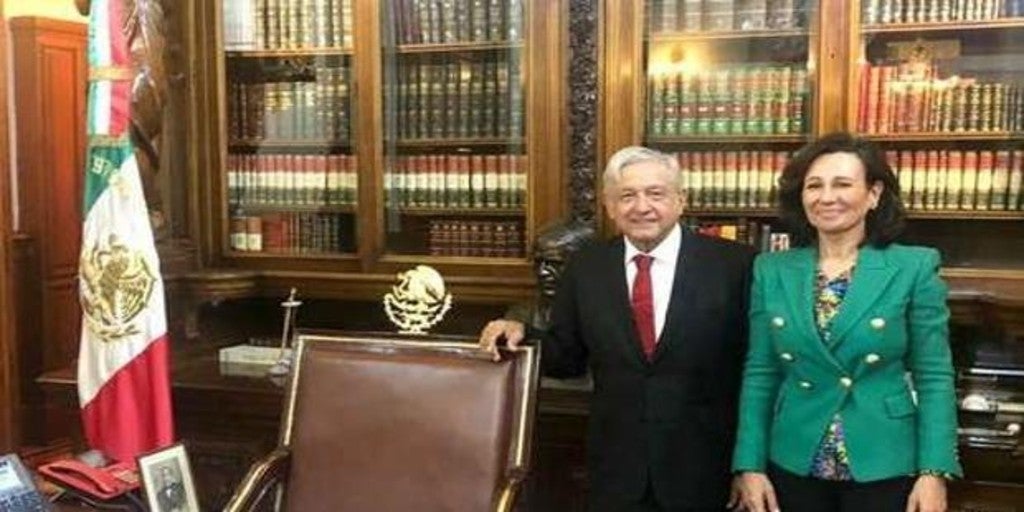 Mexico City
Updated:
Keep

Ana Botín, president of the Santander Bank, reaffirms its commitment to Mexico after announcing weeks ago a repurchase plan of 8.3% of the shares of its subsidiary in the country for 550 million euros. He did it before the president of the country, Andrés Manuel López Obrador (AMLO), at a lunch that took place this Wednesday.
"They plan to continue investing in Mexico, they also have the purpose of continuing to grant loans to small and medium-sized companies," said the country's president at a press conference. A three hour meeting at the National Palace to shore up the good harmony between the two.
AMLO has branded lunch as "very productive", which reinforces Santander's commitment to Mexico. The last time they met, in November 2019, Lopez Obrador thanked the bank for its commitment not to charge commissions for remittances that migrants in USA they send their relatives back to their home country, which may hit their record with an estimate of $ 4 billion.
The financial entity sees a growth of 5.3% for Mexico, 'similar' to the one projected by the López Obrador Administration. The country's president has also revealed that they not only discussed economic issues, but also vaccination.
Own Ana Botín focused on April 26 from his profile of Twitter in the Mesoamerican country. The bank's press release highlighted the intention of the financial firm to undertake the aforementioned repurchase of the shares to minority investors of
Santander Mexico, a country that it considers "one of its main markets with good long-term prospects."
We have just announced the intention to buy back the minority shareholders' stake in @SantanderMx. We believe in Mexico, in the potential of its financial sector and of Santander Mexico, which today is one of the leading banks in the country.https://t.co/s3r7sgqWkk

- Ana Botín (@AnaBotin) March 26, 2021
Andrés Manuel López Obrador He has taken the opportunity to highlight the 2.2% appreciation of the peso in his mandate, while noting that, of the 1,400,000 jobs destroyed during the pandemic, around 750,000 have been recovered. He trusts that by the middle of the year the totality of this amount will be recovered. The unemployment rate in Mexico it touched 5% last January; However, the Inegi (National Institute of Statistics and Geography) warned about the three million workers that have yet to be incorporated into the labor market.
Latin America is seen as a dazzling market for Santander Mexico to the more than "600 million people, 300 of whom still do not have a bank account," said President Ana Botín at the International Banking Conference organized by Santander last November.