Book lovers line up at the Book Fair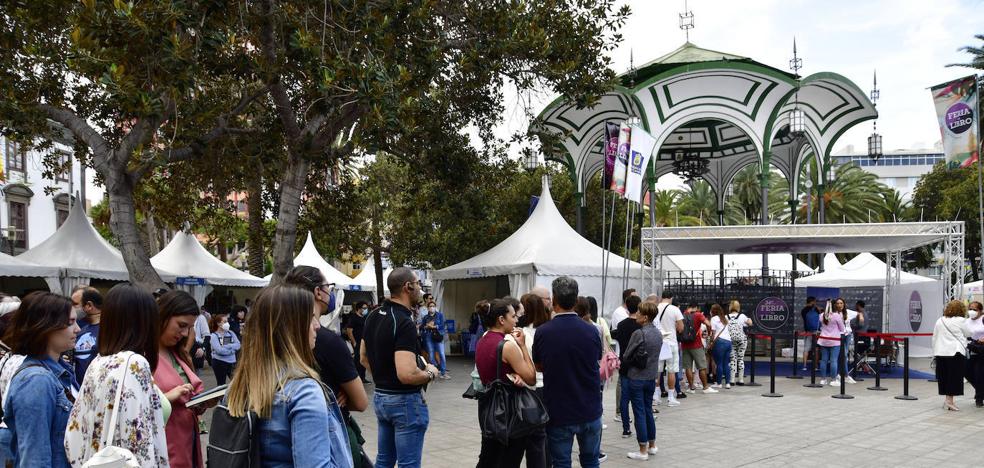 book Fair
The monologist Ángel Martín and the 'influencer' Tamara Gorro spent three hours yesterday signing their respective books
The 34th edition of the Las Palmas de Gran Canaria Book Fair, which takes place from May 25 to 30 in the San Telmo park, is bringing together
dozens of curious. During today's day, in fact, many book lovers have been seen queuing at their stands.
Already yesterday this phenomenon could be observed, with the presenter, stand-up comedian and screenwriter Ángel Martín, and with the model and
influencer Tamara Beanie. Both presented their respective novels:
In case the voices come back Y
when the heart cries.
Both Martín and Gorro spent three hours signing copies.
This year the fair has 32 booths through which they will stop, in addition,
more than 200 canarian authors.
The 34th edition of the event is dedicated to José Saramagoon the occasion of the centenary of his birth and takes place under some of his most famous phrases, such as: «It is stupid to lose the present just for fear of not winning the future».
In fact,
the opening of the fairwhich started yesterday, was attended by the writer's widow, Pilar del Río, and the director of the foundation that bears her name, Ricardo Viel, who presented the book:
Saramago. Their names. a biographical album.
some of the many
authors who will attend this paper, indices and covers event are Alaitz Leceaga (
As far as the sea ends); Alexander Alban (
only the brave); Andrea Momoitio (
lunatic); Benjamin Prado (
the two kings); Desiree Bela-Lobedde (
Meat color); and Jose Luis Correa (
To die on the shore).
You can check the program of the 34th Las Palmas de Gran Canaria Book Fair at
this link.