Binter resumes normally this Wednesday flights with the island of La Palma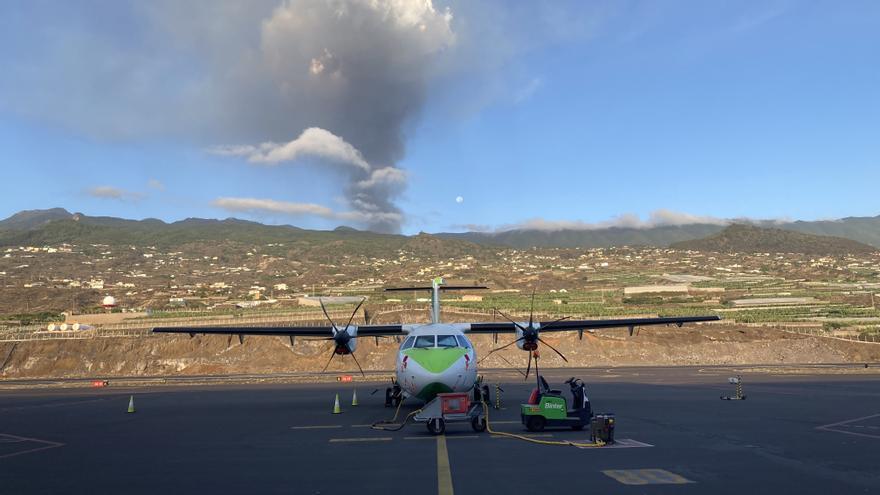 The Canarian airline Binter has resumed its links with the island of La Palma, just as they were programmed, given the improvement in flight conditions due to the recent behavior of the ash cloud from the volcano from Old Summit, has announced the company, that it canceled the operations of yesterday Tuesday.
Right now it is planned to operate "all the routes of the airline", says Binter, who will provide his service normally on this last day of the December 'bridge'.
The company has proceeded to carry out the flights that were scheduled, once the conditions to fly safely are met.
Due to the exceptional and unprecedented situation that is being experienced, Binter will inform about any news or changes that may occur, through its usual channels. In addition, the company recommends that the updated status of the flight be checked in the official Binter media before flying.
Earthquakes
The National Geographic Institute (IGN) has located from midnight this Wednesday until 08.15 hours twelve earthquakes on La Palma, the most prominent one of magnitude 3.3 in Fuencaliente, eleven kilometers deep at 05.13 hours.
According to the latest report from the Department of Homeland Security (DSN), seismicity remains low at intermediate depths and very low at depths greater than 20 kilometerss; while the tremor level is at low values and with little variability.
As for the rash, the main contribution of lava flows through the central area and deviates southwards, passing the Las Hoyas viewpoint, to the low island.
The affected area has increased by 27 hectares With respect to the last data and it is estimated at 1,182 hectares with a maximum width between flows of 3,350 meters; in addition to another 48 hectares of lava deltas.
Likewise, the information provided by the Copernicus satellite figures the damage to infrastructures in 3,039 buildings affected.
For its part, the air quality presents levels between good and fair in all stations and the La Palma airport is operational although the companies suspended flights yesterday due to the ash cloud situation.