Bintazo de Binter to fly from 24.35 euros nationally and internationally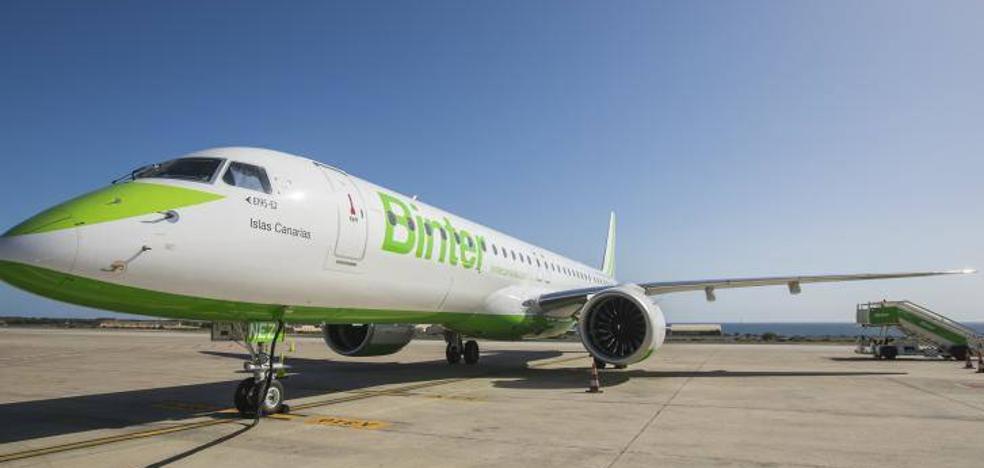 OFFERS ON FLIGHTS
Tickets can be purchased until September 19, for travel between October 17 and December 18
Binter launch a new
Bintazo to its national and international destinations that allows to acquire,
until September 19, tickets at reduced prices for travel between October 17 and December 18.
Through this initiative, tickets can be purchased from
€24.35 the route to fly between the Canary Islands and
twelve national destinations: Vigo, A Coruña, Asturias, Santander, Vitoria - Gasteiz, San Sebastián, Pamplona, ​​Zaragoza, Valladolid, Murcia, Jerez de la Frontera and Mallorca. This is the case of the flights between Gran Canaria and San Sebastián when the passenger is a resident and buys a return ticket.
The promotion also includes the direct flights that the Canarian airline operates with
six european destinations from Italy, France and Portugal - Lille, Toulouse, Venice, Turin, Florence and Madeira - and a West African destination - Marrakech -, to which you can travel from
€58.50, which is the price at which you can buy tickets for the journey between Tenerife and Madeira, if you buy round trip.
Quality of service for all passengers

Passengers on these Binter flights will enjoy the differential advantages of the product offered by the Canarian airline: the comfort of its planes
Embraer E195-E2 -the quietest, cleanest and most efficient single-aisle jet in its class, with a configuration that allows more space between rows and the comfort of not having a seat in the middle-, and its
ATR 72, To which is added a high-end on-board service, with extensive benefits for all passengers, including a gourmet aperitif during the journey.
In addition, the airline provides passengers on national routes and international routes with Italy and France the connection of these flights with inter-island flights in the Canary Islands in the case of connecting flights, making it possible to enjoy these offers from all the islands of the Canary archipelago for the same price.
People who wish to take advantage of the Bintazo can
buy the tickets through the different sales channels of the company:
www.bintercanarias.com, the Binter app, the telephone number 922/928 32 77 00, travel agencies and airport offices, where they can consult the conditions and prices of the different destinations.