Big banking cuts 1,400 jobs and closes 271 offices in the first half | Companies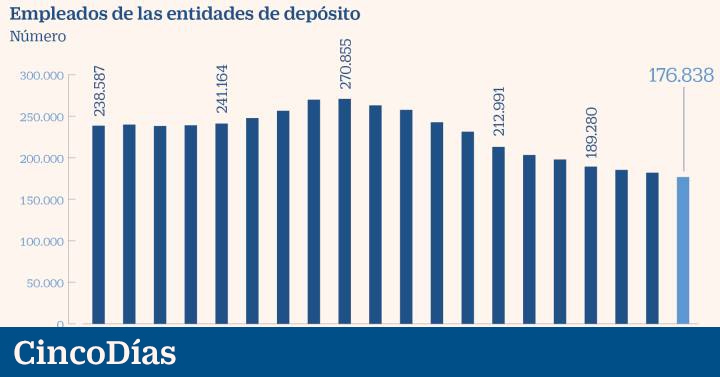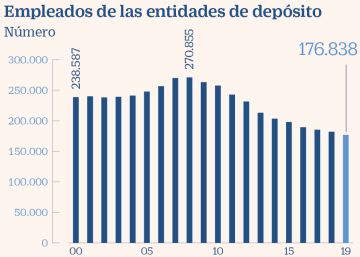 Spanish banks will continue this year with their branch adjustment process, although it is expected that the reduction in the workforce of these financial entities will be less than in previous years.
Until now, between January and June, the six large Spanish banks closed 271 branches and reduced their workforce by 1,456 people in Spain, representing a cut of 1.87% of the network and 1.16% of workers.
However, banks have chosen not to carry out any Temporary Employment Regulation File (ERTE) as has happened in other sectors due to the Covid crisis.
The entities want to be, as their managers repeat, part of the solution and not of the problem, and hence their workforce adjustment process has stopped. In fact, no entity has raised an ERE either. On the table was the Ibercaja one, but a little over a month ago he decided to withdraw it.
This does not mean that the adjustments in the sector have ended. On the contrary, they will continue and with intensity, as all the experts consulted agree. "The only thing that has happened is that this restructuring process has been delayed. It will occur once the pandemic situation has been resolved, "maintains a bank official.
And it is that, the digitization and the greater use of digital channels has led to a progressive adjustment of the office network that allows reducing costs and improving efficiency, closing those that are not profitable and betting on other larger offices.
In fact, last year was once again one of the most outgoing in the financial sector. According to data from the Bank of Spain, 5,161 jobs in banking alone were destroyed, that is, without taking into account another 457 jobs lost in credit financial establishments.
It had been three years since the entities reduced their workforce. Thus, the banks operating in Spain closed the year with 176,838 workers. According to the Bank of Spain data, the adjustment from 270,855 workers in 2008 is 94,017, which already affects more than a third of the workforce that reached the sector.
The main 2019 employee departures occurred in Santander, with the voluntary dismissal of more than 3,000 employees, and CaixaBank, with the equally voluntary departure of 2,023 people.
For this year, although data on job cuts are low in the sector, experts predict that once Covid ends, banks will start another wave of layoffs, which will add another 5,000 jobs due to the need to recover profitability and reduce costs. .