Betis sinks more than Huesca and leaves Míchel in the forward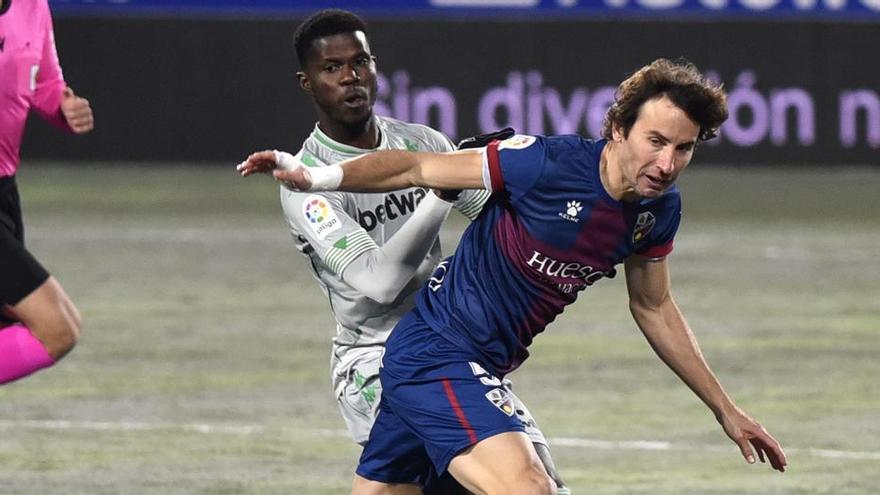 Betis beat Huesca in El Alcoraz (0-2) and drowned the Aragonese team even more, since its difference with salvation increases to six points, and left the continuity of his coach, Miguel Angel Sánchez, '' Míchel '' on the wing.
The board of directors of the Alto Aragonese team had confirmed him in office until the match with the Verdiblancos, but the defeat points to a possible dismissal despite the support of his staff.
Huesca, who have only won one game in this league, still sunk in the last position of the table and it also aggravates their situation from the moral point of view.
Quite the opposite of the set of Manuel Pellegrini, who with the victory puts land in the middle with the bottomAs the relegation lead increases to seven points and can start looking up.
The first part was even, with great pressure from both teams on the output of the rival ball and greater local possession in the beginning but that was decanted for the green and white side as the minutes passed.
The Barça team hardly disturbed their rival in the first half and only made a shot between the three sticks, already in extension time, while Betis, loading the game on its left side with combinations between Sergio Canales, Aitor Ruibal and Loren Morón, got closer to the opposite area but did not bring great danger either.
In fact, the best chance was a shot from Loren in the 23rd minute, after a loss by Pedro López, which was aborted by Greek Dimitrios Siovas throwing himself to the ground.
After the rest time, the situation did not change much, with Manuel Pellegrini's team with a slight superiority in possession but developing the game mainly in the center of the field.
In the 78th minute, after a corner kick, an accurate cross by Emerson Leite from the right was finished off by Aissa Mandi to make it 0-1.
Betis ended up closing the game in added time with another measured center, in this case by Nabil Fekir on Paraguayan Antonio Sanabria, who headed in goal to make it 0-2.
0 - Huesca: Alvaro Fernández; Pedro López (Pulido, m.52), Insua, Siovas, Javi Galán; Ferreiro (Borja Garía, m.52), Mosquera (Okazaki, m.79), Mikel Rico (Sergio Gómez, m.72), Ontiveros; Rafa Mir and Sandro (Seoane, m.72).
2 - Betis: Claudio Bravo; Emerson, Mandi, Víctor Ruiz, Miranda; Paul, Canales (Sidnei, m.83); Laínez (Juanmi, m.79) Fekir, Aitor Ruibal (Rodri, m.79); and Loren (Sanabria, m.68).
Goals: 0-1. M.78. Mandi; 0-2. M.93. Sanabria.
Referee: Cordero Vega (Cantabrian Committee). He sent Paul off for a double warning (m.81). He admonished Ontiveros and Insua, for Huesca.
Incidents: Match corresponding to the eighteenth day played at the El Alcoraz stadium in Huesca behind closed doors.