Betis-Real Madrid and Barça-Joventut, in the Endesa Super Cup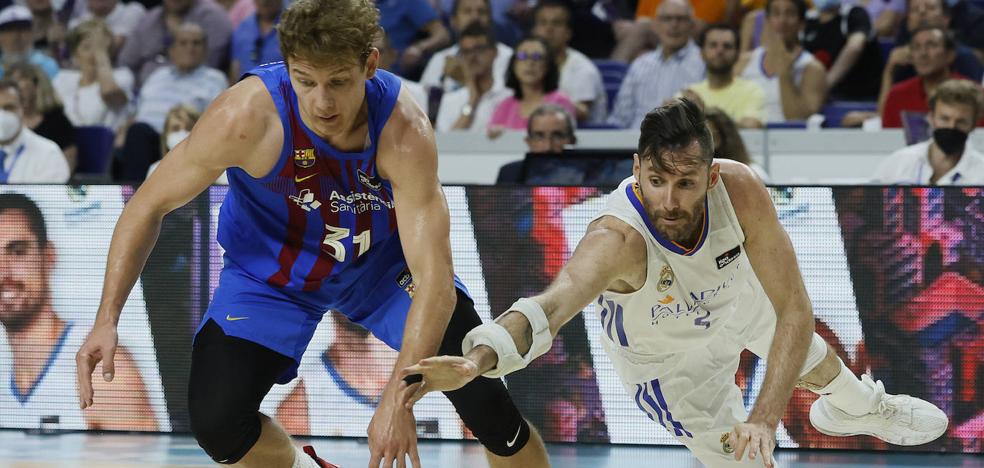 The league champions will open the season by taking on the Sevillian team on September 24, while the Catalans will face Penya in the other semi-final
The 2022 Endesa Super Cup already has its roadmap drawn up. Real Madrid, current champion of the tournament that they won last year by beating Barça in the final played at the Pabellón Santiago Marín in Tenerife, will open the new course by measuring themselves on Saturday, September 24, at 6:30 p.m., at Coosur Real Betis, while Barça, current champion of the Copa del Rey, will face Joventut Badalona in the other semifinal, scheduled for the same day at 9:30 p.m.
The Sala Metropol de las Setas in Seville hosted this Monday morning the draw for the Endesa Super Cup, the final of which will be held on Sunday, September 25 at 6:30 p.m. at the Palacio Municipal de Deportes San Pablo in Seville.
Arturo Bernal, Minister of Tourism, Culture and Sports of the Junta de Andalucía, and Antonio Muñoz, mayor of the city of Seville, acted as innocent hands of a lottery that has summoned the host of the tournament, a Coosur Real Betis that has been reinforced this summer with figures of the caliber of the Latvian forward Rodions Kurucs or the Congolese center Yannick Nzosa, with a Real Madrid that opens a new cycle after the controversial dismissal of Pablo Laso and the rise of Chus Mateo as the new helmsman of a once again fearsome team that has renewed its squad with the return of Sergio Rodríguez and the additions of Bosnian forward Dzanan Musa, Croatian forward Mario Hezonja and French power forward Petr Cornelie.
Once again with Carles Duran at the helm and the signings of the American shooting guard Kyle Guy, the American power forward Henry Ellenson and the power forward William Howard, Joventut de Badalona will try to make things difficult for Sarunas Jasikevicius' Barça, who appear once again as one of the great favorites to fight for all the titles in the new season after a hectic summer that has brought to Barcelona stars such as the Czechs Tomas Satoransky and Jan Vesely, the Serbian Nikola Kalinic, the German Oscar Da Silva and the American Mike Tobey, as well as the Spanish forward Oriol Paulí, formerly of MoraBanc Andorra who, at 28, will have the opportunity to debut with the Barça first team after going through all the club's training categories.