Benzema: "If I have to force it, I'm going to do it"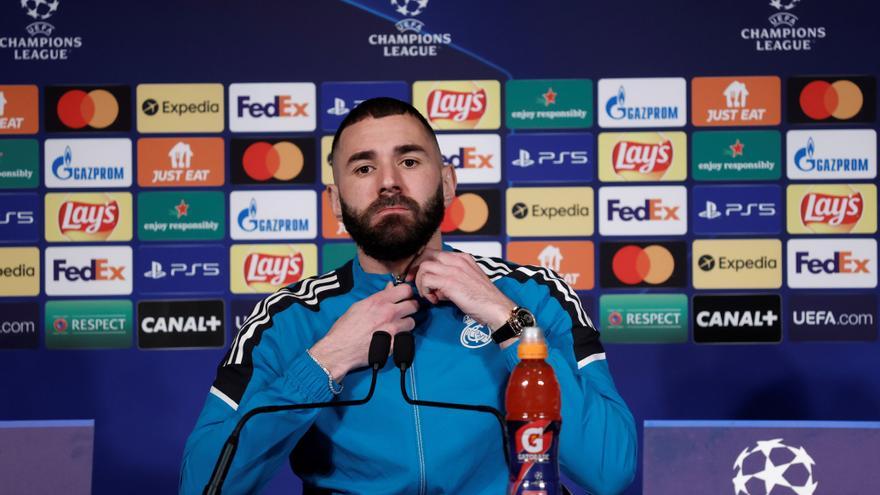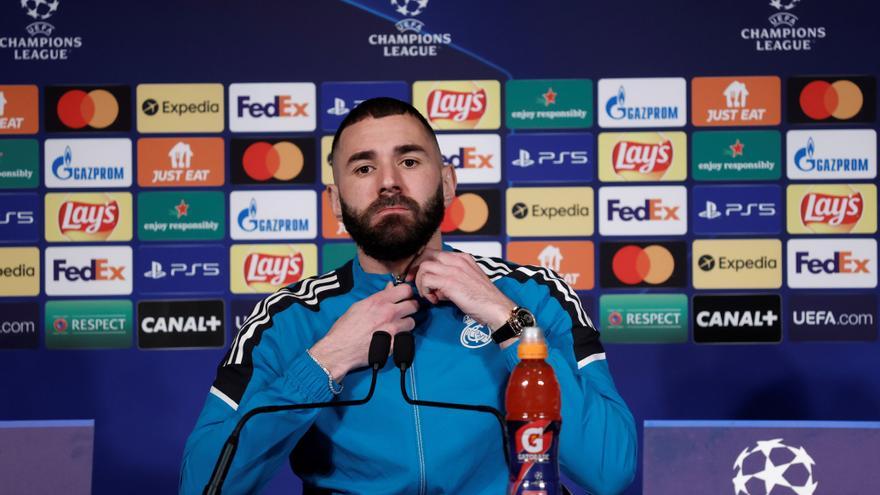 Karim Benzema, French international striker Real Madriddid not clear the doubts about his participation before the PSG in the Parc des Princes, conditioned by the sensations I have in the last training session, but admitted that he feels "prepared".
"It's been a lot of hours of work and I feel much better. We have a training session to see how I feel and if I can play the game tomorrow. I hope to feel good sensations in the field", said Benzema at a press conference. "I'm going to train and then we'll make a decision," he added.
"I will always force for my team because if I don't stay in Madrid today. I am always here to help and if I have to force myself I will do it. Nor is doing it to injure yourself more. I always think of the team and that's why it will depend on the sensations I have," he pointed out.
The French striker assured that since he suffered the muscle injury he has worked intensely with the aim of arriving in time to play the match against PSG.
"It was hard because when you're away it's hard, I put on in the morning, afternoon and night doing work in Valdebebas and at home to get. I'm ready, now we have to see on the pitch, but I'm here to help my team in a great game. If I have to play tomorrow, I'll give it my all on the pitch," he said.
His trainer, Carlo Ancelottiassured that he will be the one to have the last word on Benzema's presence in the match, after listening to the rest of the coaching staff and the footballer himself.
"He has a medical discharge, he has trained by running, sprinting, without a problem. Then there are the feelings of the player. When these two things occur, the coach has to see. He hasn't played for a month, but he's Karim, he's not a player who has to adapt. If he's okay, he has to play," he assured.
Benzema indicated that the duel will be very even, because both teams have great players and he did not want to say who is the favourite.
"In today's football there are no favourites, not only in this game, anyone can beat you and reach the final. If we look player by player, we are two very equal teams," he said.
On whether Real Madrid is too dependent on his goals, the attacker assured that "the team has known how to win" in the weeks he has been absent.
The striker blamed his team's bump in results on the difficulty of opening rival defenses when they close behind.
"When you're not lucky enough to score in the first 15 minutes, we get nervous. We lost points, but we are first and we are good to continue like this", he affirmed.
"The most important thing is that I have given everything to be there, I have good feelings, I hope to be operational tomorrow, but we must not take risks because the season is long," he reiterated.
recognized that play versus Kyliam Mbappe it will be special because both share a national team, but he did not give much importance to the game being played in France.
Benzema indicated that, despite the moment they are going through in France, Leo Messi Y Neymar they are "top players" and that "although people expect more goals from them, what they do on the pitch does not raise doubts".
But he indicated that PSG does not only have individuals, but also good defense, a good midfield and a good attack.
"You cannot say that it is a team that does not play well, that it has difficulties. In the Champions League we have seen them level up," he said.