Benito Zambrano: "I want to be an emotional storyteller"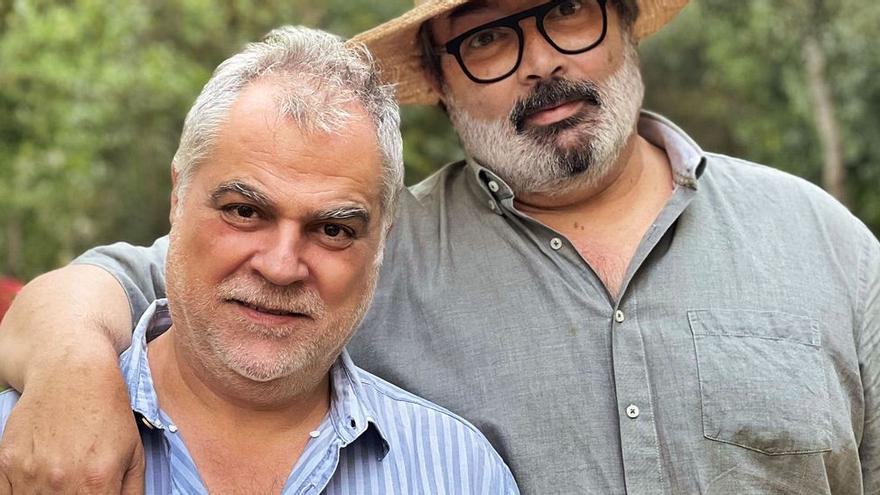 The production has had a budget of almost four million euros and has been funded by Filmax, who bought the rights and chose Benito zambrano as the perfect director to do it. "I liked that it was a modern story of women with a very melodramatic component, an international character and above all a lot of emotion. If there is no emotion, I cannot connect, nor do it".
The film has mostly a cast of Catalan actors and some Majorcan actors such as Assun Planas. "The best thing about filming here has been all the support that has been given to us and especially during hard months of pandemic, without any case occurring ", aim.
"I am about telling stories that are not boring, that there is truth and that reach the stomach"
When it comes to interpreting the story, the film has directed it with the intention of reaching a very wide audience, as it develops "on an island as cosmopolitan as Mallorca", says the director.
In fact, it was during the filming in Mallorca, and during a dinner organized by a mutual friend, where they met Joan Valent and Benito Zambrano. As it was a co-production with Luxembourg, the condition was given that the money they put in was reinvested in the industry itself, carrying out post-production and music on-site and with part of the Luxembourg team. Therefore, he asked Valent to help him so that he could take the spirit of Mallorca with him. In fact, the musician had to be Luxembourgish as well, but "Obviously it didn't connect with the story. It was too impersonal and in the end we were able to do the whole soundtrack with Joan, with whom I have brutal chemistry and communication", Explain.
To the question of how the music of a film is created, Joan Valent answers that "with patience. You watch the film and meet the director, there a series of synergies are created with which you commune. You understand the drama, and what the director is looking for. The music becomes an invisible dramatic character, giving emotion to the scene. Sometimes negative, sometimes positive, or accentuating certain things, but above all it is another character in the film. That is why it has to be treated with great austerity. An abuse of music goes against the story and a lack of it. stain. The whole process has been very beautiful and full of emotion ".
And adds Zambrano, "the gods have blessed Joan and when he sees a scene, he plays the piano and everything flows. All the sounds, the atmosphere and the music give strength to the story," he underlines with his intense Lebrija accent, "apart from working here in the Algaida countryside, it's idyllic".
The premiere of the film is expected to be for the beginning of November although now they will begin with the cycle of festivals, and the premiere will have to be in one of them. The first major festival will be San Sebastián, which is held in September and from there until May, when Cannes will play. "With much affection we will make a show here in Mallorca, another in Barcelona as the Catalan producer, also in Madrid and then another in my town, Lebrija".
"Music is one more character in the film, so it has to be treated with great austerity"
Both creatives are convinced that the film will like it. And when the soul is put on, it is usually contagious. "People are going to enjoy it. It tells stories that speak to people today. What awards can this movie be eligible for? Anyone, because everything is fine. For me, getting people out of their homes and That they dedicate two hours of their life to see a movie of mine, that's already great. If they also like it, it makes them laugh or it moves them, I'm already happy. I wish it were my most watched movie. The only thing I stop to think about is if when we return to normality, people will be affected by the economic crisis and if they would like to go to the movies ".
The film has a very clever pacing and acting work that makes the play meaningful. The last sequence, the most important, takes place in an environment as apocalyptic as Torrent de Pareis.
"Women are on the rise today and there are visions of the life of all women that appear in all age ranges, showing a lot of solidarity between them. I am not a visual director, I am about telling stories that do not bore, that there is truth and that they reach the stomach. Cinema is an art that is created collectively, but it is not a collective or assembly art, but it needs the talent and energy of many people. I make a film every three or four years, so it is very important that the film turns out well, nothing to do with the United States where by using certain elements you already know that you have 99% guaranteed success. In Spain, living as a film director is impossible. Except Isabel Coixet or Almodóvar and some more, the rest we have to live an average of four years with what you charge a year, added to the fact that they take almost 40% in taxes. There is the intention that a law be made, the proposal of the artist's statute that is already approved in the parliament so that the income is adjusted. The actors also have a very high unemployment rate. I only pay social security contributions for the 5 or 6 months that the shooting lasts. It is very interesting that people know this. Working in culture looks very nice and a lot of red carpet. But nothing to do with reality. "