Benito Pérez Galdós poses in black and white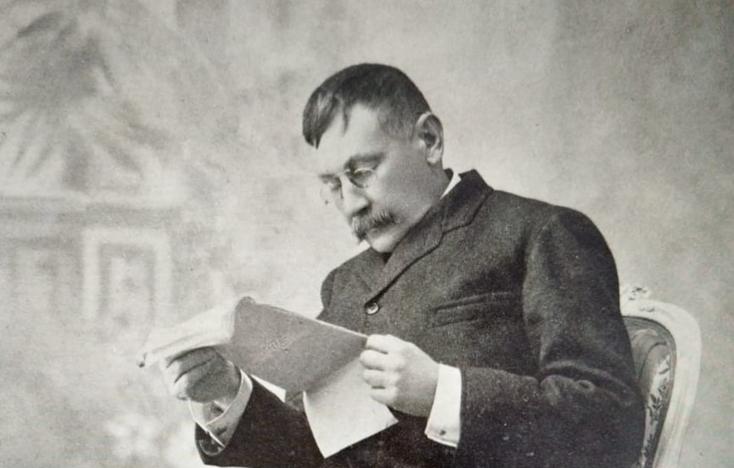 museums
culture
The Pérez Galdós House Museum adds to its rooms a new oil portrait of the author of the artist Moya María Suárez Alemán
The Pérez Galdós House Museum, located on Calle Cano in the city of Gran Canaria, already has a new oil portrait on its walls, made by the young artist from
Moya Maria Suarez German.
The painter, specialized in this type of historical portraits, has already made two oil paintings with great success to commemorate the centenary of the death of the modernist poet in 2021.
The work

The exhibition is an interpretation of a photograph taken from the photographic archives of the Museo Canario, which belongs to the
photographic background by Teodoro Maisch.
In it, the famous writer can be seen, sitting in a Victorian chair in front of a set while reading some pages that he is holding in his hands.
It is a studio photograph, made with
gelatin glass negative plate dry the bromide gelatin.
The director of the museum center, Victoria Galván, receives the work of the young Moyense artist María Suárez Alemán. /

C7

Teodoro Maisch was a photographer of German origin who arrived in the Canary Islands along with other European professionals (German, English and French) and took gallery images, portraits or reproductions of traditional pieces and native flora, landscape and urban photography, as well as of popular events.
He published his work in different important magazines of the time, interested in promoting tourism in the archipelago.
In 1930 he worked as a graphic editor for the magazine '
Tourist Canary Islands', which served as support for that purpose, and in 1944 he was prosecuted by the Spanish military accused of belonging to the 'Andamana' Masonic Lodge of Las Palmas de Gran Canaria.
About the portrait

María Suárez Alemán has interpreted the image of a Galdós «
thoughtful, engrossed in reading a document« with characteristic glasses of the time.
It is an oil on canvas, 195 x 130 centimeters, which has already found a place in one of the prominent places in the museum that houses his birthplace.
The artist has assured that her goal was to 'humanise' the image of Benito Pérez Galdós" and "represent him in a closer way".
"I found this image in which the writer was standing before
a situation as daily as reading a letterseated... and it seemed to me that it broke with the seriousness of the official portraits, it brought naturalness", said the painter.
«He is a great character in the story, but captured in a very natural pose« in a »close-up image« that reflects the »more introspective facet of the author of 'Fortunata y Jacinta'.
The painter María Suárez Alemán, from Moya, has a postgraduate degree in Graphic Design, a degree in History of Art and a portrait and creative artist, and currently develops her work focused on the
pictorial hyperrealismsocial art and the symbology of sacred art.
Since 2020, Suárez has been performing artistic portraits of great personalities
of the canary area.