Benítez, in the massive gala presented by the Córdoba fair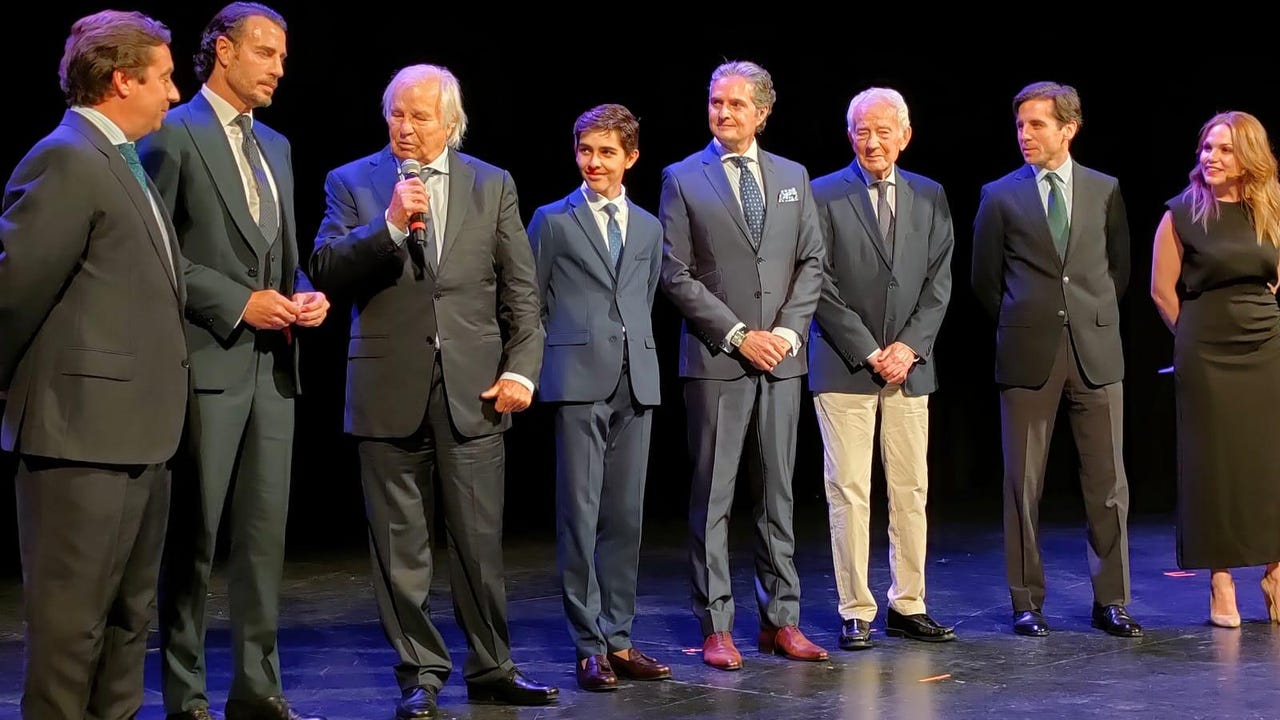 A great gala summoned around 1,200 people to present what will be the next fair in Córdoba. The chosen setting was the city's Gran Teatro where good music met with the performance by Manuel Lombo or the songs of María Espinosa and a show of stunt, with a spectacular staging and lighting. The occasion deserved it, or at least that's how the arena's businessman, José María Garzón, who is committed to a good publicity campaign for the serial, considered it.
This presentation was attended by the mayor of Córdoba, José María Bellido, the businessman from Lances de Futuro himself, the Culture delegate; Maria Aguilar; and that of Tourism, in addition to the delegate of the Junta in Córdoba, Adolfo Molina; among other authorities.
A gala, which was presented by the journalist victoria collanteswhich was attended by the bullfighters Manuel Benítez "El Cordobés", José María Montilla, Finito de Córdoba, Chiquilín, Juan Ortega and the bullfighter Manuel Román, as well as authorities and institutional representatives, and personalities from social and cultural life from the city.
Posters
On this occasion the fair will be divided into two weekends, specifically the Saturday May 13 will be the first celebration with the bullfight where the Cordovan bullfighter Manuel Roman He will do the walk in the Arena of the Caliphs and will kill four steers alone with the irons of Jandilla and Fuente Ymbroin what will be his presentation with picadores in this square.
The next weekend, that of May 20 and 21the bullfights will be held with two posters of great interest.
On Saturday the 21st, a bullfight by Domingo Hernández will be fought for Morante de la Puebla, Juan Ortega and Roca Rey
The next day, Sunday the 22nd, Finito de Córdoba, Alejandro Talavante and Pablo Aguado, with a running of the bulls by Álvaro Núñez.
In his speech, Garzón thanked the Córdoba City Council and the Círculo Taurino de Córdoba for their support in promoting and enhancing these posters and this bullfighting fair. "It is appreciated that a City Council such as Córdoba is committed to bullfighting and promotes it in its city, as it has been doing all this time that Lances de Futuro has been in charge of the management of the Córdoba square."
Garzón also made reference to the pricing policy, "We offer special passes for sale from 33 euros for young people under 25, retirees and the unemployed".