Benedicta Sánchez, a new movie life at age 84 | Culture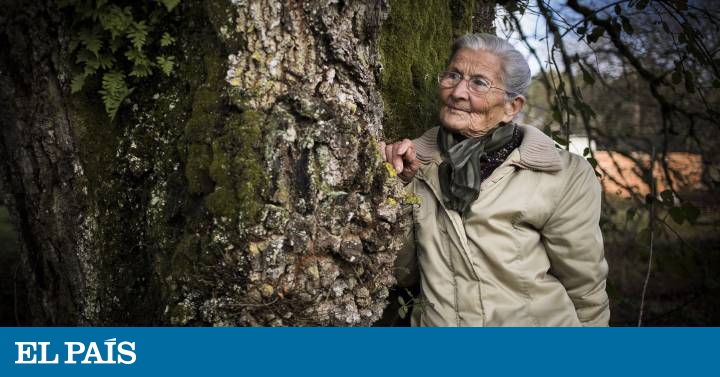 The elevator of a Lugo building opens and an exhale comes out that drags a shopping cart and several bags. Benedicta Sánchez (San Fiz de Paradela, Lugo, 84 years old) refuses help with forcefulness. Get in the car, protest the pants that have been lent (they fall) and recounts the anguish that comes after losing his glasses (he found them). The day before he arrived at the floor of his daughter, Emma Karina Sánchez, after midnight, after an afternoon of tests to choose a dress for the Goya gala on Saturday. On New Year's Eve he gave the chimes for the TVG and, a few months before, danced on the red carpet of Cannes a doll. He wears the same bun as his character in What burns, for which he is nominated as a revelation actress, but that Benedict looks little like this.
The royal Benedict would have run out to hug the son who returns from serving years in prison. I would have also defended him from others. The transformation was not easy. until the director Oliver Laxe He encouraged her to do yoga and see Mouchette Y Random of Baltasar, from Robert Bresson. "It was difficult for him to assume the submission of the character and what we wanted to evoke through ellipsis," recalls the filmmaker.
It was Emma Karina Sánchez, Benedicta's daughter, who encouraged her mother to go to the tests. "They were looking for a woman over 65 years old and I had a feeling they would take her. I encouraged her to do theater in the same amateur group I am in and she always made people laugh, she appropriated the script, she made it her own ", she says while walking her dogs through San Fiz de Paradela and her mother runs to caress the majestic carballo da Porfía.
Benedicta speaks with the trees and, when he has had them, with the animals. Thus began in adolescence the brave inner ethics that led her to embrace at age 17 her brand new husband and her vegetarianism. That vanguard found few exits in the Lugo of the fifty. The couple emigrated to Brazil. There begins the second life of Benedicta: she becomes a photographer of weddings, baptisms and communions, works in a bookstore specialized in philosophy and vegetarianism, scales all the peaks of Rio de Janeiro, travels a lot (Turkey, Israel, Jordan or Greece, among others ), separates from her husband and knows who will be Emma Karina's father. He is happy in a tent.
Until in 1979 he returns to his origin to face a cruel decade. The third life "I had a terrible time, the worst years of my existence. I came back with the idea of ​​setting up a photography lab, but my mother and my brother didn't let me do anything. They saw me as a failure, I returned from America without money and with a daughter, "he revives a few meters from the house he inherited from them and has been stolen several times.
"Aren't you afraid to live alone?"
– Fear is a feeling of guilt and lack of curiosity.
Thus Benedict speaks, splashing his account of definitive phrases and original reflections. "I accept what life gives me." That they steal the furniture that has been brought from Valencia (the fourth life) of the palleira, then give up cleaning the brambles so that thieves think twice. That the water pipe that supplies the house is broken, because it places buckets and tubs to collect rainwater. That a gine kills her kittens and breaks her heart, because she gives up having new pets. "I don't want to modify the destination or change it. Whatever comes, I admit it. I grew up in the postwar period with cold and needs. This is how people are forged. "
In Valencia, the fourth life, he left for his daughter to study Fine Arts, to shake off the maternal-fraternal oppression and to find the sun again. He joined the university of elders and only agreed to return to the village of Lugo in 2008, after the death of his brother. "I had to come to take care of the house."
That they give the Goya, good. "If they don't give it to me, I'll feel it for Oliver and for the people who have trusted me, but I'm not to blame if they don't give it to me. And there will be another person who will be happy. " Compete in its category with Pilar Gómez (Goodbye), Carmen Arrufat (Innocence) and Ainhoa ​​Santamaría (While the war lasts), but she is disgusted by the word compete. "At this point in my life, the Goya does not take away my sleep," he concludes.
We have reached the fifth life, which has emerged after the filming of What burns, that movie that uses silence to shout things. Neither Benedicta Sánchez nor Amador Arias, the other protagonist, had worked in cinema. Their relationship on the screen is built around a wood stove, the swing of the stations in Os Ancares and a communication made with ellipses and monotony. If the Benedict of fiction coincide in any way and the real one is in simplicity: "Paraphernalia is not my style". So she will go to the gala without giving up herself. Dressed by Adolfo Domínguez and without teeth. "I thought Oliver was going to ask me to wear a denture, but he just asked me to leave my long hair. When someone proposes to cut it, I say no, that my hair belongs to Oliver. "
Oliver Laxe: "I realized it was special"
Oliver Laxe had almost as many doubts as certainties when he discovered an octogenarian woman, short hair and urban gestures in the queue of the aspirants to co-star in his third film, What burns. "I was touched that a woman of her age came to the tests. I realized that it was very special, but also that I didn't have a village woman presence, "he says by phone.
He tried other women in the region of Os Ancares, where the film takes place, until he finally opted for Benedicta. "It offered us sensitivity, the possibility of working with her on an intellectual level and a physicist who would endure filming. It was a matter of modeling her as an actress. " The filmmaker was concerned that the relationship between Amador, the arsonist who is released from prison, and his mother, Benedicta, fell on manly grounds. "I was scared to make a psychological movie with a castrating mother, again the woman as guilty of everything. I wanted to get to something more essential. "