Belgium demolishes a 13th century bridge so that ships of up to 2,000 tons can navigate | Culture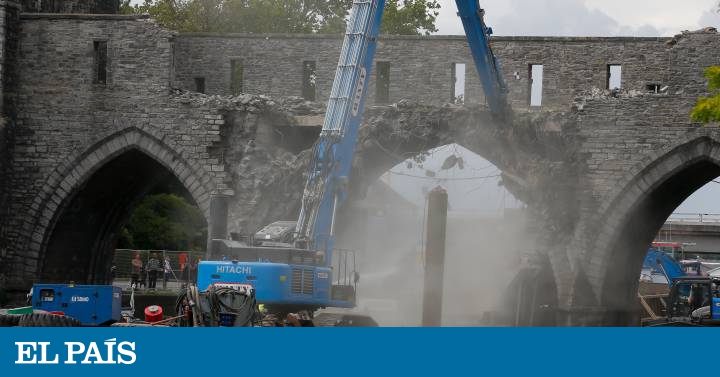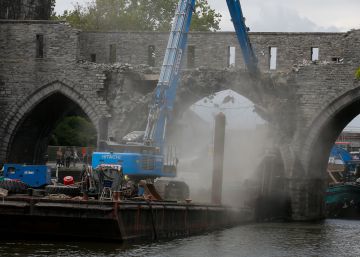 The Belgian town of Tournai, with 70,000 inhabitants, a thirteenth-century bridge has begun demolishing to give way to ships of up to 2,000 tons. The Pont des Trous (Bridge of Holes), built between 1281 and 1329, has begun to fall in this border city with France that aspires to be part of a canal project between the Benelux and the French port of Le Havre. Until now, along the Escalda River, which crossed this historic bridge, boats of a maximum of 1,500 tons were sailing. With the demolition, cruise ships and freighters of greater capacity will be able to transit the waters and eventually reach the river Seine and then to the sea. It will be a 105-kilometer channel that will cost 4.2 million euros, as the newspaper explains The guardian.
The idea of ​​throwing down the bridge began four years ago, but it was last January when the Tournai City Council approved it. Despite the opposition of many neighbors, the controversial work began last Friday. The signatures of 20,000 people who asked that the project be dismissed were of no avail. The bridge was until now one of Tournai's jewels.
The local tourism website explains that its construction lasted about 50 years. Its central arch, says this official page, was dynamited during World War II, a conflict that left this border town with France reduced to rubble. In 1948 was rebuilt and was used to raise the bridge 2.40 meters and "facilitate navigation and the development of the river economy. "Ironically, the web calls to visit"one of the most prestigious vestiges of medieval architecture in Belgium ", while reporting the demolition, which qualifies as"a new chapter in its history "and offers a live link to the "dismantling of the central arches" works. Only the two towers on each shore are original, one from 1281 and the other from 1304.
Although the authorities have promised to rebuild them with the original bricks – as Wallonia's public works minister Carlo Di Antonio said – Belgian energy minister Marie-Christine Marghem, present at the beginning of the demolition works, He pointed out that he had not seen any numbered stone. In fact, many fell directly into the water. "I am next to the Bridge of Holes since dawn to see how the institutions attack the monument," he wrote on Facebook.
. (tagsToTranslate) belgium (t) tear down (t) bridge (t) thirteenth century (t) power (t) navigate (t) ship (t) 2,000 tons (t) construction (t) know (t) bridge of holes (t) find (t) tournai (t) locality (t) border (t) border (t) france (t) pretend (t) unite (t) project (t) canal (t) sena-north (t) have (t) access (t) port (t) le havre



Source link