Being gay in town | Society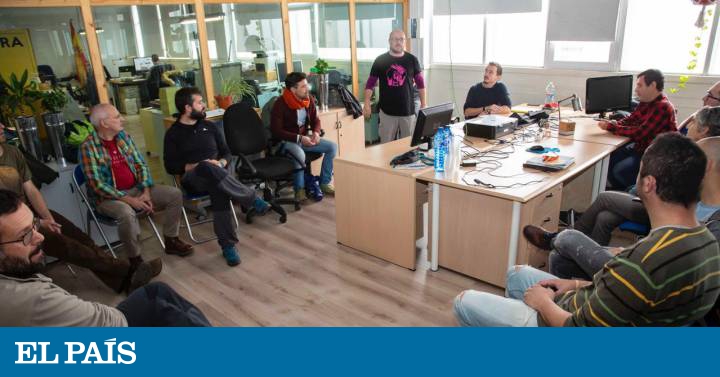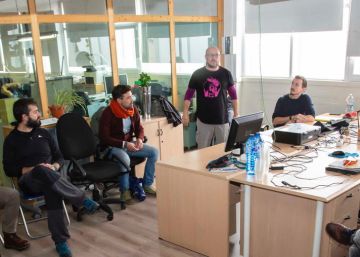 Many left the villages. Others remained silent. Those who didn't shut up were the center of glances and whispers. But he tiptoes over them, even if they were forced to leave. Also now they are obvious, when politicians and associations talk about repopulation. In the collective imagination, homosexuals are in the cities, with their atmosphere bars and their traffic jams and crowded sidewalks. But stereotypes fall short and turn their backs on those who do live in rural areas, a place where the two last names tend to weigh more than the proper name. And some who marched want to return. That is why they cry out for referents of the LGTBI collective also in the field. That is already well from so much isolation, they say. That it is time to weave alliances, to stop being invisible.
The meeting is the germ of that network that begins to weave. The meeting, this Saturday in Soria. A fortnight of people is entering a room where the chairs are arranged in a circle. They have been talking on social networks for months, some are getting expensive at the same time. They come from the provinces of Teruel, La Rioja, Guadalajara, Soria, Zaragoza, Navarra … They are between thirty and fifty years old. They are gay, yes, and many other things, they insist. Enough of labels. Professor, engineer, agricultural technician, journalist, factory worker, worker in the world of tourism … Almost everyone has in common that they know what it is to feel alone, what it is to leave home to be able to meet.
He begins to speak Chuse Aliaga, a 49-year-old Aragonese who is the link of the group. It takes years of activism, of trying to make the group visible. So he decided to promote this meeting, held in the third edition of the Presura fair, which brings together social entrepreneurs who try to combat depopulation by revitalizing peoples. In the room they are clear about the objective: to connect associations, LGTBI initiatives that already exist in rural areas, isolated from each other and citizens. "We are ghosts," summarizes Cuca Martínez, a 54-year-old gaditana based in Jaca (Huesca). They say that in the villages it is common to live the sexual condition indoors or without meaning in activism. Even more among women. "Female sexuality remains hidden. We have the Catholic culture as a gravestone on top, "she laments, the only woman in the group.
"Our struggle and the feminist go hand in hand," says Pedro M. C., a 44-year-old Galician who now lives in Logroño and wants to go with her husband to a town of about 50 inhabitants in Álava. "In the rural world there is a brutal disconnection. Maybe you think you are alone, or you know someone who is also gay, but who is in the closet, "he says. "My reference was the son of a neighbor, who had to leave, the poor. There is always a figure, the fag of the people, and is usually negative. So we have to go to the cities at some point to assert ourselves. " In your town, do you know it? "If they don't know it, it's because they don't want to know: I've been visiting with the same friend for 10 years," he jokes.
"Cazurrismo there are everywhere, in the towns and cities, "explains Toni Sánchez, 56, who now lives in Zaragoza but is looking forward to returning to the countryside. "But peoples are microcosm. When they accept you, you are fully supported. The problem is that when there is rejection, you live much more intensely, "explains Chuse Aliaga. In the city there are always more people to turn to and where to go unnoticed. They also agree that rejection is primed, especially with the outsider. "If you are from here, we love you, what are you going to do, but being outside…" says Pedro M. C.
"When I notice something like that, I wear a skirt and go to the plaza for coffee. They have the problem, not me, "Carlos Garcia, a 42-year-old Valencian who lives in his van, goes from town to town. "Acceptance is required. It is a purely cultural issue. We go with fear, not in a healthy way. You have to go hard and not give explanations, you don't have to carry a hanging flag, "he continues. He says he has never had a problem. "You are surprised by older people, much more open than we can think. For them sometimes everything is simpler, "continues Toni Sánchez. "Many times we have the closet in mind."
Everyone recognizes that it is more difficult to socialize in rural areas. The distances are larger. "But social networks have been a before and after. Thanks to that we can meet people. Before, you could spend decades in a town without knowing that in the next door there was also someone gay, in the closet, of course, "says Oscar, 48-year-old Soriano. Now, that there are already homosexual referents on television, they insist that they also want them in the villages. Almost all the members of this group openly live their sexuality, but they emphasize that figures such as those of the deputy mayor attending the meeting are important. "Let the kids see us, that they know that it is a more like any other option," they agree. Sergio Marco, 36, is a professor at an institute in Teruel. He insists on training so that "young homosexuals, who are lost many times, are not the focus of attention, because they continue to be so".
For this they want the network. To become visible in society and within the LGTBI collective itself. "It's as if it's just Chueca. Cuenca does not exist, I don't tell you the towns anymore, "says Pedro MC" It seems that, when talking about repopulation, we are not taken into account because we cannot have children, when this is also not true, of course we can have them, "he adds her husband, Eduardo Medrano, a 38-year-old social worker. They want normality, that their voice be heard like that of any other. The option is simple: "That you can be at ease and with dignity, on equal terms, in the place where you choose to live," summarizes Chuse Aliaga. Now they have to set a date for the new meeting. And the network will almost be underway.
This weekend, the third edition of the Presura fair is held in Soria, which brings together agents who are fighting against depopulation in rural areas. More than 60 positions, five of them Portuguese, present proposals from entrepreneurs or small towns that seek to fix population and attract new inhabitants. "It has been a success. Above all, we realize that every year we notice more alliances between the initiatives, which was the objective of this fair," explains Joaquín Alcalde, director of El Hueco, one of the organizing associations.
"This Saturday we had more visits than the previous year, although it is possible that on Sunday the influx of people suffers because it coincides with the elections," he continues. "There are solvent initiatives. We have a breeding ground so that, with help and facilities, this can flourish," he adds. It refers to the movement that struggles to revitalize peoples. That is why he insists on the need for a national strategy against depopulation, whose general lines the Government approved last legislature. There is still a joint effort with the autonomous communities, in the Conference of Presidents.
(tagsToTranslate) be (t) gay (t) town (t) fortnight (t) collective member (t) (t) lgtbi (t) boost (t) network (t) end (t) isolation (t) medium ( t) rural



Source link