"Being equally valid, only 30% of women reach high-ranking positions"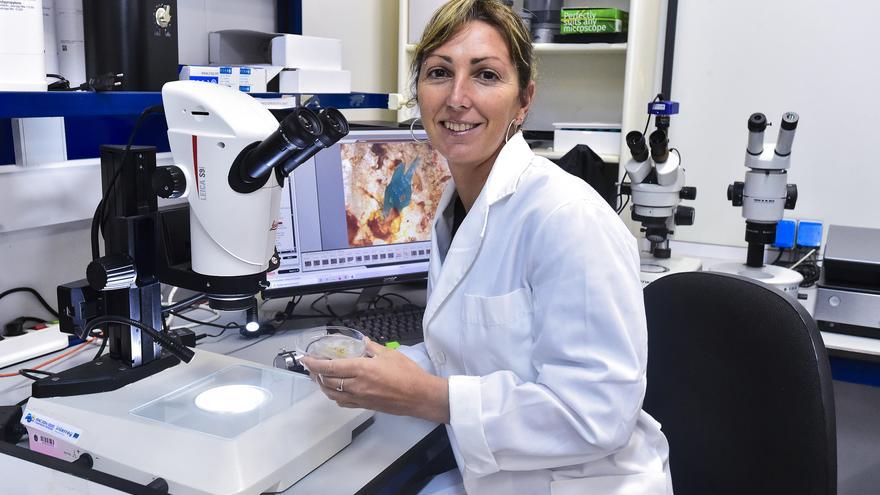 Biologist and PhD in Oceanography, Alicia Herrera (Montevideo, 1978), is part of the group of research from Ecophysiology of Marine Organisms (Eomar) of Ecoaqua University Institute of the University of Las Palmas de Gran Canaria (ULPGC), where there is no glass ceiling for women. For more than a decade, she has combined her two passions, science and education, to combat the impact of plastic in the oceans and raise environmental awareness.
What sparked your passion for science?
I am passionate about the sea and everything I do is related to the sea, nature and biology. In 2009 I did a master's degree in Oceanography at the ULPGC, and from that moment on, my two interests, education and marine biology, came together. After the master's degree I got a scholarship to do a doctorate in Oceanography and I started researching the physiology of marine organisms, specifically small crustaceans called mysidaceans. When I finished my doctoral thesis, I rethought a little what I wanted to do, because doing such basic science I didn't know how to connect my research career with my activist nature and fight for the conservation of the environment. Then an article came into my hands that said that even zooplankton were ingesting microplastics and it was like a revelation because I never imagined that the problem of plastic could reach such tiny organisms. From there, I began with the study of microplastics and their impact on the oceans.
Did your environmental activism then lead you towards a research career?
Exactly. Becoming aware of the problem of plastic, one of the most difficult problems that humanity is going to face, was what led me to direct my research in that direction. But in addition, I was able to focus my interest in environmental education and together with a friend I founded an association called the Association for Environmental Conservation Latitud Azul, which was later joined by several colleagues, people who are experts in different topics, from climate change , women's equality... In the end it has become an association that fights in various ways, but everything is connected: climate equality, gender equality and the environmental fight. It all started as the illusion of two friends who wanted to do something, and now we have projects that the Ministry of Equality and the Environment have given us and we are quite active.
Do you think it is necessary to celebrate the International Day of Women and Girls in Science?
Yes, because even for one day, it focuses on the inequalities that still exist in this field, and very interesting talks are held that reach the general public to show that there is still a long way to go. In fact, the last project we have done at Latitud Azul is called The sea, a feminine gaze, which speaks of the inequality that still exists in jobs related to the sea, which were always very masculinized. We did this to make visible the work that women do in the sea and that often is not known, nor is it known that they exist, from women fishermen, oceanographers... We held an underwater photography exhibition made by women, because we always hear that Contest winners are men, but there really are very good underwater photographers and that is what we try to make visible.
«From the postdoctoral stage, women have many more barriers to continue researching than men»
However, her research area, aquaculture, at the ULPGC is led by many women, unlike many other scientific areas within the University itself. What is the secret?
That's right, precisely the direction of Ecoaqua is in charge of Marisol Izquierdo, one of the best scientists in the country, and at an international level. In general, there is a large female component in the Institute. Specifically, in my research group, until recently we were practically all women, now a colleague has joined, but really we always said that Eomar is practically a female research group, starting with its director May Gómez, professor of Zoology and a great fighter for gender equality. The fact that she is such a prestigious researcher and that she values ​​the work of other women so much has been key for us to have the possibility of directing groups and projects.
Could we say that today this is an exception and that leadership positions in the scientific field continue to be a pending issue for women?
Yes, and in fact there are published studies that confirm that important projects are rarely led by women. If we have that ceiling, obviously they stop us, but if they leave us, we are just as valid, the problem is that many times it is not allowed to reach certain positions. It is always said that when a level is reached, and the postdoctoral stage is one of them, women always have many more barriers to continue than men, and the first of these is that in the end, men end up being the ones who lead the most research projects.
Is it more difficult for women to stay in a research career?
Yes. Precisely, another of the barriers is the issue of care that, at a certain age, always falls on the woman, be it the care of the children, or the care of the parents. That takes much more time from women than from men, that is, when entrusting an important project, it is always thought that a woman with two children will have less time than a man who has two children in charge. That is why it is more difficult for her to stay in the research career. There are studies that say that until the doctorate there is a very high percentage of women, but in the postdoctoral stage, in the next steps towards leadership or management positions, few women arrive, because from that moment on, they have much more charge than the men and fall behind.
"There are still stigmas at the educational level, just look at the toys that are given to boys and girls, there is always a tendency to separate"
Have there been advances in equality since you began more than a decade ago in the research career?
I think so, but there is still a long way to go. Now this situation is becoming more visible and studies are being carried out to evaluate gender equality in the University, and in that sense it is interesting to know the data to see where we are, where we have come in terms of equality and everything we have left for walking Being equally valid, only 30% of women reach high-ranking positions. Evidently, something is happening there, if in the doctoral stage there is a percentage of equality, or even more women than men, why are there fewer in the next step? Obviously it is not because we are less valid.
Do you consider that there is still a stigma at the educational level that fosters the gender gap, and relegates girls to certain jobs and boys to others?
I think there are still stigmas, just look at the toys that are given to boys and girls, there is always a tendency to separate, that there are things for boys and things for girls. Starting with this, which should change in education, I think we have to give the message to girls to follow their dream. If, like mine, it is to dedicate oneself to biology, to the care of the environment, to nature, that they fight to fulfill it, because they are just as valid as men, to follow any career or profession they choose.
Have you had to give up something for science?
The research career is hard, but if I had to choose again, I would dedicate myself to this again because it gives a lot of satisfaction. Doing what you love, what you like gives meaning to your life because you see that what you are researching is going to contribute not only to society but to the care of our planet, which is what we have. In some sense it can be hard, many hours are dedicated to it, and sometimes it is frustrating, but it is priceless when you really realize that every day you do what you like, that is the greatest value it has.