Being a grandfather over 75: a joy, but also a challenge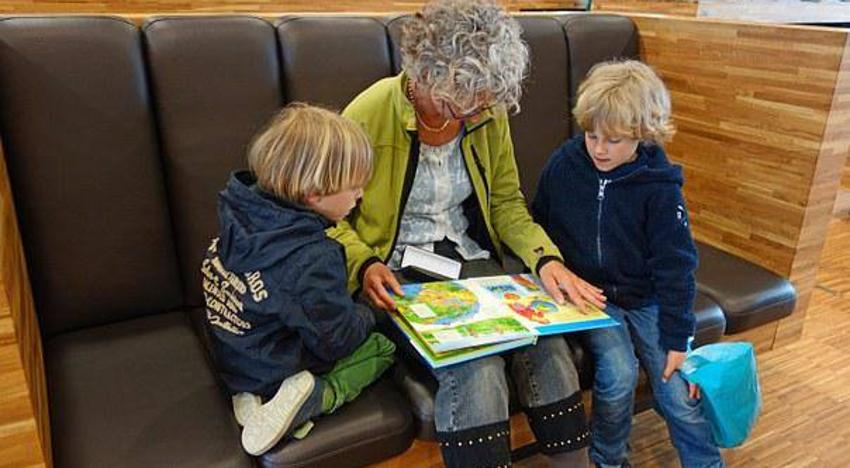 Grandparent's Day
The testimonies of Pepe, Pilar, Natalia, Gloria, María Isabel, Rafael and Luci show the lights and shadows of what it means to have a grandson at an advanced age
What is it like to be a grandfather over 75? "Being a grandfather is a great satisfaction and joy, a second chance to enjoy with younger people," replies Pepe Manzano, 91, although he also confesses that with his age he no longer has "the same energy as a few years ago ».
On the occasion of Grandparents' Day, which is celebrated on July 26, Efe has collected the testimonies of Pepe, Pilar, Natalia, Gloria, María Isabel, Rafael and Luci, who show the lights and shadows of what it means to have a grandchild at advanced ages.
According to data from the National Institute of Statistics (INE), since 1980 the average age at which women have their first child has been delayed by 8 years; from 24 to 32. And this delay in motherhood directly affects grandparents, who increasingly have grandchildren at older ages as well.
«It is different to be a grandfather at 65 than to have them with more than 80where your own organic-physical weakness is going to prevent you from having a participatory life with your grandchildren for obvious reasons", commented the president of the Platform for the Elderly and Pensioners (PMP), Ángel Rodríguez Castedo.
Grandchildren, a solution for loneliness

However, today's reality shows that there are people who reach these ages with better physical conditions. "People today, if they don't have a major illness or didn't have one, reach 80 physically and psychologically quite well," says Rodríguez Castedo.
According to the Barometer of the Elderly of the Democratic Union of Pensioners (UDP) on 'Family care and help', the majority of elderly people consider that
aHelping your children and family helps keep them "active and healthy" and combat a recurring problem in old age, such as loneliness.
"The children accompany a lot, only being with them I feel accompanied, they give me life", explains María Isabel Cabrera, 80 years old.
María Isabel became a grandmother for the first time when she was 40 years old, a time when, as she says, she did not have enough time to be with her grandchildren, since she worked and at the same time also took care of her son under 4 years of age.
Now, 80 years old and already retired, she is grateful to still be able to enjoy the joy of the little ones.
"My children and my older grandchildren are already making their lives, thanks to the little ones I don't feel alone, they are the joy of my life."
Rafael, for his part, defines being a grandfather as "fulfilling all stages of life with satisfaction and being an active part in the growth of the little ones because they are the long arm of the family."
For him,
grandchildren give you back "that illusion of when you were little".
technology and distance

Distance can be a problem, as it has become widespread in recent years. Currently it is common to leave the family environment where you grew up to live in a new place, usually large cities, which directly affects older people, who remain in the same place and sometimes cannot move due to the infirmities of age. .
There are two ways of seeing this problem: while María Isabel enjoys traveling to see her family, even when she lives in Gran Canaria and the rest in Madrid, Luci, 86, does not see it possible to visit her two grandchildren under 8 and 4 years, since she lives in León and they in Granada, which means that she can only see them in the summer when the family gets together in the town house.
"They hardly know me, that's something that didn't happen to me with older grandchildren," says Luci.
In an attempt to stimulate these relationships and to remain more connected with the rest of the family, Luci's daughters gave her a tablet, which is "punished" on a piece of furniture because she does not know how to use it.
Glory, however, yes that
oryouUse social networks like WhatsAppthrough which he talks to his children and grandchildren and congratulates their birthdays.
handicaps of age

When his first granddaughter was born, Pepe was 67 years old, young, had time to go out and could even drive. Now, however, he explains that he
it is "very difficult" to be attentive to the little ones in the family, since among other things, they can barely walk.
The same thing happens to Natalia, 79, who suffered a stroke ten years ago, which caused her speech and mobility difficulties.
«Being a grandmother is being a mother a second time, it's exciting, but I can't hold my granddaughter in my arms, they shake me»Natalia comments sadly, while recognizing that there must be someone else by her side who is looking out for her when she sees her granddaughter.
Although as a result of this situation many grandparents feel great frustration, since the excitement of seeing the new generations of the family does not match their physical state, they all agree that
being a grandfather is "an illusion, a motivation and a wonderful life experience".