Beatriz Saiz: «I cannot conceive a story without including a romantic part»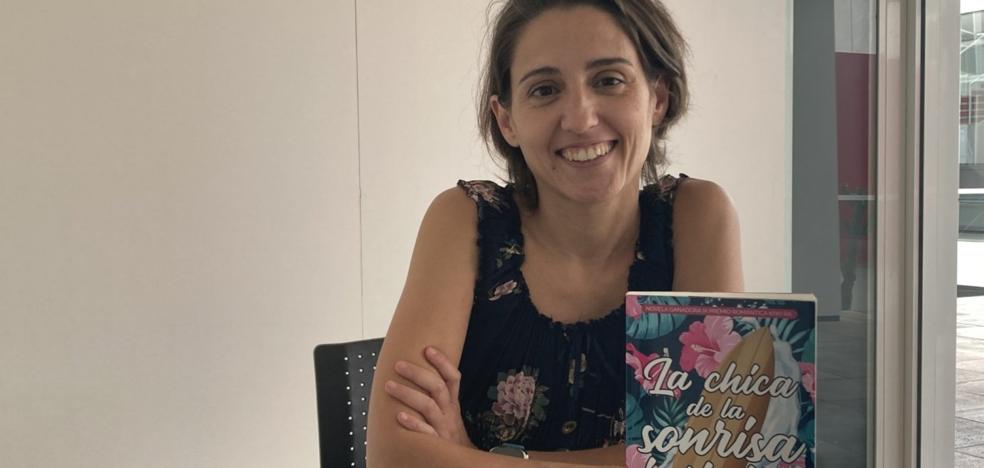 The writer from Gran Canaria wins the 9th Kiwi Ra Romantic Novel Award with 'The Girl with the Infinite Smile', which has just hit bookstores
Beatrice Saiz presented his third fiction,
'The girl with the infinite smile', to the 9th edition of the Kiwi Ra Romantic Novel Award at the insistence of a friend. She confesses that later she even forgot about that call. "It was her, my zero reader, who told me when she saw that she had won. The publishing house does not notify you, but rather puts it on its website and publishes the novel", recalls the young writer from Gran Canaria with a laugh about
a volume that landed a few weeks ago in the bookstores of the islands and is distributed throughout the national territory.
She acknowledges that this jump within her career as a writer generates "vertigo" in her. «
I was at the Madrid Book Fair, at the Kiwi Editions booth. And I was scared to think about the reaction of the public. But I am not aware of the reception it has.
I write for myself and I understand that some things are liked and everyone understands them and others, not. I don't pretend to like everyone. If you are aware of that, you do not enjoy the output of the book, "says Saiz.
And for now the writer is radiant at the reception this novel has had, which took six months to write, not counting all the time she spent correcting and finalizing it.
"I write to escape from reality. It is true that the novel has certain touches of everyday life, so that the reader feels identified.
But my great goal is that he also manages to escape, as I do when I write. Hence it is a romance novel. I'm looking for something fresh, that is away from everything that surrounds us », he confesses.
This fiction,
unfolds over years and with time jumps to situate the reader in the attempt to recover that girl with the infinite smile that gives the volume its title, she had a specific point in Beatriz Saiz's hometown as a source of inspiration. «
Las Canteras beach inspired me. I need the sea, even smelling it, to disconnect. Going along the Paseo de Las Canteras is enough for me, it allows me to breathe the salty water. That's how the idea came to me. The protagonist works in a surf school and the idea came to me when she was in the Cícer area », she recalls.
personal dyes

That character has more of its author than she herself thought when she shaped it as she wrote. «I thought he had nothing of me. But every time I think he does. All the characters have to have something of their author, even if you don't want it.
Those who know me tell me that it has things of my character. That their personality reminds them of me. What is clear to me is that for the character to be credible, he has to
have truth, things about me and my environment. Without my personality it would not be credible, it would be flat and nobody would believe it », he emphasizes.
The writer, who recognizes that she not only drinks from herself but from her entire environment, is clear about what will never be lacking in her novels. "I like romance, romantic stories.
I am a consumer of romances and I cannot conceive a story without a romantic part. Although the novel includes a police plot, it has to carry some romance. I think it helps to achieve the evasion that I always propose and I bet on including beautiful things and that they end well, "says who
will present on September 20, in the Sala Ámbito Cultural of El Corte Inglés from the capital of Gran Canaria, his award-winning novel.
This is the third that he writes after
'Breathe again' (2018) and 'I want to dance under the snow again' (2020). For the next one, he does not set a specific date, but he is clear that it will mean taking a step forward, always with a romantic cut. «From the first to the second an evolution was noticed. The change from the third to the second has been brutal », points out this Law graduate who practiced a profession for years that she decided to abandon.