Beatriz Luengo surprises Yotuel and shows her support: "He wants to see his country free and I accompany him as I can"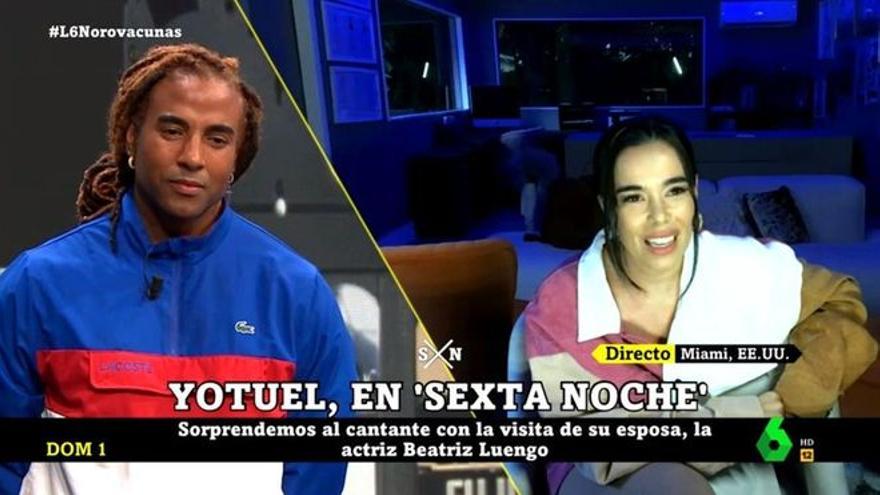 The last program of 'laSexta Noche' has had the presence of the singer Yotuel Romero to talk about the protests against the Cuban dictatorship. The Cuban wanted to make it clear that his people "have said enough and have lost their fear". In addition, he highlights the deplorable situation of his country: "It is sad that the basics of a person, who are rights, can not be expressed freely, that the disagreement with a government is censored. What a shame that the revolution that was supposedly made by the people, does not listen to the people, who want a change. The Cuban deserves to be heard ".
During his interview, the singer He was surprised by his wife, Beatriz Luengo, who connected live with the program from Miami. The actress expressed the fears she faces when she is married to one of the main Cuban dissidents. Not in vain, the song 'Patria y vida' by Yotuel is being a motto in the demonstrations in the Cuban country.
"He is a person who, like me, is very clear about human rights. And I live this with suffering, with fear at times, because I know what they are capable of. I see the attacks that are launched on us in networks, but I am very proud because I married a man and with the freedom of his country. He wants to see his country free and I accompany him as I can ", said proudly the actress of 'A step forward'.