Bearish 'hedge funds' return to the Spanish stock market | Markets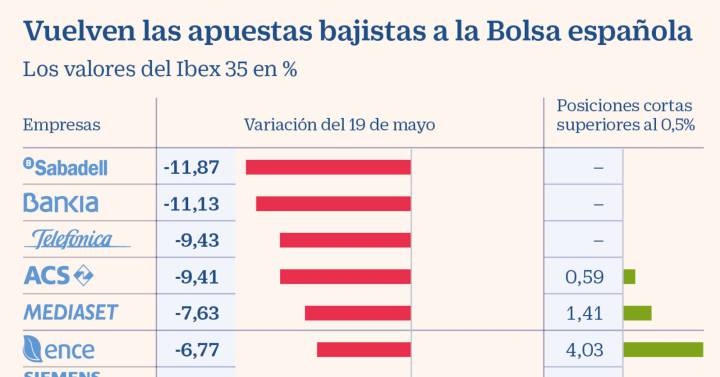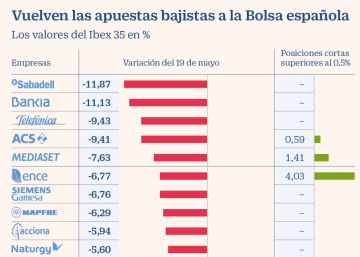 The return of bearish investors after two months blocked by the CNMV has caused a storm on the stock market, which on Tuesday ended with sharp declines in almost all stocks. Hedge funds betting on declines were waiting for the Spanish supervisor to withdraw the shield it issued on March 16. Protection has also been removed from the Italian, French, Greek, Austrian and Belgian markets. And some stocks have come under attack again, especially the banking sector.
Sabadell, Bankia, Telefónica, ACS, Mediaset, Ence, Siemens Gamesa and Mapfre fell between 11.9% and 6.3% on Tuesday. "The end of the ban on short operations already allows investors to become bearish, which is why they take this opportunity to go against the most cyclical sectors such as banking," explains Sergio Ávila, of IG.
CNMV records only reveal active short positions exceeding 0.5% in ACS, Cellnex, Ence, Ferrovial, Indra and Mediaset (see chart), but the number of companies with short positions below the aforementioned threshold is much higher . For example, Citadel had a short position of 0.49% in Sabadell as of May 13 and Bridgewater, with the same percentage, was betting on the fall of Telefónica on March 23. Communications of short positions must be made no later than the business day following that on which it is reached. Therefore, the data will be known from this Wednesday, provided that the percentages exceed 0.5% of capital.
As a preventive measure in the face of the stock market debacle caused by Covid-19, the coordinator of the European Securities Commissions, ESMA, agreed on March 16 to report any bearish position that exceeds 0.1% of capital. The obligation remains in force. But the information is only in the hands of each of the supervisors, it is not public. Market members point out that the veto, being partial, distorted the European single market and weighed down liquidity, without appreciating any benefits in its stability.