BBVA for the sale of Operation Chamartín to Merlin | Economy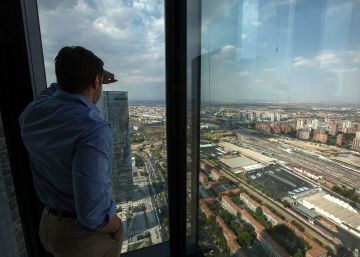 BBVA suspends the sale to Merlin Properties of the Castellana Norte District (DCN), also known as Operation Chamartín. The bank chaired by Carlos Torres acknowledges that the socimi, among other investors, showed interest in seizing the exploitation rights of the largest real estate project in Spain with 3.3 million square meters, and that they held preliminary talks that "no longer continue" .
The financial entity sent on Sunday late yesterday afternoon a relevant event to the National Securities Market Commission (CNMV) to confirm the negotiations and their entry into deadlock. In the statement, BBVA notes that due to the "importance and uniqueness of the project," and after the recent approval by the Madrid City Council, "it is logical" that financial and industrial investors show interest in it. "As a majority shareholder of DCN, BBVA's priority today is to advance the project approval process and guarantee its success," concludes the brief statement sent to the stock market supervisor.
Although the talks were in their early stages, the real estate Merlin Properties had offered BBVA exchange the 700 offices of your property which has rented to the bank in exchange for the exploitation rights of Operation Chamartín, the urban development project in northern Madrid. For the bank, the swap had the appeal of re-owning the branches without a disbursement and avoiding capital consumption by being a tenant who sets the law.
So far, BBVA controls 75% of DCN's capital and construction company San José the remaining 25%. The project, of which three quarters will be used for public use, will have homes, offices, commercial premises, equipment and green areas. It is developed in 45,000 folios and 1,200 plans, which gives an idea of ​​the magnitude of the project.
The Madrid City Council approved the project on July 29 unanimously of all political groups, which approved the modification of the general plan, pending the latest procedures of the Community of Madrid. This approval means the unlocking of a long and full project of ups and downs in which BBVA has been involved for 26 years.
A long process
The rights of this coveted area in the north of Madrid were in the hands of the former Argentaria, which, after the merger with the BBV, became one of BBVA's star projects, although it subsequently suffered more setbacks than expected and became a nightmare in which he invested relevant amounts of money without a clear return. The previous president of DCN was Antonio Béjar, dismissed by BBVA shortly before the project was approved by the City Council after being investigated by the National Court for its alleged connection with the Villarejo case. Álvaro Aresti was his substitute.
The lands on which the project of the so-called Operation Chamartín will be developed extend along a stretch of elongated land of more than 5.6 kilometers in length and up to a kilometer in width, which crosses the north of the city from Madrid, from Mateo Inurria street, next to Plaza de Castilla, to the M-40. In total, it covers an area of ​​3.3 million square meters, of which, and after discounting the space occupied by the train tracks and the M-30, only 2.3 million will be acted upon, according to the final project of DCN
. (tagsToTranslate) bbva (t) sale (t) operation chamartín (t) merlin (t) entity (t) recognize (t) have (t) conversation (t) socimi (t) point (t) moment (t) continue



Source link