Bayern confirm Thiago's departure to Liverpool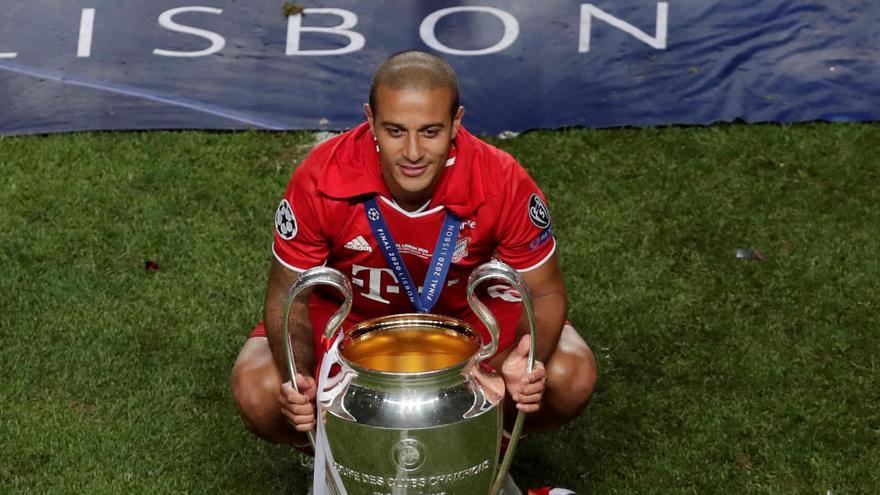 The Chairman of the Board of Directors of FC Bayern. Karlheinz Rummennigge, confirmed the departure of Spanish midfielder Thiago Alcántara to FC Liverpool, after seven seasons at the Bavarian club.
"I can confirm that Bayern reached an agreement with Liverpool this morning," Rummenigge told the daily 'Bild'. "On one side, I'm sorry that a great player leaves us with whom we won triple. But on the other hand, a great desire for Thiago was to try something new in the last years of his career. After long discussions we have decided to satisfy that desire, "added the former German international.
Thiago arrived at Bayern in 2013 at the express wish of Pep Guardiola whose phrase 'Thiago oder nicht' later became a constant quote in Germany.
According to unofficial information, Liverpool will pay 30 million euros by Thiago, who had a one-year contract with Bayern. In recent weeks Bayern had pushed for the signing to be closed before the start of the Bundesliga.
At the time Bayern paid the Barcelona 25 million euros for the signing of Thiago. His first seasons at Bayern were not easy as injuries often got in his way.
However, after Thiago became undisputed at Bayern for all the coaches who passed through the Bavarian club. In the year of the triple, the season before, it was key forming double pivot, at the beginning of the season with Joshua Kimmich and then, when Kimmich had to back down the right back due to injury to Benjamin Pavard, with Leon Goretzka.
Thiago was key to get out playing, shaking off the forward pressure of rivals, and also showed great efficiency in recovering the ball. In Bayern's winning goal in the Champions League final against PSG, scored by Kingsley Coman, Thiago made the penultimate pass, from the own half, which allowed Kimmich to get close to the area to shoot a cross that Coman capitalized with a header.
The confirmed departure of Thiago and the yet to be confirmed by Javi Martínez They will represent the end of a kind of Spanish era at Bayern. Javi Martínez was the first to arrive, in 2012. Then followed Thiago, Juan Bernat, Xabi Alonso, Pepe Reina and, although his step was brief and almost imperceptible, Alvaro Odriozola.
Bayern, according to some media, are not planning to sign a player for Alaba's position as they consider that with Goretzka, Kimmich and the Frenchman Corentin Tolisso they have enough options for midfield. However, the money if it could be used to sign players in other demarcations. Coach Hansi Flick has asked for a winger and a right-back, which could be Sergiño Dest from Ajax Amsterdam.